Candy Bulletin
THE RABBIT IN THE HAT
at some point something must have come from nothing
THE RABBIT IN THE HAT
at some point something must have come from nothing
Have you every asked yourself who you are? Now I'm asking you, "who are you?". I know that it is a difficult question. Well I'm here to help you , so fasten your seatbelt because I'm taking you to a long trip! All of us have hobbies. Some people collect old coins or stamps, some do needlework, others spend most of their time watching their favorite movie or do a particular sports. Some people love reading, but reading taste differ widely. And there are questions that somewhat interest us, they are precisely the questions that tickle our minds and hunt our curiosity. If I'm going to ask you, what is the most important thing in life? Most of us will answer food, some will answer shelter and some will answer probably the company of other people. But what if, when these basic needs have been satisfied will there still be something that everybody needs?
It is like asking yourself, "who am I?" we always search and dig deeper within ourselves about who we are and ended up answering what we see physically or what others says about you. We answer what satisfies the question, not us. And upon answering it, the next question is, are we satisfied about it? Are we completely, a hundred percent sure about it? Does it reflects of who you are? The best way to explore of who you really are, is to ask yourself a questions. Any random question what you like will do and try to list it down and just like map, try to connect the dots. And finding yourself is like watching a magic trick. We cannot understand how it is done, so we ask how can the magician change a couple of silk into a rabbit? It is hard for us to believe as when the magician pulls a rabbit out of the hat which has be shown empty.
In case of the rabbit we all know that the magician tricked us. What we would really like to know is how he did it. But when it comes in knowing who you are it's somewhat different. We know that our skills and characteristics is not all sleight of hand and deception because we know that it takes a process of human development in order for us to build it, we've been through that. We are actually the rabbit, the only difference between us and the rabbit is that the rabbit does not know that it is part of the magic trick. Unlike us, we are aware. You just need to get out of that hat to see truly yourself, do not wait on someone to pull you out because it's you who you're finding for. It's vast world out there, you just need to explore it. Maybe it is really hard to answer that question, but what truly matters is that you follow what you loved and see the little thing around you with beauty and appreciation. And start opening your eyes in order to see who you are. Close your eyes, take a deep breathe. Now, open your eyes. Tell me what you see?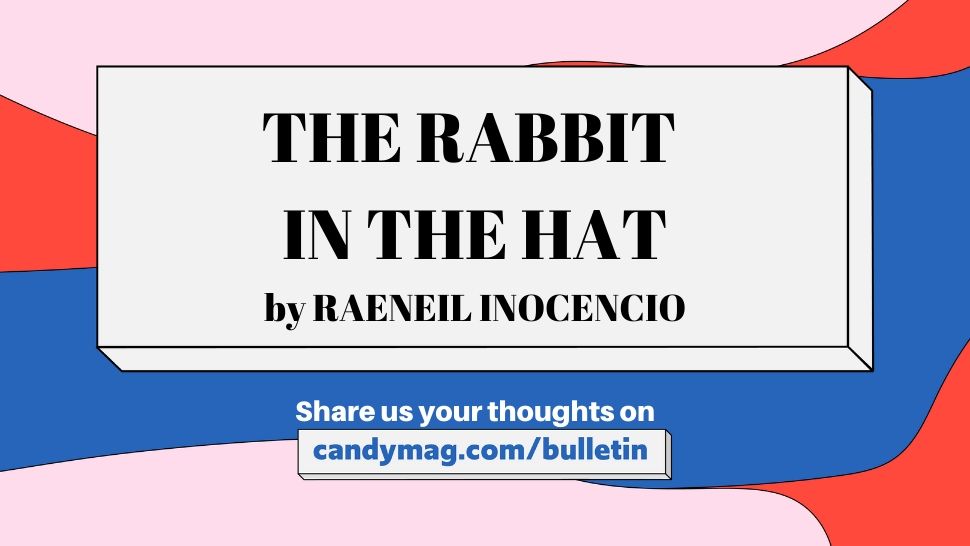 VIEW MORE
Loading Comments

Hide comments
From The Candy Bulletin Community