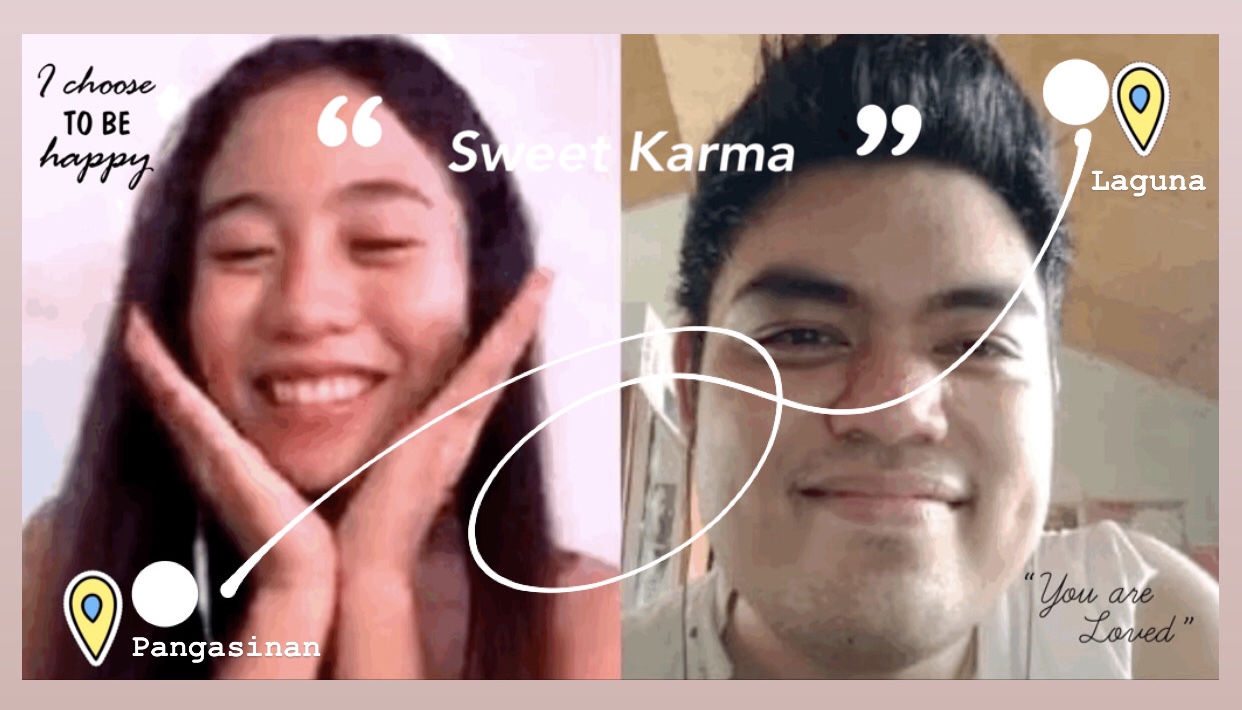 Sweet Karma by April Anne Nemenzo
Thinking 'bout the days I feel so lonely and not okay. Then you came unexpectedly. Happiness comes out genuinely, for you are here already. The wind blows and I was carried away towards you. I'm a bitch, you are tender and sweet. It was dark but you gave the light. So many stars yet you're the only one shining in my eyes. It was a dark afternoon when I heard a beep on my phone. You're just nobody, I gave a little bit of my attention to you. It started in a simple word. Ignore you afterwards. Until I don't have time for you anymore, cause I know there's a lot more. I started ignoring the fact that you were there, I accepted a lot more boys. I don't really care about you...but you change my heart.
Boys are everywhere, I know. Boys promise they won't leave you at first, but believe me that was just in the start. As I always say "I won't believe any of this boys anymore, they're just ruining my mood". I don't believe in attachment. I don't care about commitment. I fucking care only about my self after a while of realizing I don't need anyone. Let them be my pass time. Let me hurt them, too. Just the way they squeeze my heart till it tears apart. Not until you came, your warmth give me hope. My cold heart can't ignore that I like you being around anymore. You tried to get my attention again, you said "hello" and I said "hi" but we don't really care what we're going to talk about. You consistently talk to me for days, until I came to realize "this is not me anymore". Instead of being my pass time, you became part of my life cycle. You made me feel that someone's going to care about me. Someone is waiting for me. Someone will be there to hold me. I gave you a hard time understanding my personality but you never give up, showing not the same way like the other boys would handle me. All I know is I'm in pain and I'm alone, but you were at my back this time.
When I'm about to fall you catch me and let me stand. Believing that everything's possible. You never let me down even at my hardest time. I tried to push you away, but never in your chance you showed me I wasn't enough. You never promised, and that's the thing I started to love about you. I don't believe in promises, too. You were my second chance. I'm hopelessly lost. I've been bad. I treat people badly because I thought they deserve those since they didn't care about how I feel. They deceived me, too. They let me feel I was the only one that they care about and they love to share their moments with me- but actually I'm just being fooled. They just played with my feelings. So I learned and play along. In times of my loneliness you held my hand. You make me happy, that was a big change in my mood. You showed me the real you, but I'm afraid you'll know me deeper. But I give you my trust and so as you to me. I can't imagine now without you at my side. You healed my heart in the shortest time. I'm not a showy person but you never forced me to do things I'm not. Instead, you remind me that there's still a chance, a hope and plan to fulfill (together with you). You're not the same as them. They are boys and you're a man. I know you were sent by God. He sends me my sweet karma.