Candy Bulletin
OVERCOMING OVERTHINKING: In the Search for the Intangible Three
How to Gain Self-love?
OVERCOMING OVERTHINKING: In the Search for the Intangible Three
"You'll never know the feeling of drowning unless you experience it yourself." Let's admit it. We all have dark hours. When our thoughts go wild and haunt us into uncertainty with every second making us ponder over "what if's" and "what could have been's". It is a phase where we can't scream for help and can't seem to stand firmly from the quicksand of doubts. The demons within whispers into our ears, casting curses of insecurities, doubts and fears until it becomes our lullabies. The way we live and mingle with our friends and family, everything get affected. It's like we weren't given a chance to be happy. We become irrational to the point where what we think affects what we do. We hunger to be free from the chains that keeps on dragging us down to the inferno of mischief in our minds. An internal battle where fear shackles reality and we helplessly become vulnerable prisoners of our barren thoughts. We analyze beyond things and dive into the sea of impossibilities – until we apparently drown and lose.
But not all overthinkers lets their guard down and get defeated by their internal horror. Some still manage to get revive from drowning. They realize that the cure can be found- and it lies within ourselves. An eye for an eye. A tooth for a tooth. And a heart over an idea. Instead of being paranoid, why not oppose these unhealthy thoughts? In fact, you are in control of your mind and the key to get rid of your nightmares lies between the heart and brain. You need to understand yourself first to know what the main problem is. You overthink mainly because you think you are incomplete. You forget the three concepts that will rid your lackness and incapabilities. It is the intangible gift of trust, love and faith.
TRUST You tend to overthink because you let your doubts take over something, someone and even yourself. It's where your trust is being deprived and neglected and you end up being unaware of it. You easily get sensitive over something and secrete negative emotions that get the best of your well being. How to Gain Trust? Entitling trust to anybody is not easy. It encompasses a complicated process of accepting risks and gambling with what the future might turn into; "self-trust" is the very first step. You need to believe in your capabilities and what you can do beyond what anyone expects. Value yourself. And trust me, as you break your wall and assess people critically, your intuition will tell you who you can trust whole heartedly and who to avoid.
FAITH You focus too much on your greeds and possessions. To have all the worldly possesions, to have the latest gadgets or to become someone powerful and influencial but each day turns out to be a chain of the same routine: wake up each morning and make your dreams and fantasies into reality and go to sleep at night dreaming more and more. You want attention in an instant way. You want everything that comes across your mind to be in the palm of your hands in just a snap that you forget about the idea of God's perfect plans and His process. You become so preoccupied by the material things and titles that you want to possess – until you get drained. Your mind will still be stuck with the ideas you continuously feed yourself. Your mind no longer creates inspirations, but instead create insecurities. These unhealthy thoughts will dim your vision. Your perspective becomes clouded and the only thing that seems clear is hopelessness. It will intoxicate you – little by little. How to Gain Faith? Dreaming is not bad at all, in fact it serves as our motivation in studying or working hard to be able to meet these. What we need to keep in mind that there is a process, and the bigger the dream, the harder the process. Going to churches and attend masses is not the only way to strengthen your faith. It can also be done at home. You can still revive and keep the fire burning inside yourself. Always be reminded that you are not alone. Not having someone on your side during your darkest hour doesn't mean no one loves you and nobody would like to extend their hand to you. Challenges in life isn't solved by"teamwork". Many of it are meant to be done by ourselves to hone our independence. Self-reflection is beneficial in strengthening faith. Open your heart and cease the moment. Be open and accept failures and try to look at it as life lessons God wants us to learn. We need to carry our own cross. Breathe. Inhale your aspirations, get fueled by that scorching eagerness in your heart. Let your life be driven with passion and entrust Him with everything. Try to read bible verses and you will realize how God Almighty truly loves you. He talks to us through different forms, He always saves us, and He is not dead. He lives inside our hearts, waiting for us to come back to Him.
SELF-LOVE Love is not only the affection between two matters inhibited with a soul, it is transformational. It comes in various yet mysterious ways. It is undefinable. It is a complex feeling that everyone yearns for. And as we welcome the era of modernism, we also see the world with standards and setting finish lines. "We do because we want to" over "we do because we love to" has become extremely evident in our time. Among all the kinds of love, its ironic how self-love is one of the hardest ones to find. You try to fill the emptiness within with inappropriate thoughts but can't match what pure self-love could be. It messes your mind and haunts you each day. We are complex beings and we always complicate things- but we end up forgetting our essence.
How to Gain Self-love? Self-care is a partial requirement to attain successful self-love. Learn to express how you feel with freedom without crossing its boundaries. Get to know more with who you really are and discover more about yourself. Do not let yourself be confined with the standards of society. Free yourself from judgments and get to know your perception without being influenced by other's way of thinking. Do what your heart tells you to do. Do what makes you happy. Do without hesitations. Just be yourself. Know your self-worth; accept your flaws and imperfections while celebrating your strengths and filling your heart and mind with gladness. You are not a leftover or a trash but rather, you are a beautiful God-made gift. Always remember that. These three missing intangibles are the powerful gems hiding inside us. Though as we lose it, it is not that easy to put it back to where it once was. Overcoming overthinking isn't an easy process. It is a fight within ourselves. It is a trial beyond what our eyes can see and what our hands can touch. Have a regular check up with yourself and see if you are emotionally healthy. It is something that we should take care of before we lose the game called life and get tricked by our wild thoughts. Remember that as we dig deeper through uncertainties, we also dig the pits where our thoughts will bury us into.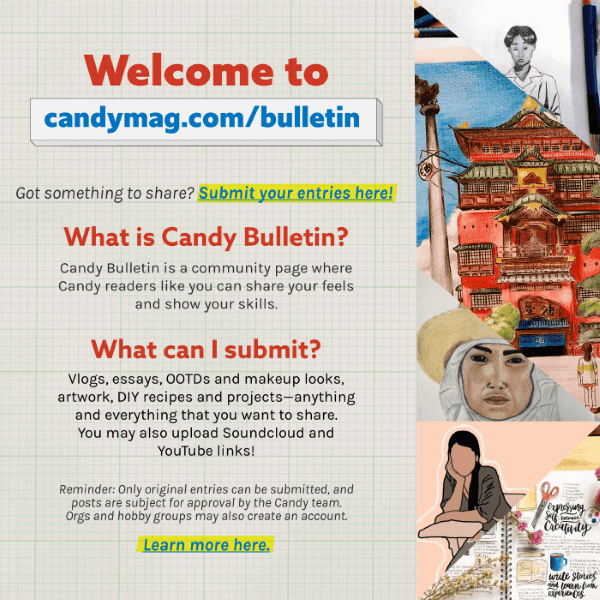 VIEW MORE
Loading Comments

Hide comments
From The Candy Bulletin Community