Candy Bulletin
MY GUIDE TO SELF DISCOVERY
Create and fail, stumble, stand up, and create again.
Have you ever had the feeling of intense desire or enthusiasm whenever you do something? Have you ever immersed yourself in the realm of the art world? If you did, what sparked your interest?
MY CREATIVE JOURNEY
I remember growing up and already having a burning passion for art. My spare time were mostly spent in my own thoughts; drawing, painting, and listening to music. Most days were spent making portraits until I ran out of paint. My favorite subjects would be beautiful landscapes from all around the world that I would often find myself imagining that I was personally there. After years of having a strong relationship with painting, I began to slowly transition myself into photography. Mind you, it was not out of my own will but rather it was under the influence of my journalism teacher. I took on photojournalism despite having no formal training to spare, yet by some miracle, I was able to qualify for regionals and nationals.
Don't get me wrong, I'm not trying to boast. Up until now, I still never fully understand why that experience happened to me. However, there's only one thing that I know for sure, and that is I actually really loved photography. I love the feeling of personally having to witness a beautiful moment that I can capture with my camera lenses and will be kept forever. I never had this kind of mindset when I was still involved in painting. Sure I noticed the splendid colors of nature through painting, but it's another kind of magic when I am present in that particular moment.
Photography helped pave the road to my self-discovery. It made me be aware of the little seconds of happiness that I never noticed and once took for granted. The idea of capturing the world in its true, raw and alluring state felt surreal, but it also felt like a good place to start.
FINDING MY NICHE
After having to instinctively realize that I'm into photography, the only remaining question is what genre and style I wanted to develop. Like any other creative individuals, I dabbled in a lot of stuff. I tried macro photography, feature photojournalism and environmental portraits. I also tested the flow of filmmaking and I might say, I quite enjoyed it. My love for photography continues to blossom each day, however my connection with my subjects became a lot stronger after I start to love the written word.
At first, I never thought that reading books was going to be that big of a deal when it comes to fueling my passion. But, as time goes by, I start to notice that I am becoming more mindful of the world. I started to view things differently and is able to find meaning or rather create stories that emphasizes the beauty of my subjects. To this day, I consider reading to be a fundamental part of my growth. Looking back now, I still think that Senior High School was a venue for my self-exploration. I took the track Arts and Design and majored in Media Arts. I formed genuine friendships in that period of time and my creativity went through the roof.
I remember that we would always schedule random photoshoots for fun and I'd try to capture every moment of us together as a group. I'd experiment my photography skills with them such as playing with lights, silhouette, shadow, in-depth shots, and candids. To me, that was the time were I realized that photography isn't always meant to be too serious or too deep. It was meant to bring joy to others and especially me. I enjoy capturing the genuine emotions of my models without the any scripted construction.
It gives me a sense of realism thus allowing me to see the raw and authentic selves of my models. That was my encounter of finding Candid Photography as my niche. I continue to take photos for other people but I also try to take some for myself while discovering my identity in the process. But Candid Photography was different, as if I was made to do it in the first place. It was as if I knew it was what I loved the moment I start to capture people's real emotions. With one quick shot at a genuine beautiful smile, my life had changed.
FINDING INSPIRATION
In the years that I have grown to discover parts of myself, my hunger for growth got the best of me and I strive to improve my skills in a way that benefits my outputs. What better way to do that than to find an inspiration. Now I know, the term can be quite daunting but trust me when I tell you that inspiration is everywhere. Go out and try to make sense of your environment; the colors, shapes, and figures we are exposed to. Without even noticing it, we absorb these kinds of muses and slowly turn into a vision.
Like an artist once said, "It's in these little instances that ideas are formed, and it's in these ideas that we need to work on to create something great". From watching discovery channels and documentaries to following talented photographers like Bj Pascual and Hannah Reyes Morales, I have been able to develop my skills from what I regularly encounter. Somehow, my interests and role models inspired my works in the hopes of finding the epicenter of when my ideas come to life.
FINDING MY PLACE IN THE CREATIVE WORLD
To be completely transparent, my college experience hadn't been that great. I moved out of town and was blessed to take Bachelor of Arts in Communication as my course. Just like any other students residing from a strict culture, I was conditioned to believe that grades matter because it determines our performance in the future.
Although I am beyond grateful for being able to afford education and being able to choose the course that I wanted, there was a big void in my heart that I couldn't shake off which resulted into spiraling into utter confusion about my place in the creative world. I rarely go out, I get homesick a lot, I literally get stressed out every single day about school works that I didn't do well, that I start to question my intellectual ability. Questions like, "Am I good enough?" and "Why am I even here for?" started to drain my creativity that I was in the verge of losing the enthusiasm that I get from my passion.
My biggest turning point was the COVID 19 pandemic. With all people being obligated to stay at the comforts of their own homes and stay away from the virus, the quarantine stage gave me something I never thought I needed; a break. A break from myself, from school, from my constant overthinking and self-bullying. Quarantine offered me the silence I needed to recollect myself and my thoughts thus regaining the motivation I needed to refuel my passion. Having to endure this season, I realize that I was trying to chase what I thought I should be, the perfect know-it-all artist, rather than what I truly wanted to be, the authentic and creative me.
Everyone has their time to blossom and I know that someday my time will come. So be brave to go after what you want without ever having to compare your progress to others. Your art is just as beautiful as theirs. Take heart, as long as you're doing what you love and sharing your works with people who values you, then that is more than enough to know that you have earned your place in the creative world.
CONCLUSION
Now my beautiful people, I encourage you to explore and take the shot. Be brave. Create goals that will motivate you to achieve them. Create anything. Create what your heart wants you to create. Create and fail, stumble, stand up, and create again. Capture not only the external beauty, but the magic that flows from within. If you are able to take that shot, then I guarantee you, you will be successful.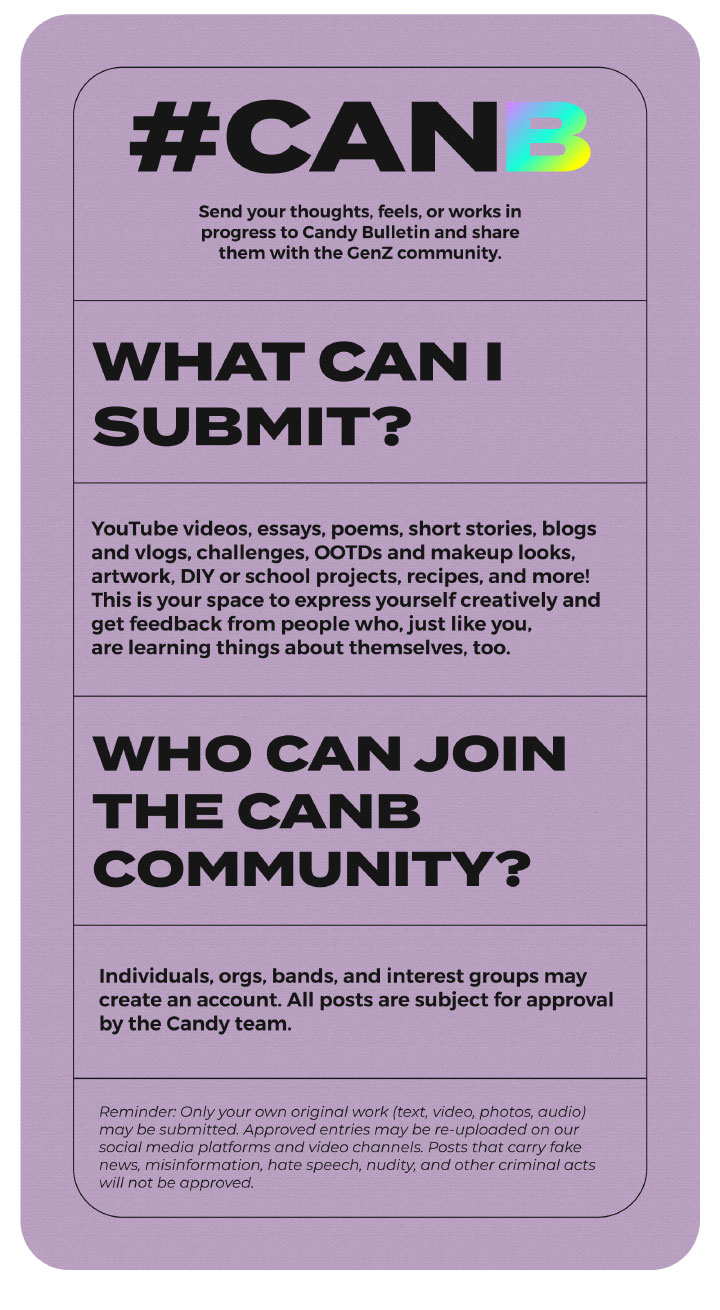 VIEW MORE
Loading Comments

Hide comments
From The Candy Bulletin Community