Candy Bulletin
Movies and Shows to Watch During the Quarantine Period
The quarantine period is still on going and most of us have nothing to do...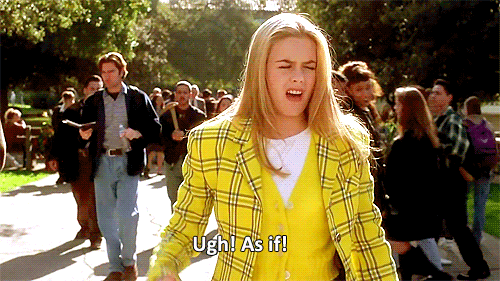 Movies and Shows to Watch During the Quarantine Period
The quarantine period is still on going and most of us have nothing to do or we did everything to keep us occupied and all of us are getting bored and going crazy for just staying in our houses. I personally love going outdoors and going out once in a while to shop and to treat myself, but during this quarantine period I find myself doing none of those. Instead of complaining on how this quarantine will never end, let us look on movies and shows you should watch.
1. Clueless (1995)
This is personally one of my favorite movies. As with the movie title the main character Cher Horowitz, played by Alicia Silverstone, is a girl who is clueless and doesn't even know that she was falling for Josh, played by Paul Rudd. This movie is great if you are into romance and a little bit of comedy. This movie actually made me clueless because I was wondering why Christian, played by Justin Walker, is not getting the signs Cher is giving and to only find out he was gay and I did not expect that. I was totally clueless! There is even a game where you play a story in an app called "Episode" called "Clueless: School's Out" where Josh has broken up with Cher and you are her half-sister, while both of you are going to an internship with Donna Chung.
2. Totally Spies (2001 – 2013)
If you haven't watched or even heard about Totally Spies, then your childhood was not that fun. I mean this show is very unique with each episode being a different plot. It TV show is all about 3 teenage girls, Sam, Alex, and Clover, who were recruited by WOOP to become international spies. They take their orders but Jerry, which is their supervisor or leader. What makes this show a masterpiece is with how unique it is, they have their own spy gadgets which is handed my G.L.A.D.I.S. Each episode there is always a villain and ends with the villain captured. Let us also not forget that the girls have their own villain which is Mandy.
3. Home Alone (1990)
This is one of my favorite childhood movies. I remember saying how smart this kid was. If I was in his position I would be scared to death especially home invasion is one of my scariest fears up to this day. The best scene is when the invaders keep trying to get the boy even though they have been outsmarted many times. This movie is for you if you want nostalgia, comedy, and some family moments.
4. Parent Trap
This is an Disney original movie and is a remake. This is the version I have grew up with and is the best for me. This movie got me thinking wow they are twins and all my life I thought they were real and are really twins in real life, but no, Lindsey Lohan is only 1 and does not have a twin. Movie editing was actually great in the 1990's. Let us not forget the infamous Meredith, our childhood villain. It is a good thing the twins tried to bring back together their mom and dad. This movie is for the nostalgia seekers.
5. Freaky Friday
Yes, this is another Disney original movie and another Lindsey Lohan movie, but hey this is a great movie. This movie is fun to watch especially the part when Anna and Tess switched lives. Each character get to understand their lives and understand each other. There may be up and downs but family will always come first. This movie is for people who love old Disney movies and of course nostalgia.
6. Escape the Night
Now this is an YouTube Original. This stars Joey Graceffa as the main character and famous YouTube stars as guests. The plot starts with a story line of a decade and it is like an escape room but all but 2 YouTube stars will survive and the rest will die. Each episode is a different scenario and each ending either with a death, 2 deaths, or no one dying. This is for people who love escape rooms like me.
7. Pretty Little Liars
Pretty Little Liars is one long storyline. It has 7 seasons and the story is that the main character, Alison DeLaurentis is a "rebel" teen who is wild and this is what leads to her disappearance. Throughout the seasons everyone of her friends, Emily, Aria, Hannah and Spencer, are being harassed by a person called A. They have accused a lot of people of being A but no one knows who she/he really is. It is the goal of the friends to find out who she/he is and to find Alison. This TV Show is for people who love mystery, drama, and a little bit of romance.
VIEW MORE
Loading Comments

Hide comments
From The Candy Bulletin Community