Candy Bulletin
Midnight Musings
3 AM is my new midnight.
Midnight Musings
3 AM is my new midnight. Never in my wildest dreams have I seen myself wide awake in the wee hours. It has been like this for three days already. I left my window open and let the cool breeze fill the entire room of nothingness with something. The pitch darkness engulfs the small sparkles of fluorescent light from the neighbor's rooms. Rhythmical noises of cicadas and crickets fill the deafening silence to which you can almost hear people breathing and a mother humming a lullaby to her baby even from a mile away. Even the wolves and dogs do not howl. The roosters that are supposed to cackle this time are asleep.
As the paradox that I always am, I now seek for warmth when I let the cold in. I hurriedly grabbed my blanket and covered my body. As I curl up, it all starts kicking in. Yes, 3 AM is my new midnight. My body has already adjusted its clock. I now sleep during the day and stay awake at night. I try to close my eyes, but I can't. I tried again. My eyes. When I open or close them at this hour, all I see is darkness. I tried sleeping with the lights on but I just can't. Oh, maybe ghosts are playing with me, I think. But I am certainly not scared with ghosts. I am scared with the demons inside of me, trying to escape my fragile body. Fear, Regret, Anger, Sadness---they all have names.
3:07 AM and still awake. 3:15. 3:33. Tick tock. All these flashbacks play so quickly. All these voices unheard of resonate so clearly. I force my eyes to close until they grew painful. Breathe in….and out. The clock strikes 4. My eyes surprisingly closed on their own. 3 AM is the devil's hour, they say. Don't say you haven't been warned.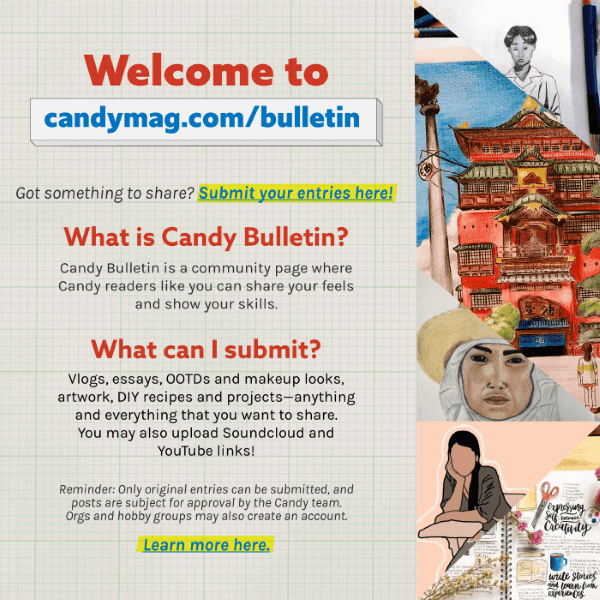 VIEW MORE
Loading Comments

Hide comments
From The Candy Bulletin Community