Candy Bulletin
Life doesn't come with warnings.
This is the thing that I learned last May 8th, 2020 - the day that my mother passed away.
Life doesn't come with warnings. This is the thing that I learned last May 8th, 2020 – the day that my mother passed away.
Before that tragic day, I still remember every conversation that I had with her as she laid on her bed. We talked about my graduation, the law school I should take into account when I finally finish my undergraduate, the color of nail polish that she wants me to put on her toenails, how she cooks our favorite food and so many more.
The days prior to her death – she looked happier, even healthier when her illness started to take a toll on her. I could see the glint in her eyes; her precious smile and hear her small yet infectious laughter. She could even recount every memory down to the smallest details of it whenever we showed her our childhood pictures. She never showed any sign that her time was coming to an end. Until we rushed her to the hospital and I was there, staying by her side and hugging her cold body.
She had cystic mass, ovarian in nature and it was hurting her so much. Due to the pandemic, we had to take precautionary measures before we were able to send her to the ER. While my father was talking to the authorities, I was inside the car with my mom. She was moaning in pain and I remember feeling so helpless and useless because I could not take her pain away. Yet, I asked her, "Kaya mo yung surgery diba, Ma?" and without hesitation, she nodded eagerly.
My mother was the strongest woman I know. Even when she started to get severely sick, she never once cried. Even when we were inside the car and I was holding her in my arms, she did not cry. She probably knew that if she did, then all of us would fall to our knees. So, even in her last moments, she was a mother through and through – she fought but not all battles are won.
When the doctor told me the news, I didn't know what to feel. I cried like I have never cried before. My father, who was with me when the doctor told the news, held me as I cried and told me that I had to be strong. That I did because after that, I had to set aside my grief and work on several paperwork. I couldn't feel the exhaustion; I couldn't even feel the heat. When we got home after we sent our mother to the funeral home to be cremated, everything felt so different. It's so crazy how the place I have been calling "home" for the past twenty years don't feel like one anymore. Suddenly, it feels empty. Suddenly, it feels cold and it feels lonely. Yet again, I don't have the time to grieve my mother because there are academic works to be done. Before writing this, I even had my finals in one of my subjects.
Its hard losing someone you really love and you are really close with. It feels like you're in a limbo, unable to do anything. Even speaking is so hard to do. Suddenly, there's no one nagging at you for sleeping in so late. There's no one you're going to come home to and rant to. The nightly trips to buy my baon for school (even when I am already in college) will be a one-man job from now on. The only consolation that we have now is that we know that our mother is in a better place now. She's not in pain anymore and she's with our lola and uncle, finally. Thank you, Mama, kasi kahit sa huling sandali ng buhay mo lumaban ka para saamin.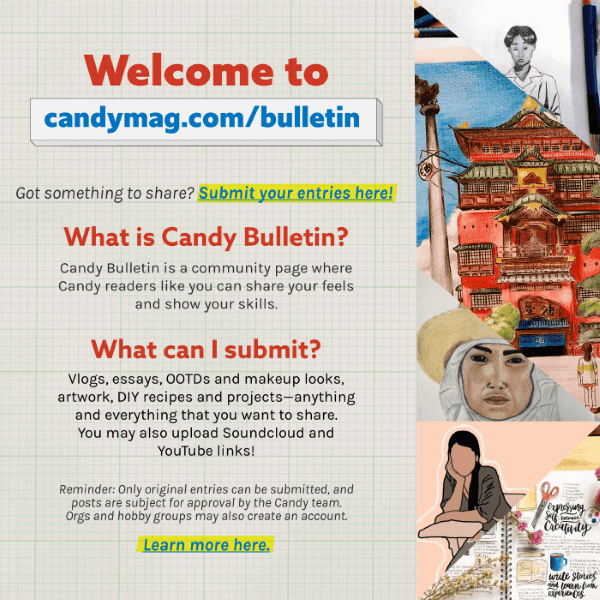 VIEW MORE
Loading Comments

Hide comments
From The Candy Bulletin Community