Candy Bulletin
Good night
After all the restless nights she can finally sleep.
TITLE: Good night
It was the morning of May 5; I went to the ICU to take the morning shift. I peeked from the sliding door and saw a female doctor and 3 nurses probably making their rounds. Half asleep, I entered the room not realizing what was happening. I sat in front of my grandma's bed, waiting for the doctors to leave. My aunt was crying from the corner of the room, I thought that perhaps my grandma was deteriorating. Then the monitor on the upper left part of the bed kept beeping, then the lady in white coat announced "time of death 8:50".
Everything froze, I didn't understand a thing. I saw my aunt hug our grandma so tight, shaking out of grief and desperation. I sat there frozen and speechless, it was so surreal I thought it was a dream. My sister who was sitting beside me took a few heavy steps towards grandma's bed. She hugged our grandma and whispered words lost in between her sobs.
When it was my time, I held her right hand, the hand I used to wipe and hold. It wasn't cold, it was still warm, soft and wrinkly. The bruises from countless injections she endured. I pressed her hand trying to wake her up, more tears rolled when she wouldn't respond. "Inang! Agriing kan a, bigaten!" (Granma wake up, it's morning already) I wrapped my hands around her, she's the same Inang I used to hug but this time she isn't hugging me back. I tried to wake her up a couple more times more desperate than the last. I wanted to see those little eyes open again and look at me. I wanted her to ask me "apaya nakkong?" (why my dear?) once more. How about calling me miss Universe when she forgets my name. I loved her and will love her even if she calls me the wrong name.
I still remember the night she held my hands so tight she said " haan nak panpanawan a, ta nu matay nak ket haan ko nga maymaysa." (Please don't leave me so that if I die, I will not be alone "I hope I fulfilled my promise to her I hope she didn't die lonely but happy. The room was enveloped with grief engraved in the cries we made but in the middle of the room, there she lies. She laid still, she looked so serene and peaceful. It looked like she was having a good nap. It was the first time in years that I saw her sleep so tight.
After all the restless nights she can finally sleep. I wiped my tears as I marvel the way she looked. It was a painful but beautiful sight. I wanted her to wake up but how could I ask that if she looked so peaceful now? After all the pain she endured she is finally resting. I couldn't ask her to come back when I know she's in a better place. She is free now, free from pain and suffering. I stop waking her up and held her hand tightly, in between my cries I bid goodbye. To my dearest Inang Nani, go on find the light. I know Tatang and Tito are waiting for your arrival. Rest well Inang, Good night.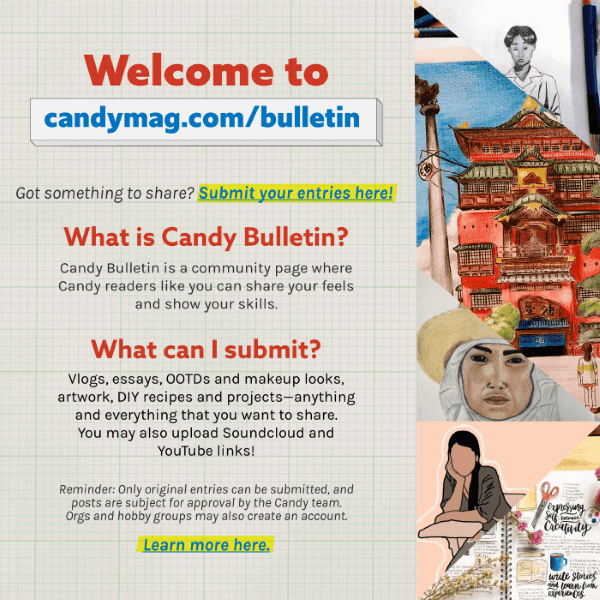 VIEW MORE
Loading Comments

Hide comments
From The Candy Bulletin Community