Candy Bulletin
Forget Me Not: A forgotten entry in Tokyo
Like passing through the Torii gate which the Japanese believe brings humans into the land of the spirits, I was in a new world.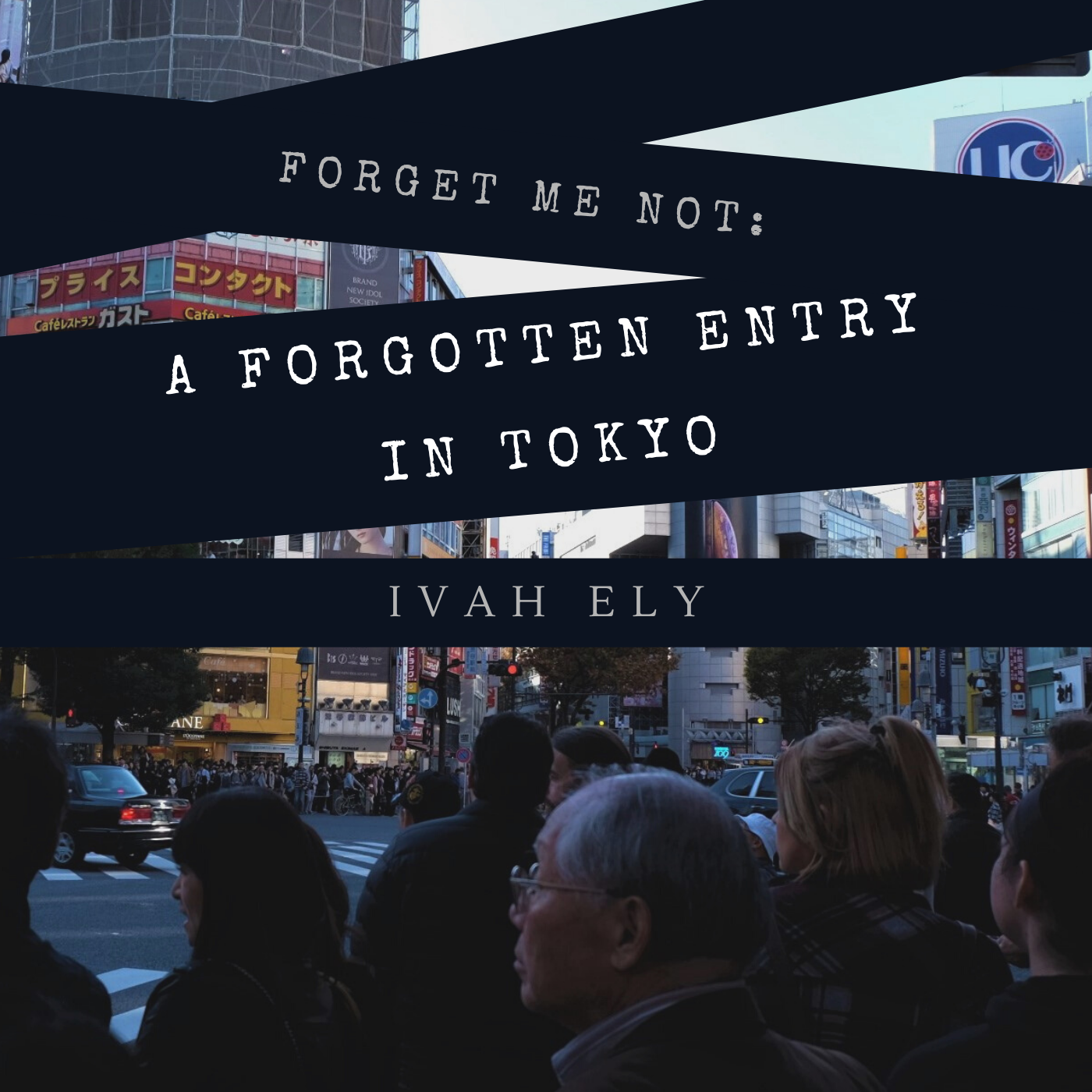 Forget Me Not: A forgotten entry in Tokyo
Watching well-made films often fuel the desire for adventure and excitement in our own lives. Like many in their youth, I've felt that childlike feeling of seeing myself as the main character in my own movie. The genres often change with time and it goes from comedy to tragedy really quick. I used to think that if I closed my eyes for too long, I'd miss the best parts. That if I close my eyes then I'd be covering the lens to the camera in my mind. But I also believed that I could dream about what I see again when I lay my head to sleep at nights or that I can re-watch all my memories after I die. But now that I'm older reality has a tighter grasp on my throat as I trudge my rocky road to adulthood. My memory is failing me. I write this entry for that reason. Because I am scared to forget. I was emotionally and mentally worn. I didn't know it at the time but I desperately needed that feeling of childlikeness again.
Senior high school came with so much unnecessary pain and pressure that I didn't realize I was gasping for air. I always sat by the window to stare out during class as the voice of my teacher became background noise that faded into my daydreams. Before I knew it, I was packing a small backpack in the middle of the semester on a cold November evening to go on a trip to Tokyo. This time it wasn't a dream and it felt as if time stood still.
While my friends and classmates were back home in their classrooms going on with their lives and schoolwork, I on the other hand was two-thousand miles away in a foreign land with a foreign language where my basic knowledge was not enough for me to survive on my own. Like passing through the Torii gate which the Japanese believe brings humans into the land of the spirits, I was in a new world. The breeze felt like a cold nip at the tip of my nose as autumn was nearing winter but I've never breathed in air fresher. I was welcomed into a small and warm Japanese home with lovely little folded cranes on a humble dinner table.
My aunt who was far lovelier and even more vibrant than the colors on the delicately folded cranes was there to welcome me as well. The paper cranes weren't the only things she prepared for my one-week stay. On a little pink card, she had my name along with my Tokyo address handwritten in Japanese for our rides on the bus & bullet train; and in case I get lost. She also prepared a small pink pouch with cute yellow elephants on it. The pouch was filled with coins of different amounts. The coins were for me to spend freely on drinks and snacks in vending machines. It was all more than enough since beforehand she already prepared us 2 weeks' worth of snacks for my 1-week stay. On top of all that she prepared winter clothes since I traveled light and she insisted that I wear the pink parka that she brought before I came over. I find it funny that she still thinks I like pink but it's still just like the good old days. She's still one of the most thoughtful people I know. My aunt is a missionary in Japan and has always been like a mother and a friend to me. I sobbed like a baby in front of a thousand-member congregation on the day my family and I sent her off. A few years later, with my father being our Church's missions pastor, I was given the opportunity to travel to Tokyo and see her. Seeing her again was bittersweet. It's sweet since she raised me and is a big part of who I am and my interests today. But bitter because it hits you like a ton of bricks when you notice someone you love is has gotten older or weaker. Don't we all feel that at some point with our parents and guardians? On my father's side of the family, we have issues of Alzheimer's, Parkinson's, and Dementia. It's hard to pretend that it doesn't hurt that after years of being with my grandma, she doesn't know who I am. As for my dad, on top of having Parkinson's he is starting to show early signs of dementia too. It's scary how quickly one can forget decades worth of memories. I wonder if I may go through that as well one day.
At the time these thoughts were overshadowed by the magical Disneyland rides and digital museums, sights like Mt. Fuji as well as traditional and Modern Japanese Architecture, pictures we took at the iconic Hachiko shrine, and Shibuya crosswalk, and even the small oddities of Harajuku fashion and merchandise. I took as many pictures every chance I could get. I wrote in my digital journal with plans to make a picture journal when I get back home. Japan was quite the story to tell that I believe rekindled my childlike spirit. Before we knew it, the week ended and I was packing once again. This time my luggage was more than twice as heavy and the destination this time was home. I dreaded leaving Japan but I dreaded leaving my aunt more. I didn't get to say a proper goodbye to her at the airport due to my not knowing that she was only allowed to see me off until a certain point. I cried on the flight back while holding a giant Donald duck stuffed toy as I just imagined her going to her small Tokyo home alone. I also cried since soon I'd have to face reality once again. After hours of travel I found myself back home in the all too familiar Baguio. But I was in distress. It wasn't because my lungs were starting to forget what clean air felt like or that I'm missing the life I've lived for the past week. But I was in distress because I couldn't find my phone. Why was that the biggest problem in the world to me at the time? It was because of the pictures and notes that were lost with it. All the pictures I took and the notes of the smallest details were a blurry mess amidst the panic in my brain. I never posted anything because I wanted to live in the time there and not worry about anything back home or anyone knowing what I've been up to. But what haunts me is that I don't remember a single one of the pictures I took. I was so sure that I'd be able to go over them when I get back home. I don't want to forget. It's been 550 days and it still bothers me. It's been 550 days and it's only now that I realize the lesson of this story as I write this.
As scary as it is to forget memories, we have to understand when we have to hold on to something and when it's okay to forget. I tried for weeks to somehow recover the pictures on iCloud but to no avail. We may not be able to fix the mistakes of the past or avoid misfortune that is out of our hands but what we can do is to move forward and make more memories that are worth remembering. Treasure the beautiful moments and the lessons from the terrible times. Cherish them and fight to keep these memories on the surface. If you find that difficult to do then strive to tell your stories to others. Because in the times that we forget, then we have others will remember our legacy. We can't be sure about what happens next though we can plan all we want. Often life doesn't have spoilers and may have a plot twist around the corner. As for me, I may never find those photos again but I made it a goal to one day come back to Tokyo and make more memories. That is a promise that I won't forget.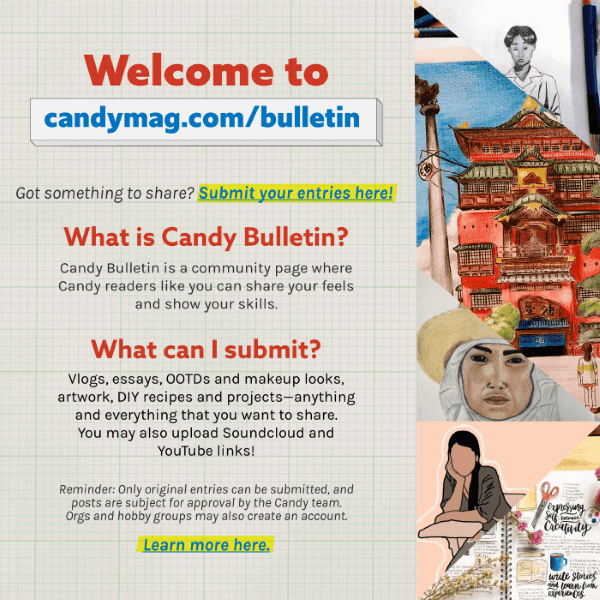 VIEW MORE
Loading Comments

Hide comments
From The Candy Bulletin Community