Candy Bulletin
Confessions of a College Drama Queen: 8 Things I Hate About University
I hate the way being in college makes me laugh and cry at the same time.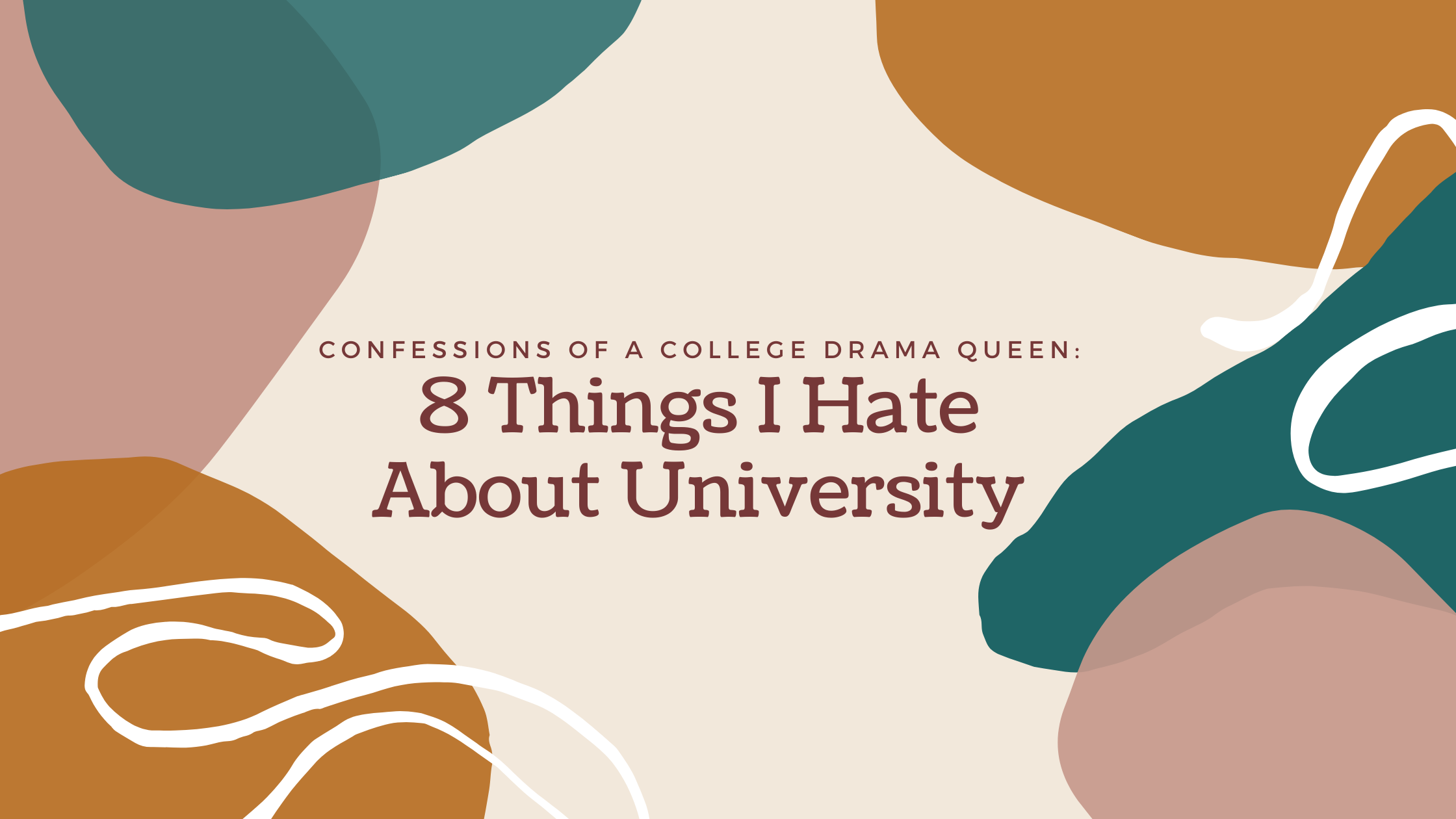 Confessions of a College Drama Queen: 8 Things I Hate About University
Since the suspension of classes started due to the pandemic, I did not open or read any of my notes, I didn't do any requirements, and I didn't bother browsing through my assigned readings. Well, I did try to get some requirements done. Call me lazy but hey, I bet that you've also done anything you can do this quarantine period except for your academics.
I call this time period getting all the sleep I can, slacking off as much as I can, and mentally preparing myself for the full-blown physical and mental fatigue I'll surely get once classes resume again. Now that the continuation of the semester is uncertain, let me share with you 8 reasons why I hate going to University because I'm so not planning on going back anytime soon, and I'm pretty sure you are, too. Who knows, maybe we have the same reasons *wink*.
I hate the way that being in college is so stressful. There are quizzes and lab exercises every day. There are readings that must be read (but to be honest, I just print or download them, but I don't even take the time to read them!) and papers that must be submitted.
For each subject, there are individual and group works to be completed. It's just an ongoing cycle of this "4 more days 'till Friday comes" mindset until you graduate. The everyday routine of getting up early, attending class and going back to the dormitory to study is tiring. Why is there no pause button for the workload?
I hate the way that being in college eats up all my time. Instead of going home during the weekends, I have to stay behind and work on my requirements. I only get to see and bond with my family once a month. University demands almost all of my time that I can't even have my "me" time any more. Is Uni even my boyfriend for it to demand a lot of time from me? You sure are special, huh?
I hate the way that being in college makes you feel like you're just an average student. Since grade school, I've always had straight A's and I was always an honor student, but then college happened. It led me to believe that all of my so-called achievements are nothing. I eventually find someone who's better than me, and then I realize that I'm just another mediocre individual who happens to attend the top university in the country, or that maybe my name was just a typographical error in the list of passers. My stomach always churns whenever our exams are coming up, and I get so anxious every time our scores will be announced. I always feel like I'm going to vomit on the test paper. Luckily, I haven't yet. (Phew!)
I hate the way being in college means that you have to compete to survive. Don't get me wrong, learning is absolutely fun, but the academic time frame and pressure makes it a vicious race. If you get a failing grade in your prerequisite subjects, you will get delayed your whole college life which will disrupt the academic and career plan that you laid out for yourself, and you'll eventually get upset and disappointed. College is seriously the epitome of Charles Darwin's Survival of the Fittest. Plus, it's considered a heinous crime to get sick! A day's worth of lecture is enough to make me fall behind, or worse, delayed. I literally can't afford to get sick, but shamefully, my body is living off of coffee and instant noodles almost every single day. Also, there's really never a time where I get a good 8-hour sleep without worrying about anything. It's either I don't get sleep or I oversleep, and both are absolutely terrifying.
I hate the way being in college makes me laugh and cry at the same time. I can't believe I was given the opportunity to be able to laugh and shed my tears in the grounds of one of the most prestigious Universities in the country. I cry whenever I get a low score on an exam I studied all night for, but then I laugh because my friends also failed the exam. I cry because it's only a Tuesday and I've literally spent all of my money on Monday, but then I laugh because my friends are all broke, too. There were times when my friends and I would get out of the examination hall and just laugh at the difficulty of the exam. Then, we'd go out to eat to cheer ourselves up and just have those deep talks about life until the wee hours of the morning.
I hate the way being in college means that I have to socialize every single day. It's too much for my introvert self to handle. Sometimes, I just want to stay in and never talk to anyone for the time being. But I was fortunate enough to have met and encountered genuine people along the way. We were all struggling in our own degree programs, yet we always find time to support each other. We'd laugh at our professors together when classes get too boring, go out to eat during class hours, pull a prank on some of our classmates, do our assignments, study together, and have fun with each other's company. College is unbearable, but it becomes slightly less unbearable journeying it with the best people.
I hate the way being in college means having to experience a lot of 'firsts." Being raised by strict parents and going to the same Catholic school for 14 years (yes, kindergarten to senior high school, and no, there was no loyalty award), I was kind of scared to go out of my comfort zone, but I was also excited at the same time because I'll finally be released from my cage. I experienced getting a low score on an exam I stayed up all night to study, not being liked back by my crush, breaking laboratory equipment, having my first meal of the day at 6 pm, and partying with people I barely knew. There were many victorious firsts and there were also numerous sad firsts, but one thing is constant, I always have my friends to celebrate those "firsts" by my side.
Lastly, from the immortal words of Ms. Kat Stratford, I hate the way I don't actually hate it, not even close, not even a little bit, not even at all.
I hate the way I miss University life so bad. I hate the feeling that I took normal life for granted and wished that college would immediately be over. I miss studying, hanging out with my friends, procrastinating assignments, cramming for an exam, and attending my classes. I can't believe I'm saying this, but I do miss living the student life. As much as we get exhausted of experiencing hardships, there were also many lessons we picked up along the way which helped us grow. However, with online classes, it's just a simple click of the send button to submit your requirement, then off to finish a new one again. It's tiring. There's no pat in the back from your friends and no more dinners with them once you've all finished a difficult task. If only I knew that on that bright and sunny day of March 1, everything would go spiralling into hell and that would be my last day in the University grounds, I would have cherished it and not take it for granted. Unfortunately, we don't know when we'll be going back to school or if we're ever going back. Amidst all these uncertainties about life, there is only one thing that I'm certain of: I love University life so much, and I'd give anything to come back home once again.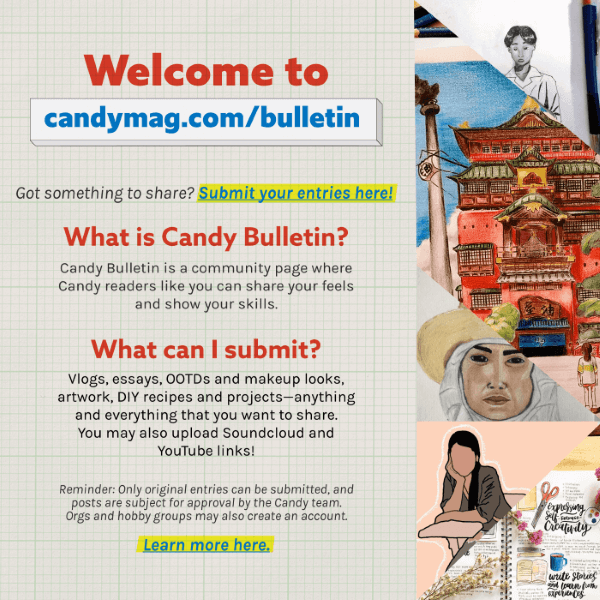 Candy Bulletin
Welcome!
What're you up to today? Submit your OOTD, fanfic, essay, school project, org event, a pic of your latest hobby, or anything you want to be posted on the Candy Bulletin page!
Reminder: Posts will be subject for approval by the Candy team, and may be shared on our online channels. Plagiarism and copyright infringement are strictly prohibited. Only original work must be submitted.