Candy Bulletin
College is a Matter of Survival
Little by little, you will witness yourself develop...
COLLEGE SURVIVAL TIPS: IS BEING ALONE MEANS WEAKNESS OR STRENGTH, OR ELSE, MAYBE IT'S JUST YOUR OWN WAY TO SURVIVE.
College is a Matter of Survival. It is more on trusting and relying on YOURSELF, alone. College is not a race, it's like a journey, a journey of hardships, circumstances, and challenges that, to some extent, will push you to give up, so you must set your goals and take risks. College is far from being a junior or senior high school, so there's no more room for easy-going attitudes.
It is better to suffer now than to regret your actions in the future. I've learned these things and continue doing it right now. College made me realize that you'll meet temporary people in your life, some of them stay, but others not, they vanish, and soon you become strangers to them. It's okay to make friends, but you must know how to set your limitations with them. Also, don't forget to think wisely, there are some whose only seasonal friends. At the end of the day, the only thing that matters is that you accompanied each other, and still, you have yourself. Being alone doesn't mean you avoid people coming into your life, it's just that, you know how to distance yourself from people you don't feel to get along with, and that's OKAY. The thing about college is, you'll meet different types of people who will help you to open up your mind to be more matured enough to the point that you will become more understanding rather than start an argument. There's nothing to be afraid of being alone, you just need to accept the facts and consequences.
Little by little, you will witness yourself develop from how much you've grown, and be grateful for that because you overcome those situations that trigger you to give up. I share these things with you that may be applicable to your upcoming college life and leaving this message to you. 'Don't hesitate to take risks to success, it will be paid off someday. Let God help you and do your very best.' #CollegeSurvival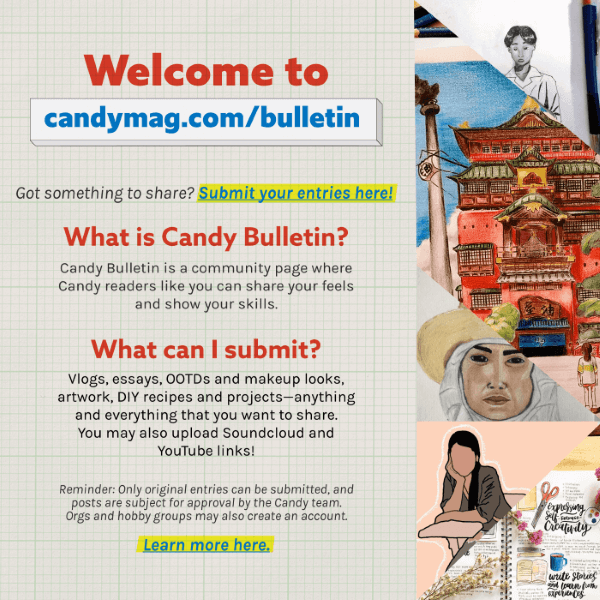 VIEW MORE
Loading Comments

Hide comments
From The Candy Bulletin Community