Candy Bulletin
Beauty of a fandom
Being a fan knows no age, profession, or even gender.
Have you ever love someone who does not even know your mere existence? You are putting your best foot and your 100% effort just to make him happy; because his happiness is also yours. The distance, time difference, and even the language barrier do not hinder you from showing your full support towards him, and it is because you love him.
It is the kind of love that you know will never be reciprocated and it is the fact that you have fully accepted since day 1 yet you are still here. It may seem a one-sided love but it is not, because you know that he loves you, but not just the single you, but also the other people who loves him too. You stay regardless of what people say about you and about him. Your love is unconditional and undying, because you are a fan.
Fans are part of a so called fandom. Fandom is a group of people who admire and support a particular entity in popular culture. There are different activities inside a fandom. People in a fandom mostly organize gatherings for their favorites. They are also doing fan supports whenever the people that they are stanning (that's "stalking" and "fan" combined) will be celebrating their birthdays or whenever they will be having a concert on the place where they are. Fangirls and fanboys whole heartedly and willingly support the people that they adore.
However, fandom and fangirl-ing are more than just their cup sleeve events, fan support projects, Twitter parties, mass streaming, and a lot more. What people fail to see is that fandoms also organize outreach programs, donation drives, and charity events. A famous American magazine once said that "Fandoms are big and they are important." People think that fans are just some crazy people who spent money over people who do not even know them. It is hard for them to understand our reasons why we spent money just to see our idols perform live on stage when we can just listen to their songs on Spotify and watch their videos on Youtube.
For them, it is just a waste of money. However, for me, for us, it is an extreme happiness. It is something that we will forever treasure in our lives. Seeing them right in front of our eyes performing our favorite song is an experience that will never be replaced by any other things in the world. The happiness and the extreme emotions during these special moments is not and will never be a waste of money. Fangirls are stereotyped as just some obsessed girls drooling over their idols' visuals. Fanboys are labeled as "gays" because being a fanboy is not part of the society's definition of being "masculine." I hope we can normalize fanboys. Admiring a group of girls or boys does not make them less of a man or a human. We can all admire and support anyone. We have our own reasons why we became someone's fan.
The first step of "stanning" a person starts in admiring their visual, vocal, and humor. But what makes us hard core fans are their genuine personalities. This personality will be imbibed in ours as well. Having a group of people inspired by this makes a commendable tribe. People in a fandom are not just your typical school girls and boys. There are professionals like teachers, doctors and lawyers, parents, students, and even senior citizens. You can see different people of society inside a fandom. This clearly proves that being a fan knows no age, profession, or even gender. This is one of the beauty of a fandom because regardless of your demographics or profession, we are all equal here.
In a fandom, we are just people who love and admire a particular individual or group. To my fellow fangirls and fanboys out there, I hope that you will continue supporting your favorites. No matter what people say, as long as being a fan makes you happy and you know that you are not doing anything wrong then do not let them take that happiness away. You are a fan, not JUST a fan.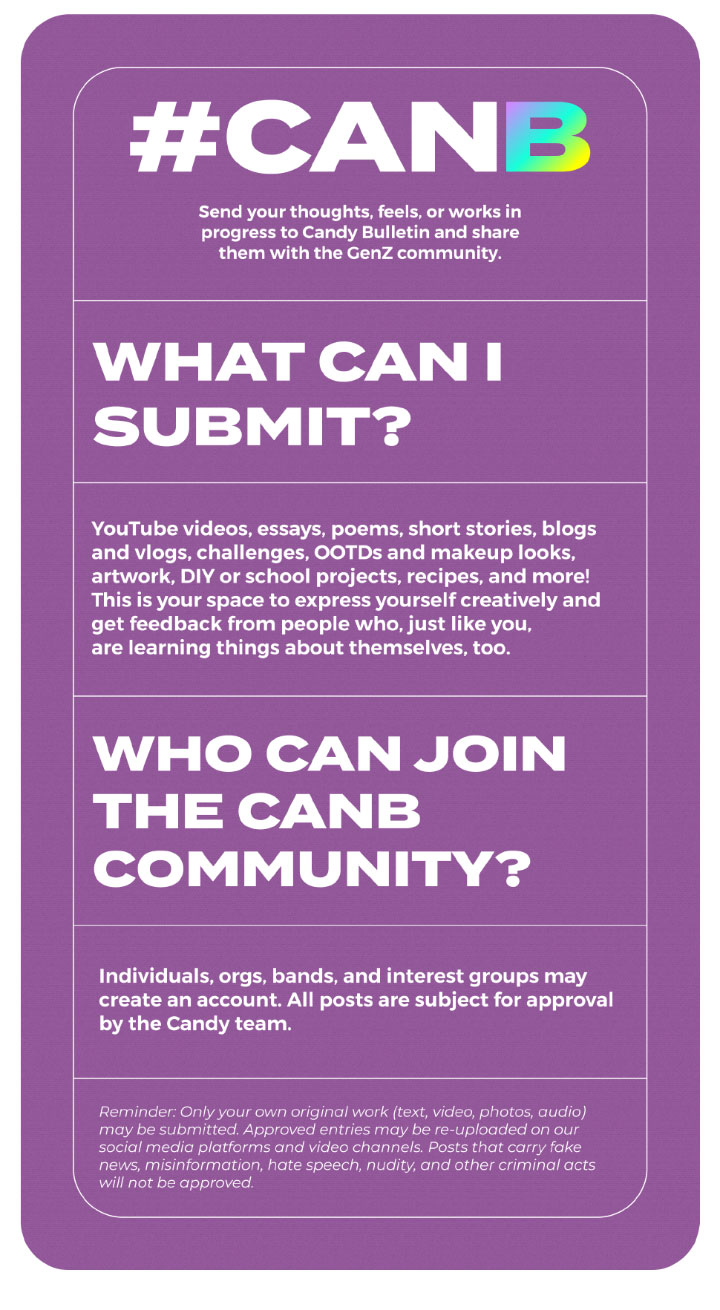 VIEW MORE
Loading Comments

Hide comments
From The Candy Bulletin Community