Candy Bulletin
A Stranger "Things"
strangers can be not strangers, they can be someone else
A Stranger "Things"
strangers can be not strangers, they can be someone else
Isn't it intimidating to interact with strangers? Majority will say "yes" certainly. No doubt, parents also come up with their very classic "Don't talk to strangers" smart advice for their children. But come to realize to take the opposite approach of it as we grow older, there's a tangled idea in our head it it is beneficial or not.
Finding comfort to someone we don't know is like finding a needle in the bunch of hay. A blurry-blurry thing, a no-percent no-possibility to happen. But not to compare, for others it's like their way of finding comfort, way to socialize, way to widen their circle of acquaintance, that's why psychologist somewhat agree with it. If the person didn't give you a ghastly vibe, why not give it a try to interact. It's kinda weird thing to open doors for strangers,but at the same time, its interesting. Think of this, why its easy for others to share secretes of them, or to have pretty intimate conversation to random person? Cause they say, "No judgement".
Why its okay to ask help to person we dont know if we are in unfamiliar place? Cause they can help us, and same goes in other way. Bottomline, Strangers are not just strangers or a person we dont know, or a person that our parents taught us not to talk to. They can be someone else who can help us in times of unfamiliarity of places or thing. They can be the person who sit next to you in the bus who ask for a little help for direction and end up having a great conversation.
They can be a lot more we didn't expect to, and you can tell by yourself that your best of friends you have today are once a complete stranger to you yet you end up having a strong bond of friendship. They are the person we completely don't know, we dont know their upbringings or what, but sometimes the can be more helpful to us than the others we know. By simply having a casual conversation with them, we're not noticing that they are giving us a diffirent approach to different aspects in life and unfortunately, this idea overpowers by just word "stranger". Hopefully, maybe now or then, we're very thankfull that we took the opposite approach of "do not talk to strangers"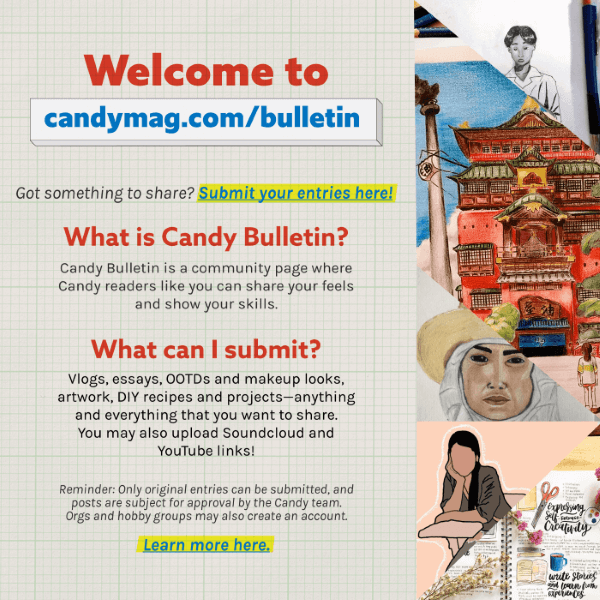 VIEW MORE
Loading Comments

Hide comments
From The Candy Bulletin Community