Candy Bulletin
A Simple Learner Who's a Great Pretender
You don't need to know everything, just the basics.
A Simple Learner Who's a Great Pretender
Maybe I'm just a learner, not a weirdo. A learner that knows how to listen and pretend. A simple learner who's a great pretender. Pretending to be slightly dumb enough not to be judged and criticized by those who do not appreciate my existence. We surround ourselves with people who's levels are either beyond or below our intellectual behavior, because as for reality, people may use you either for their success or your downfall. Since then, people tend to judge someone who has an intellect with things they shouldn't be. Making them a criticizer, and most of all, calling them weird.
Honestly, I'm one of this "weirdo" who actually loves to learn things, and for the record, I'm bullied and stressed out for making myself not to learn more and go with the flow to dumbness I had. Have you ever feel being assigned to some task where you know every process to make it easier and faster to finish but turns out to hesitate to voice out because some of your mates put themselves in charge. There are times where I know what to do, what to say, or how to react, but kept myself silent and pretend not to know anything that may help us. Maybe it's a good thing to just go with their ideas and learn from their perspectives, but sometimes you can't control it and says something, and once again called to be a weirdo and let you finish the work by yourself.
It's annoying that you only know one process yet they gave you the whole work and let you finish it by yourself because they insist that "MAGALING KA DIBA?". It's not your fault being an intellectual person, knowing such things that may help you to pursue your dreams, and have the basic knowledge about something. You don't need to know everything, just the basics. And as for those people who do not appreciate your existence, let them be and continue what's the best for you. In some cases, you'll be annoyed by this but most of the time you'll be thankful for it. Not for now but maybe later. Just be yourself either a weirdo, a great pretender, or a simple learner, and always remember to lower your voice and behavior because no one loves that.
Just be a great pretender not to hear any runts and be a good learner that appreciates everything. It's out of nowhere thoughts of mine, but simply I leave you this my favorite life quotation; "Don't introduce yourself, Let your success introduce you"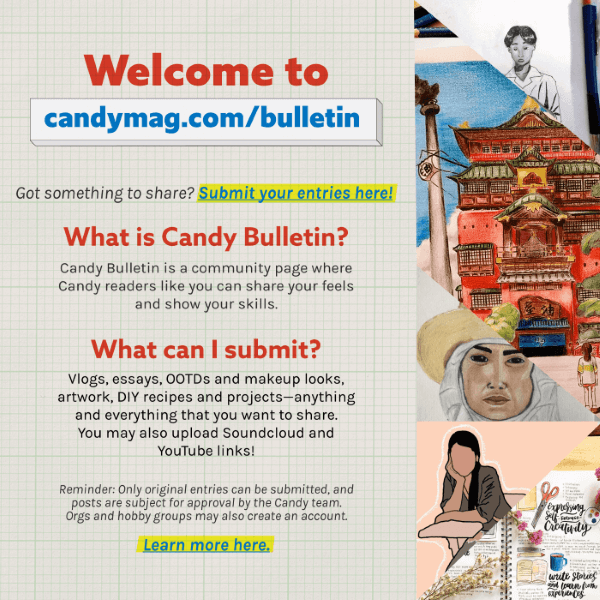 VIEW MORE
Loading Comments

Hide comments
From The Candy Bulletin Community