Candy Bulletin
'DO YOU HEAR YOUR PEOPLE SING?':
WHY STUDENTS DESERVE TO GET A PASSING MARK DURING COVID-19 PANDEMIC
'DO YOU HEAR YOUR PEOPLE SING?': WHY STUDENTS DESERVE TO GET A PASSING MARK DURING COVID-19 PANDEMIC
Words: Darryl Banay Peñaredondo
While President Rodrigo Duterte is in the middle of making decision whether to lift, extend or modify the Enhanced Community Quarantine, universities and colleges should also make an apparent statement regarding their academic decision for the remaining days of the semester during COVID-19 pandemic. Every university and college should provide directives and guidelines upon the resumption of classes as soon as possible. I think that the further the announcement gets late, the further the panic and fear give its students.
With the vision to produce innovative and globally competitive graduates, they should focus more on producing lifelong learners at this moment -- a form of self initiated education focusing more on personal and mental development that occurs outside of a formal educational institute. Online classes is one option to fulfill the requirements which I believe is good, but not fair. I believe that we aren't prepared for this kind of education, not everyone has the same resources.
We all know that Philippines has among the slowest in internet connection speed worldwide. According to Akamai Technologies' Global State of the Internet Report, our country across Asia Pacific falls short with its average connection speed of 5.5 Mbps. Most importantly, it isn't fair because some people don't have good internet connection, and unfortunately, some can't afford to have it at all-- first, it cost too much.
Second, it's risky to go outside and find a loading station or computer shop. Especially, online classes has multiple drawback in comparison to traditional face-to-face education. In an ultimate yes, given a grade of P (Pass) would likely to be the most effective plan of action, but I also suggest that beside of giving a mark P, institutions must provide all learning materials in order to serve enough excellency, competency, and compassion. For graduating students, let them graduate. Especially those board programs, offer them review programs and free workshops to bridge the gap they've missed during the quarantine. Who wants to fail the board exam? Obviously, none.
Trust me, as a graduating student of a board program, we will be doing our best part. It's just that we're still afraid of getting outside our house knowing that the threat to our dreams is still there. In this unexpected frightening time in history, we are not only handling the fatal effect of this pandemic virus, but also the uncertainty of how bad this deadly virus will impact us that makes us jump into a catastrophic thinking resulting to anxiety, fear and panic. In this crisis situation where action is required, I believe that every institutions can contribute in giving students a life in the coronavirus disease crisis with less fear and anxiety. Institutions should never compromise the health and safety of its constituents. There are more pressing concerns at this moment than fulfilling every students' academic requirements. A passing mark 'P' is just a small price to pay in exchange to the precious life of their learners. In addition, students cannot focus on their academic life while coronavirus disease is still alive, universities and colleges should prioritize their well-being. True -- schools, universities or colleges should consider giving a passing mark to its students in order for them to not get to school anymore in the midst of the pandemic -- or better give them requirements like 'Stay at home, be safe and healthy.'
A passing remark is just a passing remark which is incomparable to a life that must protected. I believe that it would also be a great contribution for our government in the battle to contain COVID-19. In the end, it might sound cliche, but health will always be wealth. Let's stay at home for such time until vaccine is available in the market. It's more important to focus on our overall health before anything else. A little compassion goes a long way. We fought hard enough to get through this unexpected struggle, emotionally and mentally. In this time where everyone is fighting against an invisible enemy, a small act of kindness can help no matter what. I know that every institutions are being mindful enough in decision making and open enough to see what's happening around. I hope that they will here the sound of their people sing -- we need to pass.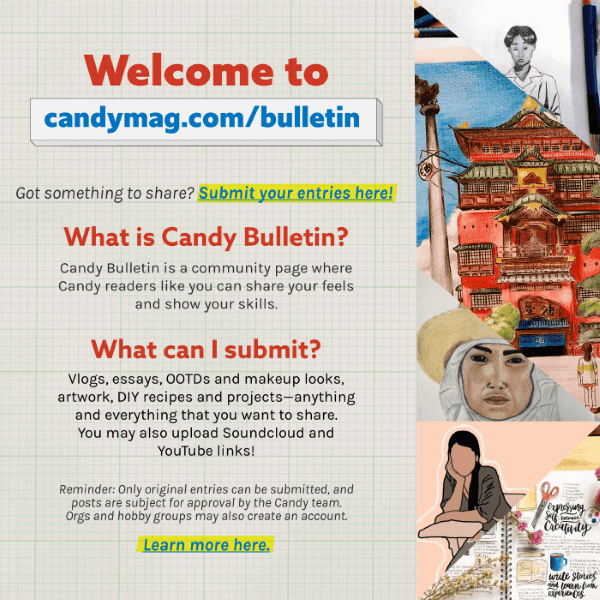 VIEW MORE
Loading Comments

Hide comments
From The Candy Bulletin Community