The world of skincare can be overwhelming. All the ingredients and technical terms can be too much for newbies, especially teens. Thankfully, there's now a book that answers all the skincare FAQs, and the best part is that it's written by a dermatologist!
Dr. Issa Cellona of SKINCELL Dermatology Clinic wrote What's Up With My Skin?. a book that discusses the common physical changes teenagers go through puberty. It is meant for teens and their parents. "Sure, everything is available on the internet. But are the parents and kids getting the right information … or are they getting disinformation in return?" Dr. Issa asked.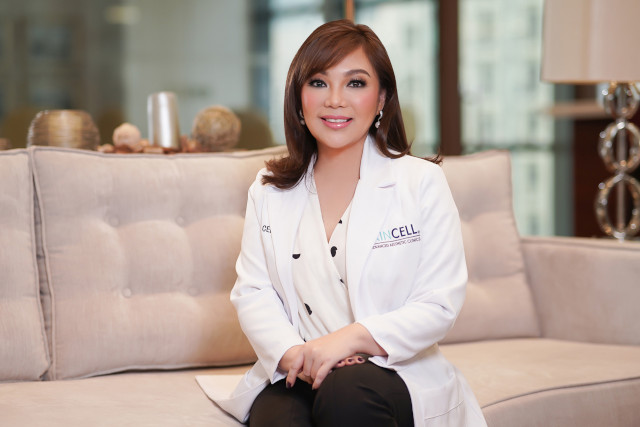 ADVERTISEMENT - CONTINUE READING BELOW
ADVERTISEMENT - CONTINUE READING BELOW
Teens experience a lot of changes during this period: Physical, mental, and social. They also go through a lot of peer pressure which can influence how they behave. Dr. Issa believes that a teen's skin health is one major aspect that can affect one's confidence.
The book was created with colorful illustrations and written with a comforting and clarifying tone. It would be a non-intimidating read for both parents and teens!
"The wonderful thing is once their skin issues are resolved: I see them flourish in school, become more open to social interaction, and have a more upbeat and positive attitude," Dr. Issa explained.
Scroll down to get a primer on teenage skin 101!
What are the most common skincare concerns of teens?
According to Dr. Issa, the most common teenage skin concerns are eczema and acne. "Because of the chronic and relapsing nature of both ailments, acne and eczema have significant psychosocial impacts, especially on teens," she said. Dr. Issa assures that these conditions are treatable. Plus, early treatment minimizes the chance for acne scars.
ADVERTISEMENT - CONTINUE READING BELOW
What is the best acne treatment?
The burning question: We asked Dr. Issa the *best* way to treat acne. "Acne is best treated with the right combination protocols formulated [which are] supervised and managed by a board-certified dermatologist. These include the use of topical creams, oral medications, and select laser procedures," she answered.
"Remember that acne may be a sign of an underlying medical condition such as hormonal imbalance, allergies, or even intolerance to certain medications. Only a medical expert can diagnose and detect such subtle signs," she added.
ADVERTISEMENT - CONTINUE READING BELOW
Why should we be careful with the skincare products you see being popular on the internet?
Another issue that Dr. Issa wants to address? The use of skincare products "with ingredients such as steroids or unregulated bleaching creams" that we see being popular on social media. "Nowadays, many are able to procure these products online without a doctor's guidance and supervision," she warned
Sunscreen is a must, like really!
Dr. Issa stresses the importance of wearing sunscreen, especially when one is always engaging in outdoor activities. "I have a lot of teen patients who lead very active lifestyles with many of them heavily exposed to the sun. Their activities predispose them to a unique set of skin concerns. So I always take the time to remind them to wear broad-spectrum sunscreen to protect against long-term complications of UV exposure," she explained.
ADVERTISEMENT - CONTINUE READING BELOW
But she also explains that we should be careful with the sunscreen formulas we use. "Even when the sunscreen is labeled as non-comedogenic, there are still mineral components of the sunscreen that can interact with your skin and create an imbalance of sorts. Add other factors such as bacterial growth and overproduction of sebum, and we have a perfect recipe mix for a breakout. So I always recommend washing the skin thoroughly," she expounded.
Hot-weather friendly skincare recommendations
The Southeast Asian weather is always hot and humid. Dr. Issa explained the best products to use for people (whether teens or grown-ups) who do not want heavy or oily creams or ointments on their faces.
"I like the consistency of gel formulations and some serums that are lightly formulated and easily absorbed by the skin. Since many Filipinos have sensitive skin, I think water-based gels work well in tropical weather," she recommended.
ADVERTISEMENT - CONTINUE READING BELOW
She also divulged that majority of her patients have combination skin. "Combination skin concerns are also not uncommon.," she revealed. "In my clinics, we have available custom created creams formulated to address combination skin types and can be used safely with patient's own existing skin regimen to boost their efficacy and balance out any deficiencies," she explained.
How one's daily diet affects one's skin
Dr. Issa pointed out that what we take into our bodies, physically manifests on the skin. "A diet rich in high glycemic foods, dairy products, and trans fats (such as very sweet drinks like soda and sweetened milk tea, fast food like french fries) has been linked to acne metabolomics. These foods alter the biochemistry of our bodies to promote comedogenesis and inflammation, she said.
"I instruct my teen patients to lessen or eliminate these during initial phases of our acne treatment program to hasten skin clear up. Replacing sweetened drinks with plain drinking water does wonders for their skin and their overall health over the short and long term," she added.
ADVERTISEMENT - CONTINUE READING BELOW
How genetics and external factors play a role in one's skin condition
"Genetics plays a major role in determining whether you have good skin, what skin type you have (dry, oily, sensitive, and acne-prone), and to some extent, even wrinkles, as you age," Dr. Issa pointed out.
She also said that environmental stressors (eg UV exposure, cigarette smoking) and metabolic status (medical conditions, drugs, diet) are major factors. To ensure good skin health, she highly recommends being under the regular care of a board-certified dermatologist who can help improve how your skin will mature in the long term.
ADVERTISEMENT - CONTINUE READING BELOW
What's Up With Skin? is just the beginning of Dr. Issa's goal to educate everyone about skincare. " I am very keen on tackling the subject of women's health and wellness concerns and I am very excited to explore this subject possibly for the next series," she revealed.
"What's Up With my Skin?" will be made available at select Summit Books Online Partner Stores, SKINCELL clinics, and SKINCELL on Lazada. Each copy costs P950.
READ MORE:
How to Create a Minimalist Skincare Routine That Works for Your Skin
6 Skincare Ingredients to Look for if You Want to Fade Acne Scars
Why Petroleum in Skincare Isn't Always Good + Products That Don't Contain It
Why Skincare Lovers Use Alcohol-Free Toners, Plus Products to Try
This story originally appeared on Cosmo.ph.
* Minor edits have been made by the Candymag.com editors.
#WATCHCANDY: Subscribe to Candy Magazine on YouTube and follow @candymagdotcom on Tiktok for guides to college life and beyond.
Candy is now on Quento! Click here to download the app and enjoy more articles and videos from Candy and your favorite websites!