The world of beauty is so fun and always changing, that it can easily be the best playground for every girl. Thanks to all sorts of beauty products, you can not only look and feel better, but also experiment with looks to truly express your true personality. But with anything, there should always be a balance when it comes to the beauty products and looks you personally like and with the ones that suit your specific age group. Don't get us wrong, we think that it's absolutely great to be unique and express yourself, but it's also best not to rush into anything, especially when it comes to what you apply on your face and body. Since being young is about having fun and discovering yourself (within boundaries, of course), why not approach the same thing the beauty products you use? With that, we put together our very own list of beauty dos and don'ts every Candy Girl can follow when it comes to deciding what beauty products to get and use. Remember that this is merely a suggestion so that you can enjoy what every girl growing up goes through in terms of beauty. You still have the right to choose what you personally want. Either way, we hope you enjoy reading and browsing the tips we've put together!
13-16 years old

Do: It's all about having a fresh face and sweet scent. All you really need is a tinted lip balm and light cologne. Make sure to clean your face daily with an acne-preventive facial wash since this is the age breakouts usually happen. Also, go ahead and have fun sporty cute hairstyles like braids and messy ponytails. Lastly, it's never too early to start applying sunscreen daily.
ADVERTISEMENT - CONTINUE READING BELOW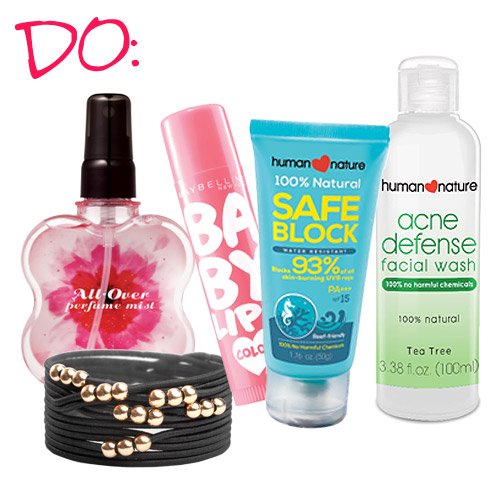 Ponytails, Goody. Cologne, The Face Shop. Lip balm, Maybelline. Sunblock and facial wash, Human Nature.
Don't: Avoid wearing eye shadow, mascara, eyeliner, and blush. Enjoy not having to put any sort of makeup at the moment and show off your natural beauty.
17-20 years old
Do: Now is the right time for you to start playing around with makeup. You can finally sport funky nail art and metallic polish (on the weekends and summer only, of course). We recommend emphasizing your best features by starting to apply mascara and subtle sheen lippies! You should also start applying moisturizer daily to keep your skin hydrated and never forget to apply sunscreen every day.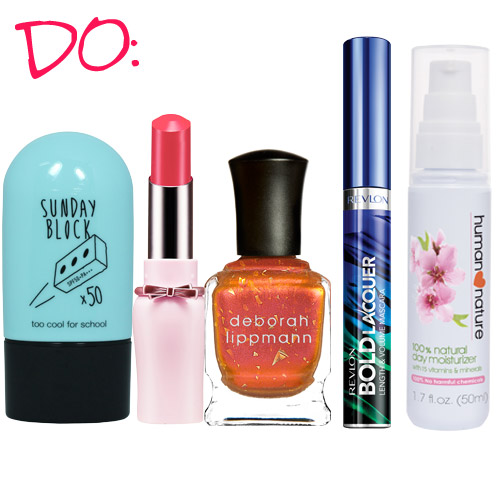 Sunblock, Too Cool For SchooL. Lipstick, Etude House. Nail polish, Deborah Lippmann. Mascara, Revlon. Moisturizer, Human Nature.
Don't: Try to avoid makeup that's too dark and heavy since this can instantly make you look older. It's also never cool to forego putting sunblock, especially on days you're directly exposed to the sun.
21-24 years old
Do: If you haven't started the habit of applying sunscreen, now is the crucial time to start. Also, it's the perfect time for you to start playing around with eye makeup like eyeshadow and smoky eye looks. Using coverage like BB creams are definitely okay, as well as darker lippie hues and blush bronzers.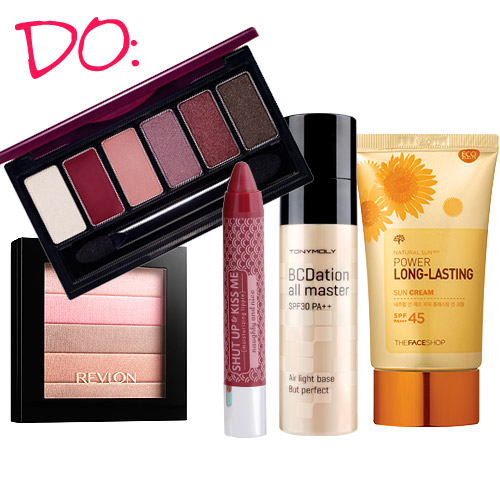 Eyeshadow palette, Etude House. Base makeup, Tony Moly. Lipstick, Happy Skin. Sunblock, The Face Shop. Bronzer, Revlon.
Don't: Even if you're expected to sport more mature beauty looks since you'll soon be entering the world of adults, don't be afraid to still sport bold and fun looks every now and then! You're still young, so make sure to still have fun and enjoy the world of beauty.
ADVERTISEMENT - CONTINUE READING BELOW
Want more tips on the right beauty looks and products to suit your age? Just tweet us @candymagdotcom or leave a comment below and let's take beauty!