The Holy Week draws to a close with the joyous celebration of Easter Sunday, a day of hope... and egg hunts! Ever since I was a child, I've always looked forward to this yearly event. What's not to love? It's a game to find colorful little packages that contain sweet treats or even small toys! Reminisce your childhood with this fun mani.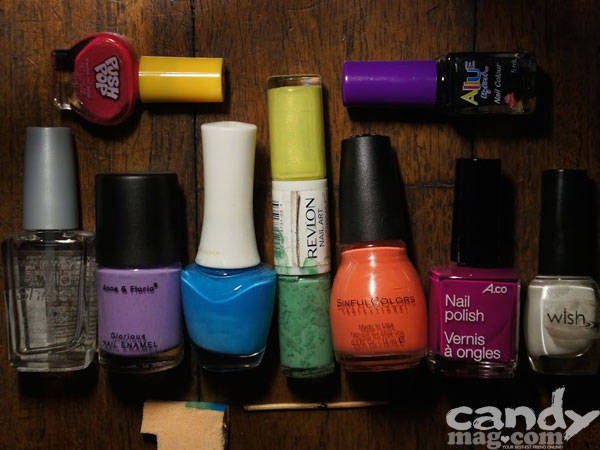 ADVERTISEMENT - CONTINUE READING BELOW
You will need:
Base and top coat: Wet n Wild clear nail protector
Bright and pastel colors: I used Anna & Florio in M36, Faceshop's BL602, Revlon Nail Art Expressionist in Monet Monet, Sinful Colors Professional in Hazard
Detailing colors: I rotated the same palette I used above, plus Ardene in Party Girl, Wet n Wild in Sage in the City, Party Pop (strawberry-scented!) in LottaLuv, Wish in White, and Allue in Black Night Out
Sponge
Toothpick
Cut, file, shape your nails and prep your cuticles. This is important for good nail health and hygiene.

Apply the base coat to protect your natural nail.

Paint nails with the pastels, with a sponge-gradient of sky blue and light green on the middle finger.

ADVERTISEMENT - CONTINUE READING BELOW

To make the first Easter egg, draw a zigzags on the pointer finger, then straight lines, and then dot along the spaces.

For the next egg, dot your pinky in a variety of sizes and colors.

ADVERTISEMENT - CONTINUE READING BELOW

On your middle fingernail, make small eggs on the border of blue and green, as if they're sitting on the grass. Decorate similarly as the large ones you just made, only on a smaller scale.

With the darker shade of green, draw blades of grass, overlapping the eggs somewhat so they're partially hidden, ready for the hunt!

ADVERTISEMENT - CONTINUE READING BELOW

With the white polish, paint the tips of the ring finger, then stroke upwards to create the bunny ears. On the thumb, paint the feet, then fill the spaces in between with more white for the bunny's tummy!

ADVERTISEMENT - CONTINUE READING BELOW

With the pink, draw the details by using the blunt end of the toothpick for the ears and paw, and the sharp end for the nose, mouth, and toes!
Now you're all set for the Easter Egg Hunt! Ready, set, go!