Join Andi and Jessica in setting the rules of sisterhood straight and get the chance to win P10,000 and a makeover! Here's how:
"Like" Pond's Philippines on Facebook and add The Sis Code app.
Through a set of photos, demonstrate the three most important rules between you and your best friend.
Create the first two. For the third one, show us a picture that best depicts this universal rule: friends don't let friends use soap on their face.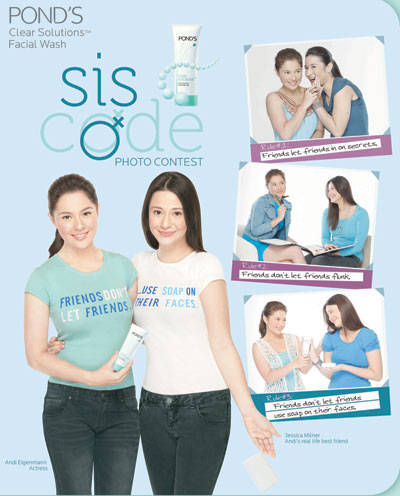 ADVERTISEMENT - CONTINUE READING BELOW
Let The Sis Code keep your friendship clean and smooth, then have your friend swap her soap so Pond's can do the same for her face. Join now and get the chance to win a P10,000 shopping spree, a free beauty makeover, and a feature in one of the country's top fashion magazines! Click here to go to our Facebook page.
Say no to soap and switch to Pond's Clear Solutions Facial Wash now!