Beauty
OPI x Glee Nail Polish?
The hit TV show is following Bieber's and coming out with its own nail polish soon.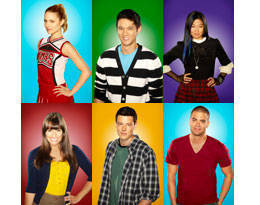 photos courtesy of Fox TV/TV Entertainment Networks (Glee)
Glee is set to come out with their own Glee-inspired nail polish with OPI! The colors include: "Slushied" (opaque blue), "Hell to the No" (bold purple), "Gleek Out" (lime, glittery green), "Diva-in-Training" (poppy pink), "Who Let the Dorks Out" (peacock green), "Miss Bossy Pants" (rich raspberry), and "Mash-Up" (pearlescent green gray).
Any guesses which characters inspired the lacquer colors? We're guessing Miss Bossy Pants = Rachel Berry (even the color is a raspberry!). If you could come up with your own Glee-inspired polish, what would you name them and what colors would you come out with? Leave your suggestions in the comments below!
(via Teen.com)
The university was the first school to apply for the limited face-to-face classes in the country.
Why anyone would say something THIS HORRIBLE is beyond me.
Jeanette opened up about her experience as a young actress in Hollywood.
Screenshot your fave for future reference.
They will no longer consider the proposal after objections on social media.
Fare difference still applies.
Students from 21 different countries also participated.
From fashion designers to models
March isn't off to a great start for K-pop fans.
This meaningful and now-viral song has quite the story!
From The Candy Bulletin Community