If, like us, you've always wondered what Nadine Lustre's tattoos mean, then today is your lucky day. The actress revealed the stories behind them in a video with Dr. Aivee Teo, proving that there's usually more to an ink than meets the eye.
"I see tattoos as a work of art. It's the story of a person," Nadine says in the video. She estimates that she currently has about 12 tattoos, and she got most of them on her arms so she could see them whenever, like indelible notes to self. Read all about her fave tattoos below!
Nadine Lustre's Tattoos and What They Mean
1. Lotus
Nadine compares the blooming of a lotus to her journey to finding herself. "Going through all these challenges and all these hardships and eventually finding the sun, finding the light," she says.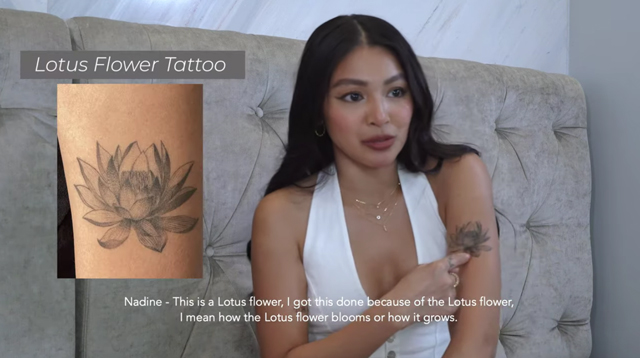 ADVERTISEMENT - CONTINUE READING BELOW
2. "Nakayapak at Nahihiwagaan"
This small group of text on Nadine's inner forearm is a lyric from Up Dharma Down's Tadhana, which the actress' shares is her late brother's favorite song. She says she got the tattoo during his death anniversary, and to her, it signifies a childlike innocence.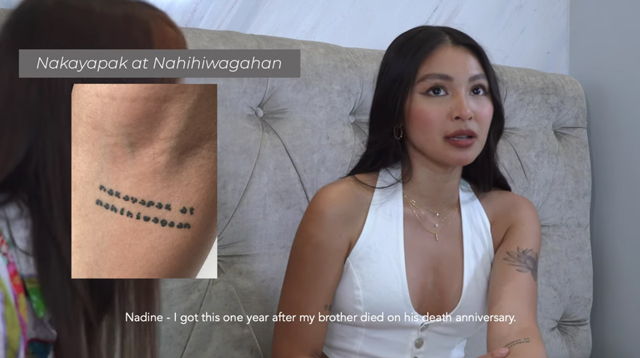 ADVERTISEMENT - CONTINUE READING BELOW
3. Moon
Another ink that references a song, the moon on Nadine's wrist was inspired by the lyrics of Everglow by Coldplay: "Even though you're gone and the world may not know still I see you're celestial." Nadine explains that it reminds her of the people close to her heart who have already passed away.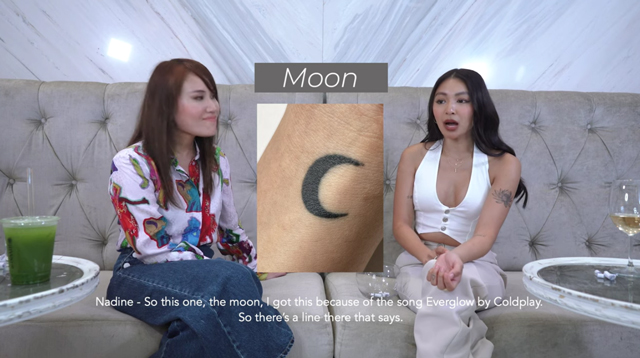 ADVERTISEMENT - CONTINUE READING BELOW
4. Rose
The rose on her opposite wrist was actually one of Nadine's first tattoos. "Every time I look at it, it's like I'm giving myself a rose. It's more on self-love 'cause at that time I was struggling a little in that department," she shares. It's also her favorite flower!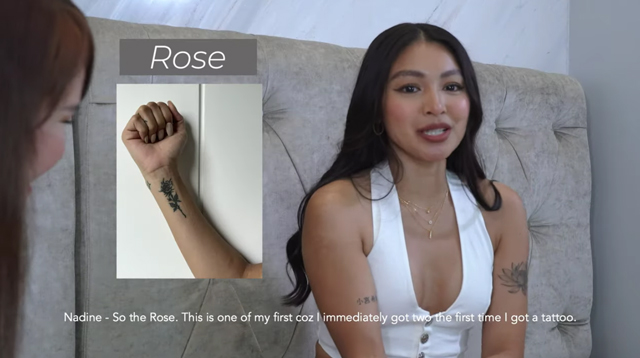 ADVERTISEMENT - CONTINUE READING BELOW
5. Friendship Tattoo
Though Nadine didn't mention the exact meaning of this tattoo, she mentions that she got it together with her friends Kiana Valenciano, Andrea Luis, and Lauren Reid!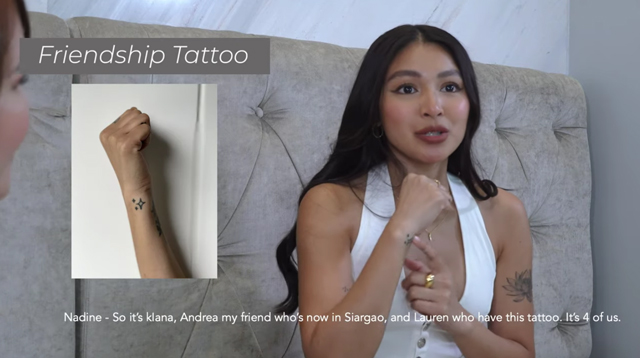 6. Japanese Tattoo
The characters on the actress' arm reads Nozomi Komiya, her Japanese name. According to her, nozomi has the same meaning as Nadine, which is hope.
ADVERTISEMENT - CONTINUE READING BELOW
While Nadine has always been a fan of Japanese pop culture, she shares that she didn't know she had Japanese blood until an uncle told her about her great great grandfather, who married a Filipina.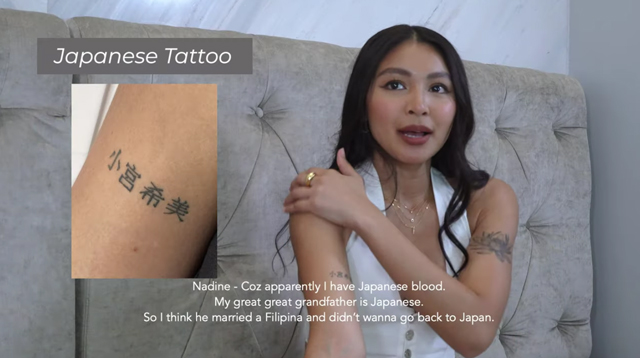 7. Crawling Vine
This crawling vine tattoo stands for the feeling of being grounded, says Nadine. Originally, she wanted to get a snake crawling on her leg, but decided on this index finger ink instead.
ADVERTISEMENT - CONTINUE READING BELOW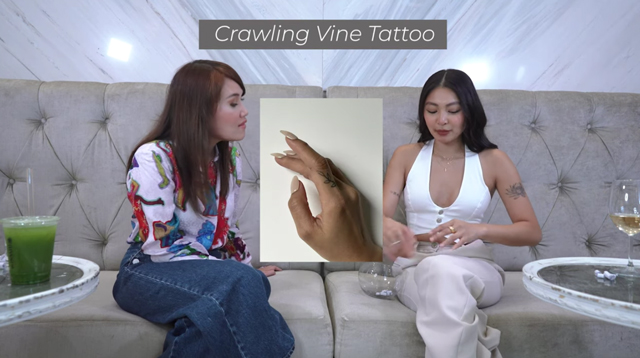 Watch Dr. Aivee Teo's full interview with Nadine here!
This story originally appeared on Preview.ph.
* Minor edits have been made by the Candymag.com editors.