There's something about flawless, poreless skin that all girls love and strive to achieve through their everyday skin care regimen or their makeup routine. While there are various so-called ways to make your pores smaller, pore size is actually genetic and not a hygienic component. But that's not to say that proper hygiene and good makeup habits can't make big pores look smaller. While makeup does a great job of hiding them, there are also some makeup habits that could get you into big trouble with your pores and make them look bigger than they actually are! Yikes! Read on as we list down the common makeup habits that are making your pores look bigger and make sure to steer clear of these makeup no-nos for a makeup application that's nothing short of flawless and poreless from hereon now.
Forgetting to completely remove your makeup.
This isn't just a no-no because it can make your pores look bigger, this is a beauty sin in general! Forgetting to completely remove your makeup—especially in places where your pores are the biggest will allow your makeup to block your pores. And we all know what that means, Candy Girls! Blocked pores always equate to dirty and bigger pores! So make sure to double cleanse when you remove your makeup to make sure  that every bit of product is gone before you hit the sheets.
ADVERTISEMENT - CONTINUE READING BELOW
Using unclean makeup tools.
Let's face it, we're all guilty of not washing our makeup tools enough. But apart from being completely unhygienic, using unclean makeup tools—especially on areas where our pores are more prominent will help bacteria and dirt accumulate in them, enlarging them in the process. Give your tools a good cleaning every time you use them to prevent any skin mishaps.
Packing too much powder on your nose!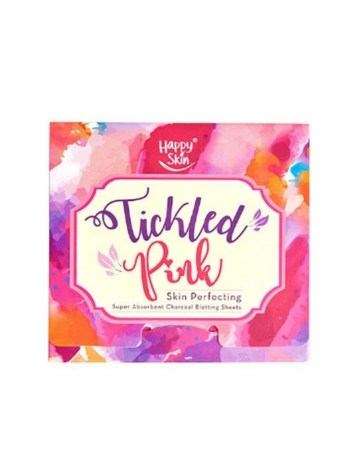 Try: Tickled Pink Skin Perfecting Super Absorbent Charcoal Blotting Sheets P149, Happy Skin 
If your skin type is oily, then you've probably relied on powder to mattify your T-zone your whole life. Although understandably the powder helps keep the oiliness at bay, it could also crawl into your pores through the day, enlarging them! Instead of applying too much powder and risking cakey makeup, opt to use oil blotting papers to manage any facial oils instead.
Not using makeup brushes at all.
Although there's no harm in using your fingers or a trusty sponge blender to make sure your foundation stays flawless, using makeup brushes will give you better coverage and application. And that means, minimizing the appearance of pores the best. A brush with soft bristles and tons of volume will help touch those hard-to-reach spots of your face and blur pores more effectively than other methods.
Wearing too much foundation.
How much is too much? Although the answer might be different for a lot of people, it's safe to say that foundation is meant to enhance your skin and not suffocate it. Too much foundation could actually set in and emphasize your pores and other crevices like fine lines and wrinkles. Opt for lighter coverage to make sure your makeup doesn't go awry. 
ADVERTISEMENT - CONTINUE READING BELOW
What bad makeup habits are you going to ditch this 2017?