Beauty
Make Your Hair Grow Like Rapunzel's
Waiting for your hair to grow out? Here's what you can do.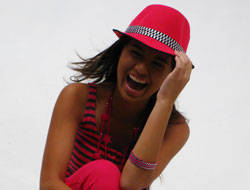 How do I make my hair grow longer?
Our hair typically grows at a rate of half an inch per month. For some people this may be faster, but for those who can't wait to grow out their short hair (myself included!), it can seem like forever. Nutritionists encourage hair growth by eating food rich in Vitamin B (peas, carrots, soy beans, eggs), Vitamin E (green vegetables, whole foods, nuts), and Biotin (brown rice, oats, lentils, walnuts). However, a watched pot never boils, so the best thing for you to do is simply wait. Hair accessories like headbands, scarves, and fashion add-ons like hats can make the wait less boring, so buy a few pieces to keep you busy. And if you're still impatient, buy a few clip-on extensions (make sure they match your hair!) to help make you pass the time.
Marie Calica is your beauty coach. She shapes your beauty routine one day at a time. Got questions? Ask your questions in the comment box below.

ADVERTISEMENT - CONTINUE READING BELOW
They were once Green Archers.
South Korea's revised law will give pop culture artists a chance to delay their military service.
According to a new study.
"I love that I am trans. And I love that I am queer."
It's not just about your face shape!
"If I don't want to be taken a video of, I don't have to be."
From award-winning actors to top musicians.
Plus other things to know about the video game streamer.
Have you been dreaming of this trendy hair color?
Did you know he starred in a couple of music videos?
From The Candy Bulletin Community