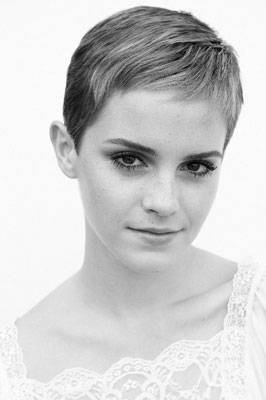 Emma Watson tweets, "Yes, I cut my hair off a few days ago! I love it—feels incredible. Hope you like it!"
We actually spotted a paparazzi picture of her the other day and thought that she had just tied up her hair. It turns out she actually chopped off all her locks!
ADVERTISEMENT - CONTINUE READING BELOW
What do you think about her new hairstyle? Would you go short?
Real Beauty shares 5 steps to going short:
Don't be afraid. "Going short gives you a strong, confident, sexy look."
Find out what you want. Your face shape and hair texture all matter. Sit down with your stylist and discuss what looks best on you all things considered.
Bring pegs. Though you might want to look like Mia Wasikowska or Carey Mulligan, their hairstyle might not look exactly the same on you. Bring lots of different options and let your stylist give their recommendation.
Just do it. If you really want to go short, there's just no way to do it but march into the salon and let your stylist cut!
Learn how to style it. We know that hair is never the same as how you left the salon but ask your stylist for tips on how to style your new 'do. Ask if there are products you can use to maintain your cut.
If ever you do get the courage to go short like Emma, let us know the result! Post your pic so we can see! :)