"Kulot salot!"
Many of us Filipinos have heard this phrase before, but not more than those with curly hair. They grew up hearing it as an insult, making them believe that straight hair is "better." This is exactly what Andrea Ferrer, or Dre, thought so as a kulot girl. From a kid who used to beg for her mom to rebond her hair, she's now a founder of a curl care brand that empowers curly-haired Filipinos! Keep on scrolling to learn more about her story:
How It Started
Dre would've never thought that she'd be creating a curl care brand, especially in the Philippines where having straight, silky hair is considered the norm. However, she has always dreamt of being an entrepreneur (or what she calls an "artrepreneur") when she was a teen.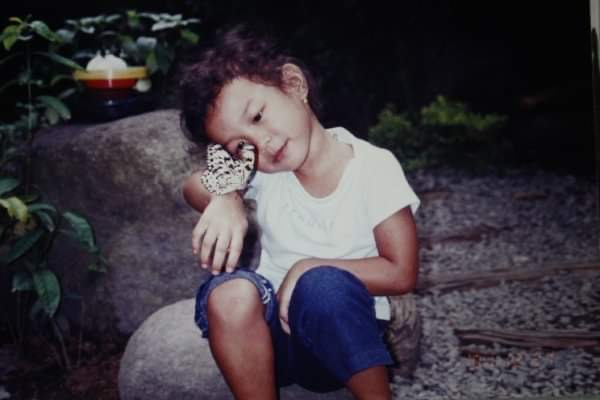 ADVERTISEMENT - CONTINUE READING BELOW
"As a child, I dreamt of running my own sari-sari store. On multiple occasions, I'd secretly re-pack my cereals into ice bags, make ice candy, and put up a "for sale" poster without my family's knowledge - nagugulat na lang sila kapag may nagdoorbell at gustong bumili." Dre tells Candy. From elementary up until college, she never stopped making money through her own designs from tie-dye, muscle-tee, baller, and university merch caps—a true entrepreneur at heart!
In 2017, as she was styling and photographing content for brands, her passion for business was reignited. As a kulot herself, she experienced first-hand what it's like to take care of her hair without enough resources to do so. "I'd try any product with 'CURL' on the label that I could find in retail stores. Back then, Watsons regularly carried only ONE curl styling product—if you know, you know! Occasionally, I'd get lucky and find imported curly hair products at grocery stores, so I'd always check," she shared. 
That's when she started the Curly Girl Method (CGM) which suggests that one must avoid things that can *hurt* your curls and adding in products that heal, hydrate, and moisturize. They also highly discourage using tight hair ties and instead use silk and satin accessories.. Unfortunately, like her journey in looking for a curl care product, she also had a hard time looking for satin or silk headbands. 
"Luckily, my mom is a fashion designer, and with her sewing machines and extra satin fabric, I made my own satin headbands," Dre shares. As she continues to sell headbands online, she realized how many Filipinos share the same struggle as she is. 
"Building Curlico. was something I did by chance and I can say that I finally found my passion and discovered a dream I didn't know existed," she says. 
Overcoming the Struggles
Dre founded Curlico. in October 2019 when she was a 21-year-old college student and commercial photographer. The next month, the brand launched with three products: Curlico. Satin Strip Headband, Satin Twist Headband, and Satin Night Cap. Now, they have over 50 products with more than 150 variants to choose from!
ADVERTISEMENT - CONTINUE READING BELOW
Of course, this was not possible if it weren't for Dre's perseverance. "As a literal one woman team, I find it hard to manage all of my tasks alone - from packing, inventory, content creation, product development, copywriting… literally everything," she shares. While she acknowledged the importance of hiring staff to work together, she felt like they were not yet ready to commit as they want to provide fair wages to their team members.
According to Dre, financing is one of the challenges she continues to face. As part of Micro, Small, and Medium-sized Enterprises (MSMEs), securing access to financial support is very difficult. Thankfully, she was able to find help. "It's very hard and costly to produce exclusive, custom-made formulas, which is why I'm very thankful to have found financial support from the Small Business Corporation, and private individuals - this has allowed us to pursue our next step which is our hair care line."
ADVERTISEMENT - CONTINUE READING BELOW
Not only that, but Dre also invested in improving her skills as an entrepreneur. "I invested in a business masterclass by a fellow entrepreneur (Rizza Lana Sebastian of Lana and Mink) and more than the lessons, I am more thankful to have found a support group of Filipino entrepreneurs through Entrepreneur's Cradle." 
As she struggles with imposter syndromeImpostor Syndrome, Dre strives to change her mindset into a kinder and gentler one to herself.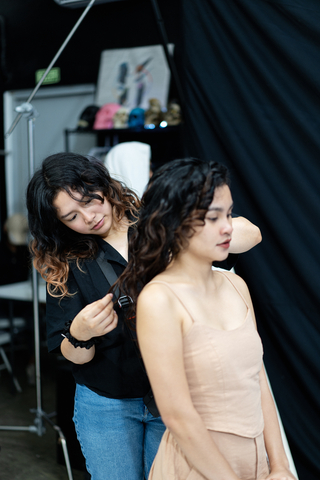 ADVERTISEMENT - CONTINUE READING BELOW
"Even though I am (currently) a one-woman team, I don't consider myself 'self-made' and I never will. Our success wouldn't have been possible without the support of our CurliCommunity, partner manufacturers, and everyone who has helped us along the way, no matter how big or small," Dre says.
Beyond the Goals
Why is it called "Curlico.," you ask? Well, Dre has a simple but well-thought answer to that! "The name of our brand, 'curl + i + co.,' represents a broader vision, where 'co.' can represent a lot of things we value such as COmmunity, COmpany, COllaboration, and more." She further stated that their mission is to empower their fellow Kulots to embrace their natural curls and challenge the negative beauty stereotypes and standards society has. 
There may still be curly-haired people who prefer straight tresses, and for Dre, it's absolutely fine! "BUT we strongly believe in empowering Filipinos with a CHOICE. Through representation, curl care education, and by providing solutions for embracing and loving natural curls, we aspire to promote self-confidence and acceptance."
ADVERTISEMENT - CONTINUE READING BELOW
"Our mission is to make sure every Kulot feels seen, represented, and heard in a country where 'Kulot = Salot'," she adds. They believe that listening and collaborating with their community is the best way in creating products that truly satisfy their needs and preferences. Aside from this, they also continue to provide fair wages to their partner sewer, along with minimizing plastic and fabric waste.
ADVERTISEMENT - CONTINUE READING BELOW
When asked about the future of Curlico., Dre has this to say: "We have BIG plans in store for Curlico., and one thing I'm super excited about is the future expansion of Curlico. Salon x stores and kiosks across the Philippines." The goal is to proudly showcase the beauty of Kulots and celebrate the diverse beauty of Filipinos.
And as for her advice to curly-haired youth who are currently struggling with loving and accepting their tresses? Dre emphasized the need to embrace and love your hair, whatever state it may be in. "Don't stress too much about achieving 'picture-perfect' and 'frizz-free' curls, because the truth is, there is no such thing! Every curl is unique and has its own personality, and that's what makes them special."
She also added that curl care may be intimidating, but do not compare your progress to another's! Be patient and experiment to see what best fits your curls, your lifestyle, and you.
ADVERTISEMENT - CONTINUE READING BELOW