If you're new to makeup, TikTok is one of the applications you can use to know more about it. Personally, as a person who has a short attention span, gone are the days when I go to YouTube to watch five to 10 minutes of pure makeup tutorials. Instead, I would go on TikTok and check out the makeup look and trends that are going around. 
What is the "clean makeup" trend going viral on TikTok all about? 
I've been seeing this "Clean Makeup Look" that beauty TikTokers are doing, and I really like this because it's simple yet gives off a very elevated look! When we think of this makeup trend, keywords like "neat" and "minimalist" come to mind.
One such video on TikTok is Kai Javier's take on the clean makeup trend. In her video, Kai shared, "I feel like everyone has their own version of the clean makeup look because it really depends on how you like to look 'neat.'" This means that people have different ways of doing this trend. It varies per person, but the look she shared is her unique way of doing it.
ADVERTISEMENT - CONTINUE READING BELOW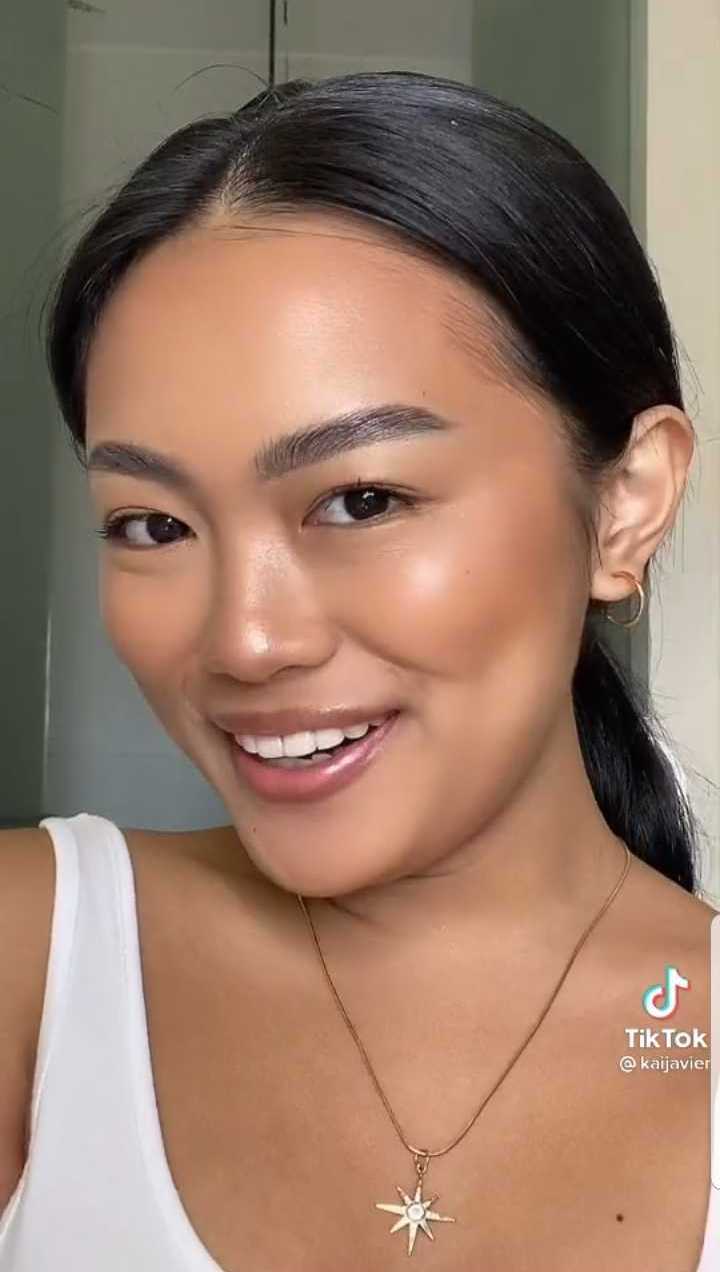 From what I've seen on TikTok, this is definitely one of the looks that I love. It's very sleek and put-together, and it's giving some Hailey Baldwin Bieber vibes—a makeup look we can ~absolutely~ whip out the next time we go out.
If you want to try it our for yourself, here is how you can cop Kai's (@kaijavier) "Clean Makeup" look:  
Eyebrows
First, lightly fill in your brows. She uses a pencil, but whatever you prefer, whether it's pomade, powder, or simply a brow gel, that will do. After filling in her brows, she cleans it up with concealer. According to Kai, this trick makes it look like she has threaded brows even when it is not. 
Skin Tint and Concealer
Second, apply your base. Kai uses a skin tint on her entire face and serum concealer on her under eyes and eyelids. Opting for these types of products gives a more natural finish. 
Brontour
Third, with just one product, she brontours - bronze and contour. She uses a cream contour and does the TikTok trend techniques wherein you just put one dot on either of your cheeks and blend it. This is a way to apply contour with only a small amount of product. Another thing that she does is to section off her brontour to make it easier to blend. Once done with her brontour, she applies her nose contour with just her fingers - simple and easy. 
Blush
Fourth, we can't forget to blush. She goes in using a brush to apply it. However, she uses a beauty sponge afterward to further blend it out. 
ADVERTISEMENT - CONTINUE READING BELOW
Powder foundation
Fifth, to set her under eyes, instead of the usual translucent loose powder that we see online, she uses a powder foundation as a setting powder. 
Bronzer
Sixth, in addition to her brontour, she topped it off with a powder bronzer. She did this because, in her own words, she said, "I like looking like a bronze goddess." I've also seen people use powder on top of their cream products to set it in place. After, she applies the bronzer on her lids and drags it upwards to give a more lifted look. She also adds bronzer on her lower lash for a "subtle definition."
Highlighter
Seventh, to make eyes "pop" and give it a bit more ~ oomph ~ she placed a bit of highlight on her lids. With a different highlighter, she applies it on the bridge of her nose and the highest point of her cheekbones with a beauty sponge.
ADVERTISEMENT - CONTINUE READING BELOW
Mascara
Eight, she finished her eye makeup with mascara because we can't neglect those lashes. 
Lip Liner and Gloss
Ninth, she uses a lip liner, smudges it out, and tops it off with a pigmented gloss.
Setting Spray
Lastly, she sets her face with an illuminating face mist. It's perfect for achieving that extra glow afterward. 
Check out the entire video here: