In an era when protective masks cover most of our faces, the eyes are the best way to make an impact. Thus, in place of lipstick, blush, and base products, folks have been investing more in perfectly shaped arches, expertly applied eyeshadow, and statement-making eyelashes. With that in mind, it comes as no surprise that eyelash extensions—along with similar services like lash lifts, perms, and tints—have become increasingly popular in the last two years. In a nutshell, eyelash extensions are semi-permanent hair-like fibers applied strand by strand to your natural lashes to make them appear longer, thicker, and more noticeable.
Lash extensions can make your eyes appear wider, brighter, and more awake without the need for daily mascara application—just imagine waking up in the morning already looking like you've done your eye makeup. There are several salons across the Metro that offer the service and we took it upon ourselves to figure out the best place to get it. Over the course of about a month, we tried and tested a number of eyelash-extension services in different salons and at varying prices. From there, we ranked each place based on ambience, quality of service, value for money, and (for the COVID-19 era), safety. To give you a better idea of each salon's service, we made sure to include before and after photos with the former showing bare eyelashes with no makeup on and the latter revealing the freshly finished extensions.
ADVERTISEMENT - CONTINUE READING BELOW
All SPOT.ph Top 10 lists are researched for, paid for, tested, and selected by the writers and editors. They are discreetly conducted without any notice made to the establishments or their owners.
These are the top 10 best places to get eyelash extensions in Metro Manila as of 2022:
10. Browlab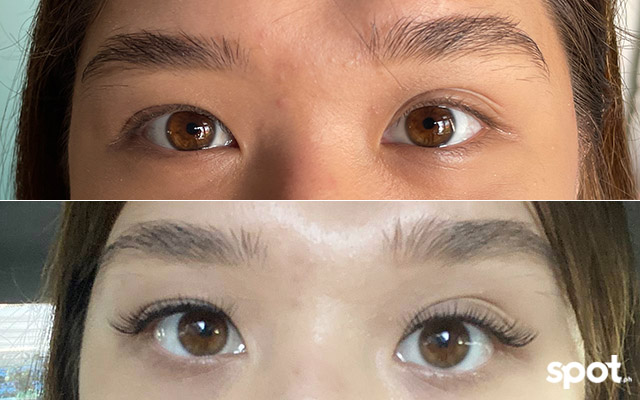 ADVERTISEMENT - CONTINUE READING BELOW
Price range: P550 to P1,600
The lowdown: "I had no problem booking an appointment at Browlab through the Greenbelt branch's mobile number—I even rescheduled to a different time later on and they were able to accommodate me with no fuss. Though they're primarily known as a brow salon, Browlab has a fairly wide selection of lash options. I chose the Classic, which was priced at P800 and includes 80 pieces per eye, but you can also go for Bare, which is only P550 and gives you a more minimal 50 pieces per eye.
For the application process, they'll have you stay on a bed in a small room—pretty comfortable, but it can get noisy if the salon fills up with other customers. The staff was very accommodating and provided recommendations based on my eye shape. The process took about an hour and the technician was very gentle. I even had the option to get a mani-pedi while they were applying the lashes, so I felt ultra-pampered the whole time. In the end, I walked out with thicker, longer eyelashes that were definitely noticeable—maybe not the most natural-looking compared to others I've tried, but I got plenty of compliments and the entire experience was pretty seamless." - Georgia
ADVERTISEMENT - CONTINUE READING BELOW
The verdict: For as little as P550, Browlab provides a relaxing and fairly luxurious eyelash-extension service that's easy to book, pretty quick, and totally painless. They have a decent variety of options ranging from a low-key 50 pieces per eye to a head-turning 150 pieces per eye, so whether you're a first-timer or a regular, you'll be able to choose a style you're comfortable with.
Browlab has branches at Greenbelt 1, SM City Fairview, Robinsons Galleria, Fisher Mall, SM Marikina, Market Market, and Alabang Town Center.
9. Brow Lounge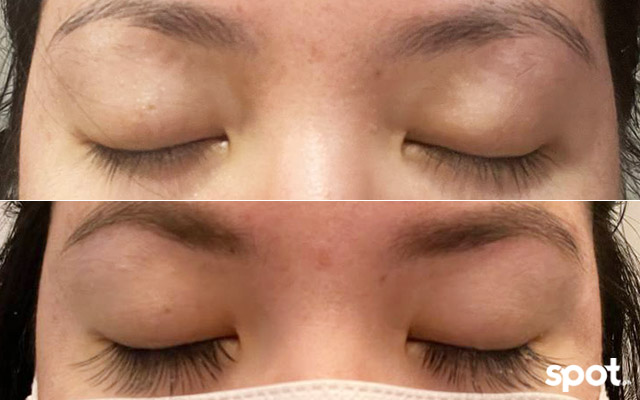 ADVERTISEMENT - CONTINUE READING BELOW
Price range: P550 to P1,200
The lowdown: "It took a few tries calling different Brow Lounge branches, but I was able to get a slot in Trinoma. When it was time for my appointment, I was quickly ushered into a chair while I waited for my technician. Apparently, you can't wear contact lenses during the procedure so they provided me with a contact lens case and some solution. I went for the Classic variant and was recommended a length based on my natural lashes. The entire process took around 30 to 40 minutes. The process itself was pretty seamless and gentle—I think I even dozed off for a bit. When I was finally able to see my lashes all glammed up, they looked amazing from the front, though the side view did give me some trouble—when I wore my glasses, the hairs had a tendency to hit the lenses. While the result was well-applied, I did find the length a little long for my liking, but you do have the option to go for short lashes." - Pat
ADVERTISEMENT - CONTINUE READING BELOW
The verdict: Brow Lounge's lash-extension services range from P550 to P1,200, so it's a great spot for those looking to give extensions a try without committing to a big splurge. Options are pretty limited, but for noticeably longer lashes, quick and seamless application, and a no-nonsense process, the brow spot isn't too shabby.
See a list of Brow Lounge branches.
8. Lash Wishes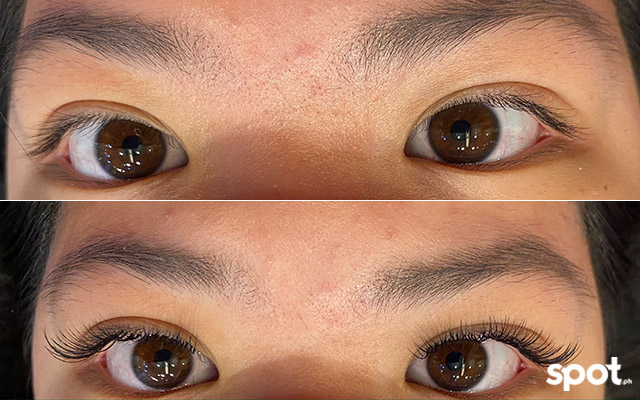 ADVERTISEMENT - CONTINUE READING BELOW
Price range: P550 to P1,600
The lowdown: "Since it was my first time getting eyelash extensions, I was pleased to learn that Lash Wishes has a handy guide with several kinds of lashes, lengths, and hair types to choose from. Upon arrival, I asked multiple questions and requested for them to explain the procedure, which they did very well. They even gave me tips on how to take care of the lashes afterward and informed me that they would last for about a month. I chose the Classic Mink eyelash extensions with a Cat Eye style, which was priced at P1,050.
The staff initially told me the process would take an hour and a half, but it only took 45 minutes. Plus, the person in charge of doing my lashes was very experienced and professional. She constantly checked up on me to make sure I was comfortable and updated me every few minutes on the progress of the lashes. During the procedure, I was very relaxed and I didn't feel any discomfort throughout the whole process. I will definitely go back to the salon again for my future lash appointments." - Marese
ADVERTISEMENT - CONTINUE READING BELOW
The verdict: Lash Wishes is a great spot for first-timers who want a variety of options at affordable prices, but also need a little briefing before getting started. Plus, if you're looking to get your eyelashes done as quickly as possible, their Classic options can be done fairly quickly.
Lash Wishes has branches at SM North EDSA, UP Town Center, SM Marikina, SM Mall of Asia, Glorietta 1, Ayala Malls Vertis North, and SM Grand Central.
7. Ooh La Lash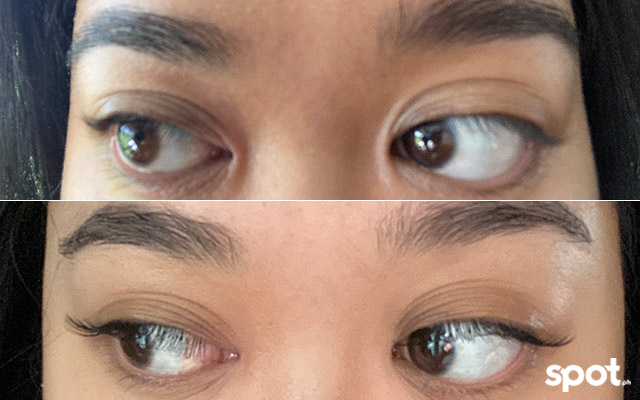 ADVERTISEMENT - CONTINUE READING BELOW
Price range: P690 to P1,290
The lowdown: "My main problem as far as my natural lashes go has always been symmetry; my right set of lashes is great and mostly curls upwards, but the left is a little flat, if not downturned. Ooh La Lash's website promises both length and curl, so I was hoping for the best. And on the same site, there's an "add to cart" function that makes booking a no-contact no-brainer. When I got to the salon, I found it to be clean, well-decorated, but nothing over the top. Plus, everyone is masked up and wearing gloves; hand sanitizer is readily available on the desk.
The bed where the procedure was done was super comfy, and the pillow firm but supportive; the staff member who will be doing your lashes will even wipe you down if you're sweaty from navigating the mall. The process was only a little uncomfortable for my protruding eye shape for all of a minute—you'll forget it's there until the end of the session. They'll even ask if you need a break in the middle of the service if you have a hard time keeping still. I was pretty pleased with the result. If and when you get the extensions, expect everyone you meet to comment that you must have found the perfect mascara, or that 'there's something different, but I can't put my finger on it.' And that is exactly what you want." - Michiko
ADVERTISEMENT - CONTINUE READING BELOW
The verdict: For noticeably longer, more upright, and more defined lashes that seamlessly walk the line between head-turning and natural-enough-to-be-believable, Ooh La Lash has a variety of options at hard-to-beat prices. They also promise a seamless booking experience and a comfortable process that will leave you feeling well taken care of.
Ooh La Lash has branches at Glorietta, SM Mall of Asia, and Robinsons Galleria.
6. Benibana Beauty Hub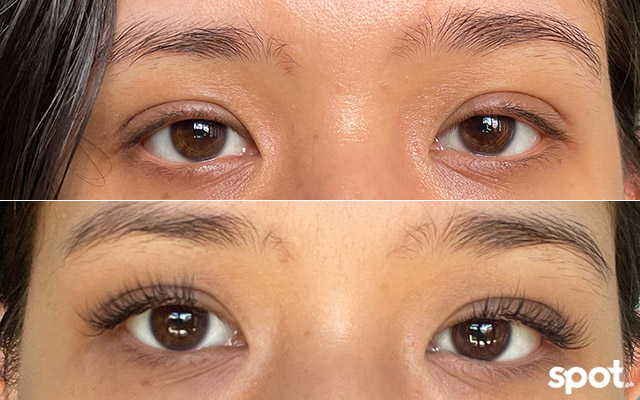 ADVERTISEMENT - CONTINUE READING BELOW
Price range: P2,500 to P5,000
The lowdown: "The last time I got eyelash extensions done years ago, there was a stinging feeling in my eyes when the process was finished—this is normally due to the undried glue leaking into your eyeballs—so I was a little nervous going in for a second try. However, I was pleasantly surprised to find that at Benibana Beauty Hub in San Juan, there was no discomfort from start to finish even after opening my eyes. I booked an appointment over the phone—they don't accept walk-ins as of writing—and was able to get a slot just days after I called. I went on a weekday and there were almost no people in the salon when I arrived. The space itself is not the fanciest—there's a dedicated space for those getting eyelash and eyebrow-related procedures, but it's right by where other people would get haircuts, so you may notice some blow-drying noises while your eyes are closed. I personally wasn't too bothered, but if you're the type who likes luxurious salon experiences, this likely won't be your top pick.
ADVERTISEMENT - CONTINUE READING BELOW
Before the procedure starts, the technician will ask what type of curl shape you'd like your extensions to be—I didn't know the difference between the available options, but luckily, they can recommend a curl type based on your eye shape. The entire process took about an hour and a half. The result was long, fluttery, and noticeable, but not unnatural eyelashes that I got several compliments on. The staff gave me some tips for maintaining the lashes (no oil-based cleanser and gentle handling only) and advised me on when to come in for a touch-up if I wanted to do so. All in all, I was very pleased with the result, but I'm not sure it was worth the three grand." - Ashley
The verdict: Benibana Beauty Hub promises great end results as well as a knowledgeable staff that can not only help you choose a style that best suits your eye shape, but also makes the entire application process easy and comfortable. However, the salon itself isn't exactly a luxurious spot, especially considering the price of the service. Still, it's a decent pick if you're willing to spend on great-looking lashes, especially if you live in the San Juan or Mandaluyong area and would rather avoid heading to the mall for an appointment.
ADVERTISEMENT - CONTINUE READING BELOW
Benibana Beauty Hub is at 187 N. Averilla Street, San Juan City.
5. Ayumi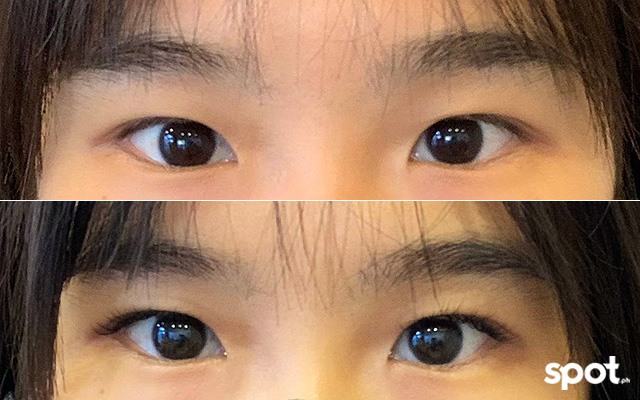 Price range: P1,500 to P6,000
The lowdown: "My natural lashes are thin, short, and straight, so getting eyelash extensions isn't new to me. I usually bring my own lashes and ask the technician to do a 1:1 eyelash extension-to-natural lashes ratio, which makes the end result look more natural, in my opinion. So when I found out that Ayumi offers a 1:1 ratio application, I just had to try. It was easy enough to get a reservation at the Magallanes branch—I texted in advance and the salon replied right away and communicated the schedule with me very clearly. The store itself can only accommodate four customers, but I felt very comfortable having my lashes done thanks to readily available hand sanitizer, plastic dividers in between the sofas, and a disinfection protocol before and after each customer.
ADVERTISEMENT - CONTINUE READING BELOW
Before application, the lash technician checked my eyelashes to see which style would best suit me. I already told her that I wanted something more natural-looking, so she suggested the Classic Full Diva. The technician also recommended that I go for the 10-mm variant instead of their shortest 9mm option, to make the lashes more noticeable. She told me that the effect would be as if I just had a lash lift, exactly what I was hoping for! From there, the technician reclined the chair and gently put tape on my eyelids to get started. The whole process took just about an hour and didn't sting as much as previous lash services I've had done, likely because of the cooling blower that was used to dry the adhesive before I opened my eyes. Upon checking the end result, I realized that these extensions were probably the lightest I've ever had and felt almost identical to human hair. The overall experience was probably the best I've had when it comes to having my eyelash extensions done." - Janelle
ADVERTISEMENT - CONTINUE READING BELOW
The verdict: Even those who are pretty familiar with eyelash-extension services would be impressed with Ayumi's technicians' attention-to-detail approach and no-fuss application process. In the end, you walk away with not only a look that's exactly to your liking and feels weightless on the lids. For those who want that natural look that complements the eye shape and are willing to spend a little extra, you can't go wrong with Ayumi.
See a list of Ayumi branches.
4. Strokes Eye Beauty Studio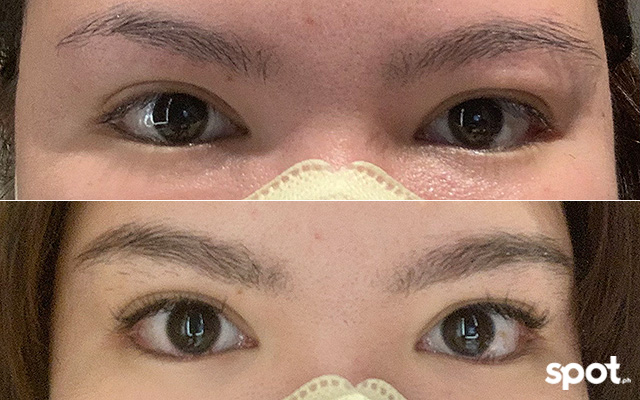 ADVERTISEMENT - CONTINUE READING BELOW
Price range: P2,000 to P5,000
The lowdown: "Booking eyelash-extension services at Strokes Eye Beauty Studio can be done via their website where you'll fill out a form with your contact details as well as your service, location, and schedule of choice. It's a pretty simple process, but they recommend booking via mobile for faster confirmation. Note that they don't take walk-ins as of writing. The salon has a wide and unique range of lash services including Bespoke Lashes, Korean sable lash extensions, and K-Airlash extensions, each with its own subvarieties as far as length and shape. I opted for their Bespoke Lashes in the Classic Natural style, which cost P2,000. They described this on their list as ultra-lightweight and made with hypo-allergenic poly-synthetic fiber. They showed me a board featuring the different Bespoke Lashes options and also asked for the length of lashes I wanted, though they ultimately recommended longer lashes in the middle and shorter lashes on the sides for a doll-like effect.
ADVERTISEMENT - CONTINUE READING BELOW
The experience was overall pleasant. The place was well-scented, clean, and felt very relaxing. There also was not much noise and the staff talked to their customers in hushed tones. Some soothing music was playing during my visit and they even offered a blanket to keep me warm and comfortable—I almost dozed off for a couple of minutes. The finished result looked really nice. I got a bunch of compliments on how my eyes looked brighter and more expressive. I loved how the lashes really looked natural and felt light on the eyes—it really feels like I actually have longer lashes rather than an additional layer of hair on my lash line. I must admit, however, that I can feel the strands when I squeeze my eyelids shut, but they're still way lighter than falsies.
After the service, they gave me a free spoolie brush to keep the extensions from tangling and informed me of some upkeep tips. A repair worth P1,000 was recommended within 14 days from the first day of the procedure—some strands fell off after a few days, so that's probably why. During the process, the staff recommended a different lash service for me to try, which they think is a better fit for my lashes, so there is a huge chance I'm going back to try that out!" - Tin
ADVERTISEMENT - CONTINUE READING BELOW
The verdict: Though definitely a splurge, Strokes Eye Beauty Studio has a great variety of lash extensions that you'll be hard-pressed to find in other salons. Their soothing space and expert technicians promise not only a comfortable experience, but also a customizable look that will leave your eyelashes looking incredible—while still being weightless—and your gaze more striking.
Strokes Eye Beauty Studio has branches at Ayala Malls Vertis North, Greenbelt 1, Molito Alabang, and Shangri-La Plaza.
3. NÉW Lounge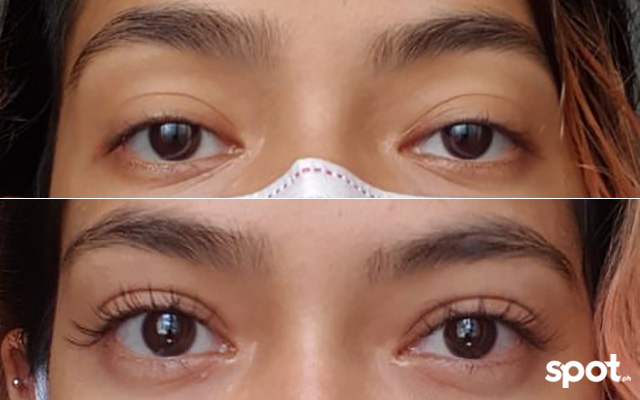 ADVERTISEMENT - CONTINUE READING BELOW
Price range: P2,500 to P5,500
The lowdown: "At NEW Lounge's Mo. Ignacia branch in Quezon City, I was given a waiver form before being settled into a comfortable reclining chair where I was also provided a blanket for added comfort during the process. Communication—necessary in any relationship, especially one where you're trusting them to poke around your eyes—wasn't exactly the best, but I did manage, as a complete newbie, to get the technician to explain all the different treatments and types of lashes they had.
I chose their most basic service, the Natural Eyes with C Curl lashes, which was priced at P2,500. The attendant showed me the lashes and recommended a length that was a bit longer than my natural ones. From there, she pushed down my seat, taped around my eyes, and got to work! It wasn't as uncomfortable as I'd thought—the cool air-conditioning, soft background music, low hum-energy of the attendant's determination, and most especially the blanket, helped keep me calm. The only drawback was how much my eyes stung towards the end, about an hour in. The technician noticed a tear or two dripping, so she helped wipe them off towards the end and then spent a good few minutes directing cool air at my closed eyes using two small fans.
ADVERTISEMENT - CONTINUE READING BELOW
Still, the momentary discomfort was well worth the end result, which was fluttery, long lashes that framed my eyes perfectly. Upon finishing up the process, the technician gave me a little mascara brush for upkeep while going through aftercare do's and don'ts. Best part? Two weeks later and the lashes are holding on strong." - Mia
The verdict: NÉW Lounge offers a comfortable and luxurious service—though some stinging in the eyes may still be expected—as well as stunning end results that not only draw attention to your eyes, but also complement their natural shape. And while the extensions are certainly eye-catching, they remain natural-looking and are soft to the touch. Drop by if you're willing to spend a little extra for picture-perfect lashes.
See a list of NÉW Lounge branches.
3. Kiyosa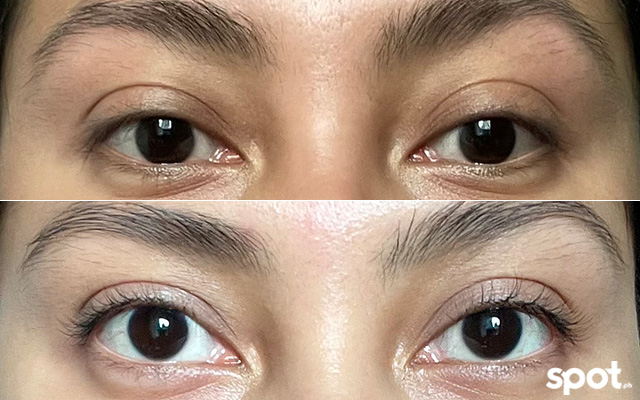 ADVERTISEMENT - CONTINUE READING BELOW
Price range: P960 to P3,180
The lowdown: "A few of my colleagues had good reviews about Kiyosa and because I'd seen the final output for myself, all that was left to do was to try it out. As part of my due diligence, I did research about the salon before scheduling an appointment—I wanted to be sure that they could do the natural look I was after. Before the procedure started, the eyelash technician showed me a catalog explaining how the procedure would be done and explained the different types of extensions as well as the proper aftercare. She also made suggestions on what lash type and length would best suit the shape of my eye. After finalizing my choice, I was asked to fill out a form and sign a waiver. Take note that you can request a patch test 72 hours prior to your appointment just to make sure your skin won't have a reaction.
ADVERTISEMENT - CONTINUE READING BELOW
The entire process lasted an hour as promised. The technician's hands were so light that I didn't feel any discomfort—I even fell asleep during the process. I was very happy with the results. The lashes looked natural; just the way that I like them. They didn't feel heavy, either—it's just like wearing a coat or two of your favorite mascara. However, an hour after I left the salon, I noticed that a lash fell off on my cheek despite not doing anything that required strong movements nor staying in a windy or humid place. I texted Kiyosa about it and I was told that I could come again later that day for a free retouch. Unfortunately, I wasn't able to make it, but they told me to update them again should there be more fallout. The day ended with a few more fallen lashes from my right eyelid, but looks-wise, you wouldn't be able to tell the difference. I reached out to the salon the following day and they scheduled me for a free retouch session within that same day. The same attending technician even added a few more lash extensions (for a total of 90 pieces per eye) at no additional cost." - Kat
ADVERTISEMENT - CONTINUE READING BELOW
The verdict: Kiyosa is one of the most well-known eyelash-extension spots in the Metro and they know how to apply stunning, eye-opening lashes that make a statement, but still look natural and feel lightweight. Plus, you can trust that their expert technicians know exactly how to take care of you, provide you with the results you want, and make sure your lash extensions look good for as long as possible.
See a list of Kiyosa branches.
1. The Secret Lounge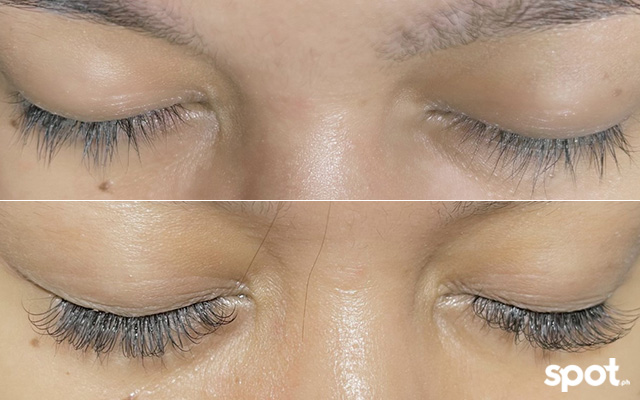 ADVERTISEMENT - CONTINUE READING BELOW
Price range: P1,949 to P3,699
The lowdown: "The Secret Lounge's interiors give a boho-chic vibe far from your typical salon. As soon as I came in, I was welcomed by their friendly receptionist and given my choice of refreshment once settled. I was also asked to fill out a Client Record, which gives me the impression that they keep track of and take care of their clientele. Clients are always coming in and out, so I suggest you book your appointment ahead of time as they have limited slots for walk-ins. I booked my appointment online and in a few minutes, my reservation was confirmed. I was even sent reminders via text on the day of my service. The staff are very friendly and accommodating to questions or requests. Their lash technicians are very gentle—I didn't feel any pain and I usually do since I have naturally long lashes and the upper and lower stick tend to each other most of the time. I could've easily fallen asleep because of the painless experience and the relaxing music.
ADVERTISEMENT - CONTINUE READING BELOW
I selected their base package but even so, I was given the chance to choose my preferred style (cat eye or wide eye) and my choice of curls, too. This makes the service more personal as they adjust it based on what looks best on you. They also offered a three-day warranty—which some salons lack—in case lashes would fall off, which they'll retouch for free. You will definitely get your money's worth at The Secret Lounge." - Pia
The verdict: With an eyelash-extension service that's easy to book, comfortable, and personalized to the customer, The Secret Lounge makes every peso worth the splurge. Plus, their three-day warranty means you can feel safe spending on their services, knowing that they'll ensure your lashes look good for as long as possible. Plus, you'll feel pampered and well taken care of from start to finish.
The Secret Lounge is at 4/F Fort Pointe Building, The Fort Square Plaza, 28th Street, BGC.
ADVERTISEMENT - CONTINUE READING BELOW
Hey, Spotters! Check us out on Viber to join our Community and subscribe to our Chatbot.
This story originally appeared on Spot.ph.
* Minor edits have been made by the Candymag.com editors.
#WATCHCANDY: Subscribe to Candy Magazine on YouTube and follow @candymagdotcom on Tiktok for guides to college life and beyond.
Candy is now on Quento! Click here to download the app and enjoy more articles and videos from Candy and your favorite websites!