As if heading back to school after months of lazy days and lounging under the sheets till noon is not nerve-wracking enough, we all know that the first day back in school is a great way to set the tone of the whole school year, make a great first impression to your profs and new classmates, and of course, for reinventing yourself, too! #pressure To make sure that you have nothing, but an amazing school year ahead of you, we've rounded up all the best beauty essentials you're going to need to make this year your most beautiful school year yet!
Hair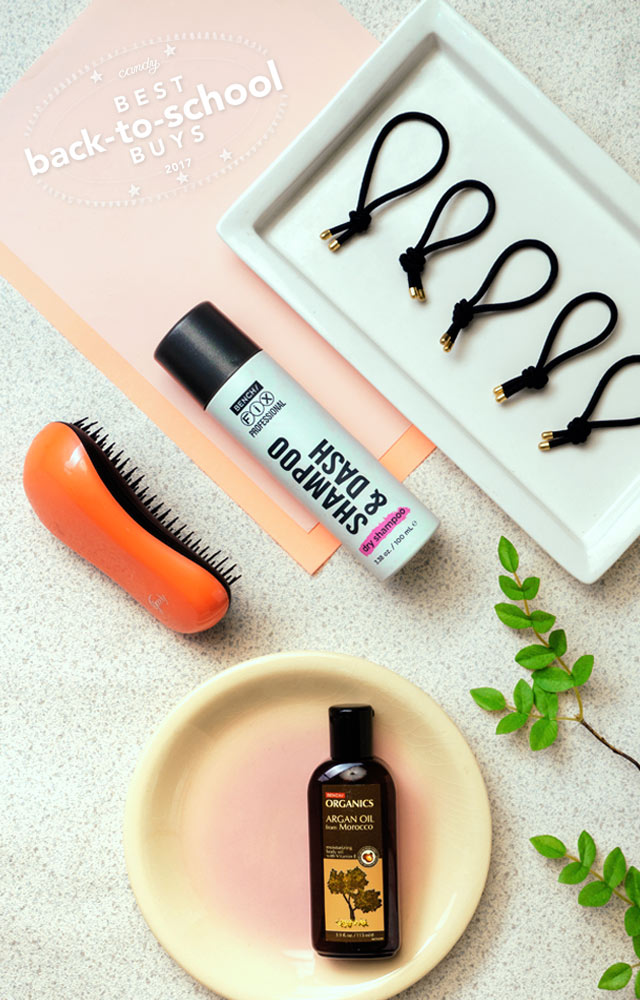 ADVERTISEMENT - CONTINUE READING BELOW
Best black hair tie you're going to need a stash of. The Goody Ouchless, P349.75
Every girl needs a stash of black elastics, but admit it, you've never managed to keep any of these handy bands. Aside from being ouchless and durable, you can be sure that you'll never lose another black hair tie with its unique gold tips! So the next time your classmate borrows a hair tie from you, lend her one of these Goody elastics and never lose track of your black hair ties ever again.
Best handy brush you can throw in your school bag. Goody TangleFix Brush, P789.75
Not only is this brush too cute for school, it's lightweight, it has gentle bristles for easy brushing, and can work even the toughest buhol as well.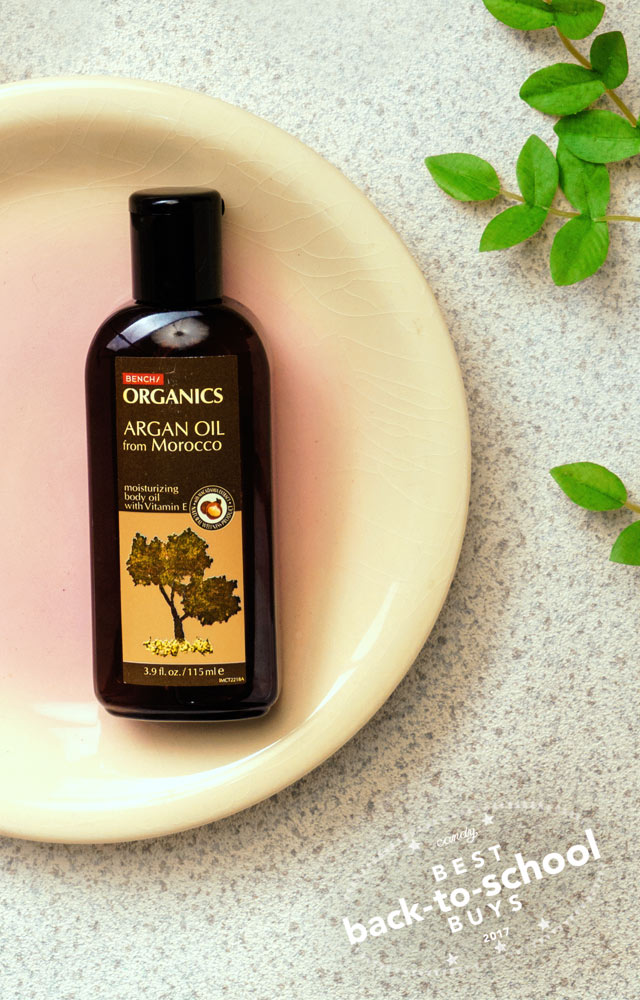 ADVERTISEMENT - CONTINUE READING BELOW
Best hair oil for healthy and shiny locks in a snap. Bench Argan Oil, P199
It's no secret that Argan oil is good for your skin and hair, but a bottle of this buzzworthy oil doesn't come cheap until this trusty bottle from Bench came out. Not only is it affordable, it makes your hair shiny and healthy with just a few applications, too!
Best dry shampoo for the "I'm late" days. Bench Dash & Dry Shampoo, P175
Didn't wake up to your alarm today? No worries! Just grab a bottle of this reliable dry shampoo and no one will have to know that you skipped the mighty shower today.
Makeup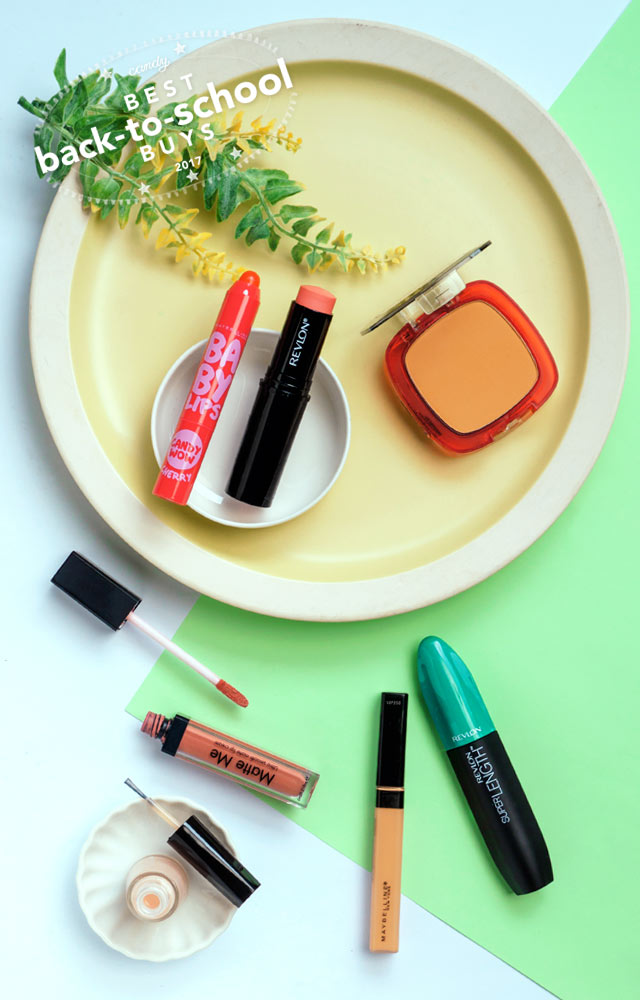 ADVERTISEMENT - CONTINUE READING BELOW
Best concealer to hide that "I pulled an all-nighter" look. Maybelline Fit Me Concealer, 199
All the beauty girls have been raving about the Fit Me line even before it dropped in the Philippines and rightfully so! Our fave from the line? Definitely the concealer. Not only is it easy on the pockets, it blends easily and seamlessly, too.
Best face powder for a fresh look from classroom to hangout. L'Oreal Infallible Pressed Powder, P600
Walking around the campus can be hot and can cause your face to oil up, too. That's why every girl needs to have a pressed powder to keep the shine away. No time to touch up? No worries, because this trusty compact will keep your face matte for a good 16-hrs without making your makeup look too cakey.
Best lip balm for chapped free lips all-day long. Maybelline Candy Wow Chubby Lippie in Cherry, P179
ADVERTISEMENT - CONTINUE READING BELOW
Treating chapped lips isn't always fun because lip balms can be boring sometimes. But you can mix fun and treatment with ease with this classic Maybelline lip balm with a strong color payoff.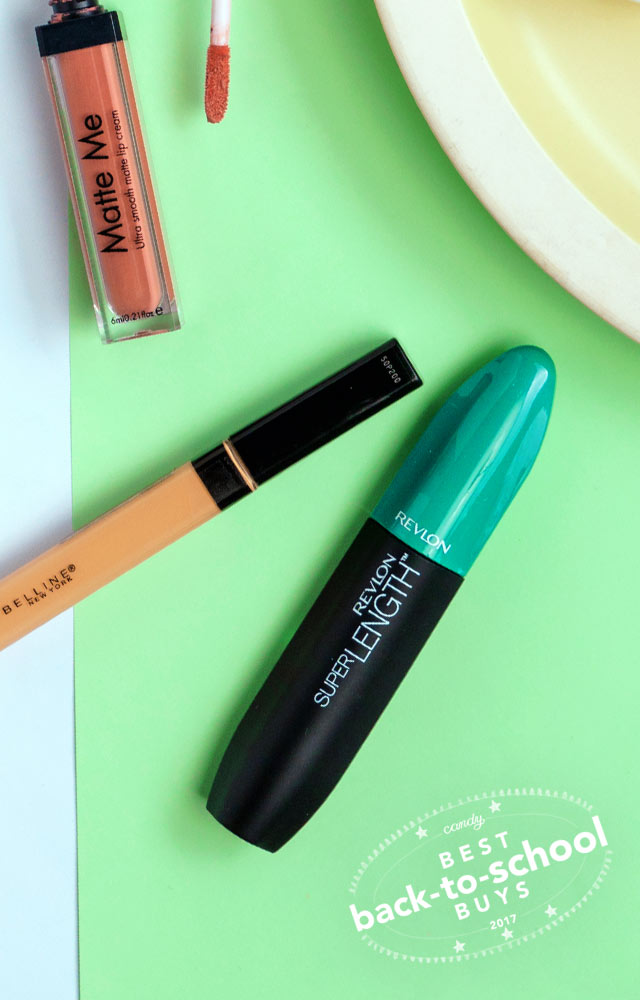 Best mascara to fake an 8-hr sleep. Revlon Super Length Mascara, P650
ADVERTISEMENT - CONTINUE READING BELOW
Whether you stayed up all night to study for an exam or to party on a Wednesday night, you can be sure that you can count on this mascara that lengthens and adds dramatic volume to your peepers in just a swipe or two.
Best no-nail-polish nail polish. Chic in Jamae
One of the worst things about painting your nails is when the polish accidentally chips off and we all know a college girl has got no time to retouch their nails all the time. When in doubt? Grab a bottle of this soft pink polish for healthy-looking nails that isn't so obvious when it chips off, too.
Best my lips, but better lippie. Sleek Matte Me in Birthday Suit, P450
Easy to apply? Check. Natural-looking? Check. Not drying at all? Check. Check. Check. Need we say more?
Best blush for a rosy, natural flush. Revlon Insta-blush in Candy Kiss, P575
ADVERTISEMENT - CONTINUE READING BELOW
Not only is this blush perfect for that no-makeup makeup look, it's so handy, making it easy for you to add color to your cheeks wherever you are. In the car, inside the train, or even when the prof is typing away in his laptop. Yes, it's that easy.
Skin

ADVERTISEMENT - CONTINUE READING BELOW
Best cleanser to take that makeup off. Ponds Acne Clear Facial Foam, P160
It's no secret that in order to get great skin, you need to take that makeup off! So why not hit two birds with one stone with a cleanser that clears your face of makeup AND acne problems, too?
Best hassle-free makeup remover. Sephora Collection Cleansing Wipes in Pomegranate, P385
For the lazier days or when you're too pooped to wash your face, grab a piece of these handy wipes and take that makeup off even as you're lying down on the bed.
Best moisturizer for a forever hydrated face. The Body Shop Vitamin E Moisture Cream, P995
Lightweight, smells good, and thoroughly moisturizes your face, these are just a few reasons why this Body Shop moisturizer is a cult-classic.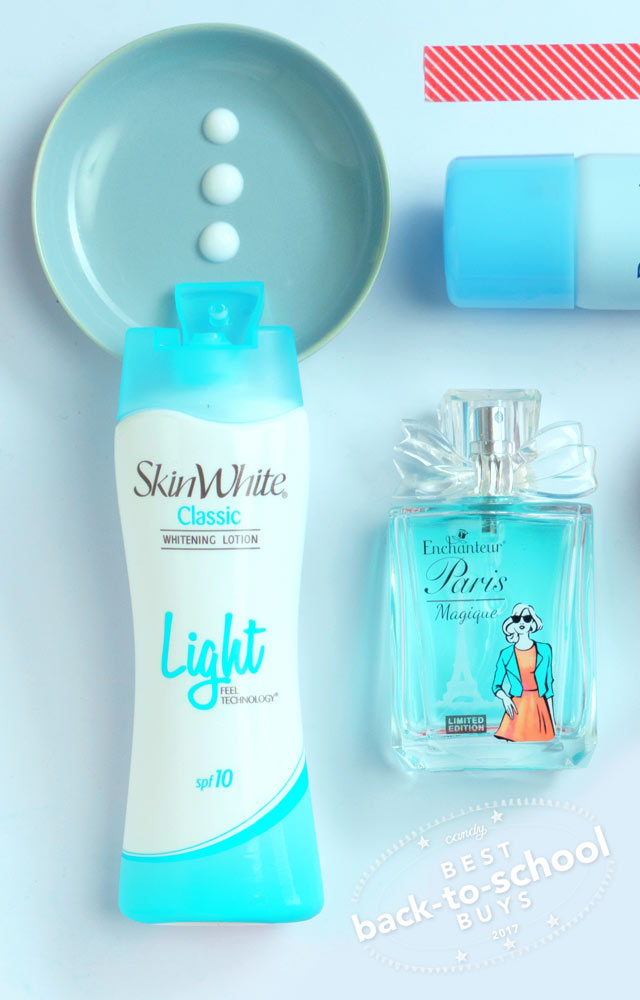 ADVERTISEMENT - CONTINUE READING BELOW
Best lotion for soft skin all-day long. Skin White Natural Lotion, P50.05
Heading back to school is notorious for one more thing aside from going back to living the student life—rainy season. Beat skin dryness with ease with a bottle of gentle lotion in your bag.
Best sunscreen for the tamad days. Biore UV Perfect Spray, P320
We get it, putting on sunscreen can be nakakatamad, but you don't have any reason to neglect your skin anymore because now, you just have to spray it and you're all set.
Best perfume to help you smell good after P.E. class. Enchanteur Paris Magique Eau de Toilette, P469
No need to worry about having to shower after P.E. class because all you need is to spritz and dash to your next class.
Did your favorite make it to the list?