While playing with makeup loot is always fun, sometimes when you're rushing to school or feeling lazy and want to sleep in, rocking a bare face can be pretty tempting. And while we're all for going natural here at the Candy HQ, we understand that blemishes can be pretty nerve-wracking, and can even dishearten you from going au natural. So to make sure that you're always feeling 100 percent confident when rocking a bare face, we sat down and asked Dr. Raissa how to get rid of blemishes permanently once and for all.
Q: What can I do to remove blemishes permanently?
Dr. Raissa: Blemishes on teenagers usually come from old pimple scars. To avoid blemishes always remember that if you have pimples don't pick at them as this will cause further infection and a bigger blemish. Secondly, use a daily sunscreen so that the pimple marks don't get darker and the discoloration caused by the pimples will eventually fade. The best way to remove blemishes is to use a product that will control and prevent you from getting new pimples so you will stop getting marks on your skin. Examples of these products that you can get over-the-counter are salicylic acid and benzoyl peroxide. If these aren't able to fully control your acne, then consult a dermatologist.
ADVERTISEMENT - CONTINUE READING BELOW
While getting pimples is unavoidable, there are now so many products that help control and fight acne. Candy recommends that you incorporate beauty products into your skin care routine that is specifically made to combat pimples to guarantee flawless and blemish-free skin.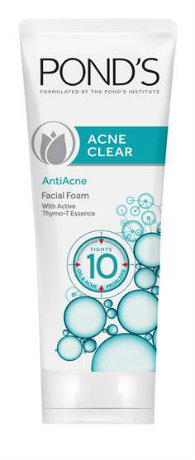 Try using a facial foam that's geared to fight pimples as your facial cleanser during acne season. 
ADVERTISEMENT - CONTINUE READING BELOW

To get rid of acne and spots faster, use a leave-on clearing gel after washing your face. 
Dr. Raissa Francisco-Pasion is a Board-certified Dermatologist, a member of the Philippine Dermatological Society, and a Consultant Dermatologist at SKIN Dermatology and Laser Center at The Fort.
ADVERTISEMENT - CONTINUE READING BELOW
Got beauty questions you're dying to ask? Leave a comment below so we can help you out!