We've all gone through it. When you wake up on the most important day of your life (graduation, prom, your first date, thesis defense, [fill in the blank with your appropriate special occasion]) and there's a huge zit right smack in the middle of your forehead. You think, no one's going to notice it. Then right before you head out the bathroom, you make a split decision: To prick or not to prick? We decided it was time to head to the professionals and get the low-down on how to deal with a pimple. Read on below to see what we found out from Dr. Coreen Copuyoc, a dermatologist (who used to model for Candy!) who knows exactly what to do when faced with a skin emergency.
What do I do when I wake up with a huge zit on my face? Should I prick it? What's a quick solution?
Dr. Coreen: Waking up with a zit may may seem like the end of the world for many girls, especially on a very important day. The right thing to do though, is to remember that it isn't and to avoid pricking or popping that pimple on your own at all costs. First thing to keep in mind is to not manipulate it at all. After gently washing your face with a dermatologically-approved facial cleanser, you may apply cool compresses by soaking a clean cotton ball in ice cold saline solution (made by mixing 1/2 tsp rock salt and a full glass of sterile water).  Squeeze out excess water and place it on top of the zit, without applying direct pressure, for 15 seconds. This may be done up to three times a day. After the first cool compress, you may apply acne medication such as a combination of adapalene and benzoyl peroxide, which will help shrink and dry out the zit. Reapply the med again before going to bed. There is no guarantee that the pimple will disappear as fast as you wish but this will definitely help. Now in case you want that zit gone in no time, do not fret. Just visit a dermatologist as early as possible and he or she can inject your pimple with a dilution of corticosteroid and sterile water. This will dramatically decrease all the inflammation inside the pimple and flatten it out by night time or the following day. 
ADVERTISEMENT - CONTINUE READING BELOW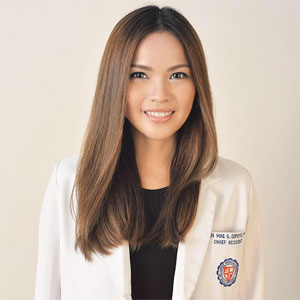 Dr. Coreen Copuyoc is a certified Candy Girl from the late '90s and is now a dermatologist. She finished dermatology at St. Luke's Medical Center and will continue to travel far and wide to learn more about skin and hair for her beloved patients. Follow her on Instagram @coreenmd and tweet her your skin Qs @coreen_md. She will also launch a website late this year at www.coreenmd.com.
ADVERTISEMENT - CONTINUE READING BELOW
Got a skin emergency you need help with? Shoot us a message below or tweet us @candymagdotcom and we'll try to help!