We know we've said this before, but great brows can really do wonders for any girl! With the right shape, the right grooming, and the right products, the brows can brighten one's face in a snap, and make one look fresher, too!
While playing with the different brow makeup—from brow palettes, pencils, and mascaras—is undoubtedly fun, determining the best brow shape for your face is the first and most crucial step in achieving bold, beautiful brows. To help you achieve your dream brows, we asked Benefit's national brow artist Celina Fernandez how exactly can one find the best brow shape for her face.
Q: How do I find the best brow shape for my face?
Celina: There's really no one brow shape that serves a template because every face shape is unique, and requires a specific brow shape, too. So, at Benefit we have a 3-step brow mapping routine to determine the best brow shape for every girl and here's how you can do it, too!
ADVERTISEMENT - CONTINUE READING BELOW
Start – Measure from the dimple of your nose to the beginning of the brow.  This will create an instant slimming effect on the nose, and balances the eyes, too.
Arch – Measure from the edge of the nose to the highest portion of the brow.  This creates a maximum lift to the eye area, and accentuates the cheek bones as well.
End – Measure from the outer edge of the nose past the outer corner of the eye to create an instant eye opening effect, and to frame the face, too.
Here's a diagram to help you out more: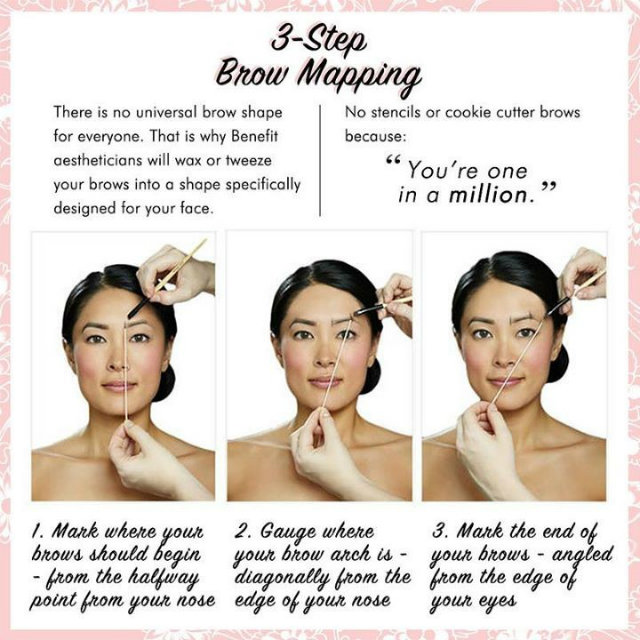 ADVERTISEMENT - CONTINUE READING BELOW
Celina Fernandez is Benefit Cosmetics' national brow artist with over 2 years of experience in raising eyebrows of Benebabes across the country. Celina devotes her time to empowering women of all ages, making them feel good and confident about themselves by giving them a customized pair of well-groomed brows—the perfect accessory to any makeup look! She continues to spread the beauty of the Benefit Brow as the country's go-to gal for anything and everything related to the Benefit Brow Bar. For her, anyone can rule the world with the right makeup tools, and a fabulous pair of benebrows.