Have you been getting scars from your breakouts? Don't worry, there's still a way to clear up your skin. Read on to find out how.
I have a lot of scars on my face because of acne. What can I do to clear that up?
Dr. Coreen: Right after a pimple resolves, a dark patch usually stays which should fade by 6 months. This is referred to as post-inflammatory hyperpigmentation and commonly occurs, especially on Asian skin. However, if one is particularly uncomfortable with these dark post-acne spots, whitening creams may be applied that contain a percentage of glycolic acid, hydroquinone, or other similar components. The good ones are best prescribed by dermatologists, since they are not readily available in drug stores. For deep pock marks and pits, these are a bit trickier and are best treated with dermatological procedures such as chemical peels, laser therapy, or dermatologic surgery. Should you decide to have these done, always remember to choose a certified dermatologist who trained for at least 3 years in a Philippine Dermatological Society-accredited institution. This will ensure the accuracy of your expectations and the safety of your face and your budget.
ADVERTISEMENT - CONTINUE READING BELOW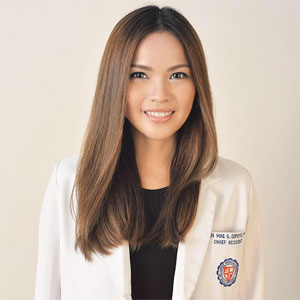 Dr. Coreen Copuyoc is a certified Candy Girl from the late '90s and is now a dermatologist. She finished dermatology at St. Luke's Medical Center and will continue to travel far and wide to learn more about skin and hair for her beloved patients. Follow her on Instagram @coreenmd and tweet her your skin Qs @coreen_md. She will also launch a website late this year at www.coree
ADVERTISEMENT - CONTINUE READING BELOW