Beauty
An Open Letter To Girls With Curly Hair
Candymag.com Correspondent Rizzi declares her love for girls with wavy and curly manes.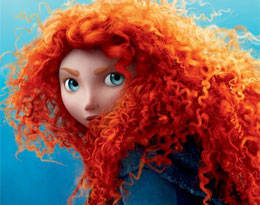 photo courtesy of Walt Disney Pictures (Brave)
Hey, gorgeous!
How are you feeling? Before you read this letter, can you please smile? A little bit wider, please. There you go! You have such a stunning smile! Now, how about running your hands through your pretty hair? Not feeling it? Why?
I know. Maybe you think your hair isn't pretty enough. It isn't like the ones you see in shampoo commercials: long, straight and uber shiny.
You probably imagined it multiple times, have you? Straight smooth hair in place of your curly hard-to-manage hair.
But why? I think your hair looks absolutely fine the way it is.
Maybe it's a little bit hard to manage but refuse the urge to tie it up every single day in a bun or a ponytail. Sure, sometimes, it makes you look like a giant frizz ball. Sometimes, it just won't behave and you find yourself reaching for the iron to straighten your hair. You've tried all those products that promise straight hair but nothing ever works. Sometimes, you just want to get your hair straightened like almost every girl in school. You even tried it once but after a few months, your hair started growing out and poof, curly hair once again.
ADVERTISEMENT - CONTINUE READING BELOW
CONTINUE READING BELOW
Recommended Videos
You see, honey, nothing ever works because you keep going against what you really have. Embrace your curly hair. It's beautiful the way it is. It's what makes you YOU.
Start loving your curly hair and treating it the way it deserves. Use shampoo that's for curly hair. Take the time you use to straighten you hair on put it in moisturizing it instead. Only use a wide-toothed comb and find a stylist who knows how to handle curly hair. Stop forcing it stick straight, because that will just damage it more.
Now, keep that winning smile and do a hair flip. Surely, you'll get more compliments. Plus, your hair will love the extra TLC!
Don't be afraid to show off your well-cared-for, curly hair. Let your hair down and believe that your natural hair looks on you best.
Candy wink and kisses,
Rizzi
P.S. No, I'm not saying your straight-haired friend should reach for the curling iron right away. You both have equally admirable manes.
ADVERTISEMENT - CONTINUE READING BELOW
Here's the story behind FASH.
Time to unwind with 1/2 of the Gaya sa Pelikula love team.
Everyone has gone digital.
She's playing the role of Star Vixen!
I didn't know I needed this until it came out...
They share tips and stories of their ups and downs to motivate you throughout the process.
Bookmark these fashion formulas to make the most of your one-piece swimsuits all year round!
Put these titles on your watch-list.
A capsule coffee machine for P2,999? Sulit!
It takes five people to make one!
See how this homeowner carved out an office space in his tiny bedroom!
From The Candy Bulletin Community