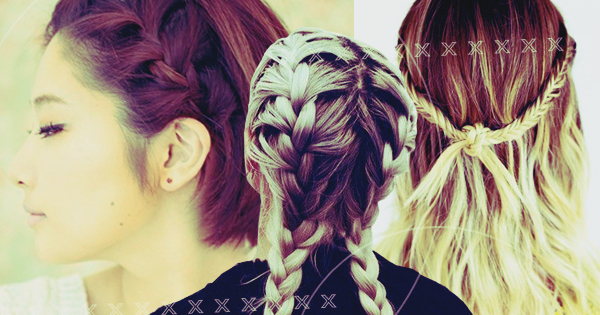 As fun it is to get a new haircut every now and then, changing up your 'do doesn't always guarantee success. There are times you won't like your freshly chopped hairstyle and that's completely okay. Since we know just how frustrating it is to try and style a cut that you're not loving at all, we're to help you fall back in love with your hair by sharing the cute styles and looks you can sport while waiting for your hair to grow out. Just scroll down below and try out the different hairstyles! Enjoy.
1 Casual French Side Braid
Is your new shorter 'do getting a little unruly? Keep it looking fresh and polished with this easy and really cute hairstyle!
2 French Braid Pigtails
If your hair didn't settle well 2 days post-haircut, sporting this back-on-trend hairstyle will keep your hair in place while making you look super chic!
3 Slick Back Hair
Another way to tame your short and frizzy new haircut is by applying some wax or gel and going for this slick back hairstyle that's perfect for formal events.
ADVERTISEMENT - CONTINUE READING BELOW
4 Bohemian Knotty Fishtail Braid
Not loving your layered locks? This will give your hair a very boho-chic look while keeping your hair in place and looking extra pretty.
5 Messy Half-Bun
This on-trend hairstyle is the perfect solution for an unwanted cut at any length.
6 Sleek and Straight Side Part
This hairstyle is the best way to elevate any bad haircut and it's also really easy to achieve!
7 Turban Headscarf
Don't have enough time to fix your frizzy new 'do? Simply tie it inside a cute printed headscarf for that instant cool girl touch.
8 Ballerina Top Knot
With a little wax, hairspray, and some hair pins, you can easily hide your unwanted new hairstyle and turn it into a really chic updo.
9 Super High Ponytail
Keep your hair looking polished and super chic by sporting this 'do. Best part is, it's really quick and easy to do!
10 French Braid Bun
Turn your classic french braid into an updo with this look and you can easily hide any uneven cuts.
11 Macrame Braid
It may sound complicated but this really pretty and easy to do hairstyle is perfect for when you're growing out bangs or layers.
12 The Halfie Braid
Did your new hairstyle give you extra frizzy hair? This cute and super chic braid is the solution!