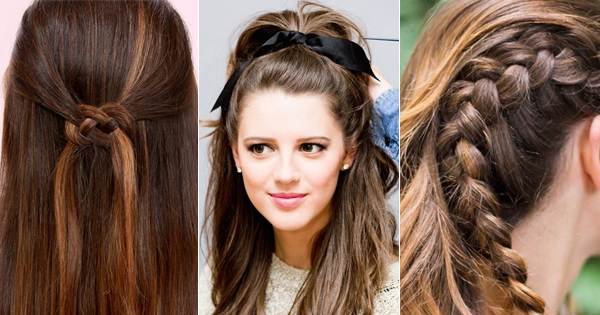 Don't let your school uniform or dress code stop you from expressing yourself. One great way to look cute and add oomph to your everyday school looks is by sporting cute hairstyles you can easily recreate! That's why we went ahead and rounded up really cute looks you can sport to look and feel extra good even while you're at school! Scroll down and pick the looks you want to try out.
1 Twisted Top Knot
Channel your inner ballerina with a twist by sporting this hairstyle on days you need your hair out of your face.
ADVERTISEMENT - CONTINUE READING BELOW
2 Infinity Knot
For days when you have extra time on your hands and want a look that will make you stand out, this hairstyle is perfect for you!
3 Simple Chignon
Feel and look extra preppy and pretty with this really cute hairstyle!
4 Side-Braided Pony
Have dance practice or a long day filled with lots of school work? This will keep your hair out of your face and keep you cool and looking pretty!
5 High Half Pony
Another preppy hairstyle thay will look good with your uniform or after school outfit.
ADVERTISEMENT - CONTINUE READING BELOW
6 Game of Thrones Inspired Half Braid
This braid inspired by one of your favorite shows will definitely make you stand out in school.
7 Middle Part Beach Waves
For days when you're in a rush, this hairstyle is the perfect go-to look!
8 Braided Bangs
Keep your growing bangs out of the way with this look that's chic and cute!
ADVERTISEMENT - CONTINUE READING BELOW
9 Retro Updo
This preppy hairstyle will look extra cute with your everyday uniform.
10 Fishtail Bun
Another hairstyle that will keep your hair out of the way for those extra busy days!