Since weekdays are spent in school following all sorts of guidelines, especially ones involving what you're wearing and your beauty look, weekends become extra special because you can actually freely choose your entire look for all the fun activities you have planned. And since weekends are pretty much the only time you can bust out everything in your kikay kit without having to worry about a thing, we decided to look for all the pretty statement makeup looks you can sport. From colored mascara to metallic eyes and bold lips, we list down below all the fun beauty looks you can enjoy wearing on the weekends! So go ahead and scroll down to see what they are, then let down your hair and try them out for yourself!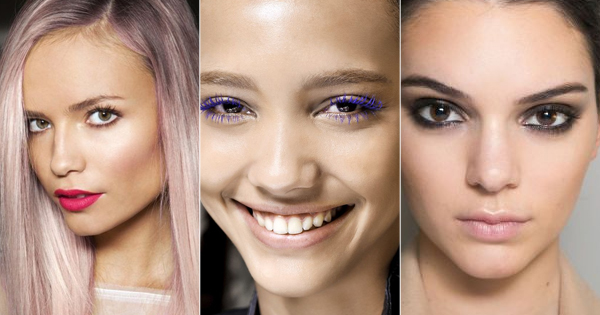 ADVERTISEMENT - CONTINUE READING BELOW
ADVERTISEMENT - CONTINUE READING BELOW
1 Dewy Cheeks + Pink Lips
This fresh and fun look is so easy to achieve, you only need two basic products–a highlighter and your favorite bright pink lippie!
2 Bold Brows + Long Lashes + Plum Lips
Look extra glam on your next girls'night out with this foolproof beauty look that flatters all skin tones.
3 Lived-in Eyeliner + Nude Lips
This makeup look is perfect for when you want to look a little more edgy and effortless. Make sure to use a charcoal-colored pencil eyeliner and sheer nude lippie.
4 Colored Mascara + Bare Face
Make a super fun statement by coating your lashes with electric blue mascara or any other color of your choice. Try to keep the rest of your look neutral to highlight your eyes.
5 Metallic Copper Eyes + Glossy Lips
This is another glam look that will easily dress up your favorite LBD and strappy heels. Don't be shy and try this look at least once!
ADVERTISEMENT - CONTINUE READING BELOW
6 Electric Blue-lined Eyes
Line your eyes with electric blue eyeliner to make a bold statement at your next party! Skip the blush and go with a nude or mauve lip for this look.
7 Silver Metallic Exaggerated Cat Eye + Pale Lips
For a more futuristic glam outfit, make sure to try out this beauty look! It's a great way to highlight your pretty eyes while dazzling in your ensemble.
8 Golden Cat Eye
This is a simple way to dress up your entire makeup look and outfit! Make sure to start out with a thin line to avoid mistakes.
9 Bronze Eyes + Glossy Red Lips
If you're a big fan of a red lip, you should definitely switch it up a little by going with this makeup combo for a change.
10 Graphic Black Eyeliner
Look totally chic while you make a statement with this trendy eye makeup look that's a lot more wearable than you think.
ADVERTISEMENT - CONTINUE READING BELOW
❤️