Grab a bucket of popcorn and some soda because drama is about to unfold this early Tuesday morning. Ex-One Direction member Zayn Malik just slammed Naughty Boy over Twitter. Wait, what? Yes, guys, it looks like Zaughty is no more and Directioners all over the world are rejoicing. See for yourselves via the hashtag #ZaynHasNoChill. But before the party (we're not big fans of fighting, BTW, okay?), here's what went down on Twitter.
Apparently, someone leaked the music video of "No Type" which features Zayn and rapper MIC Righteous...
@fckatlouis pic.twitter.com/FcnNfso9J4

— emilly • 62 (@80spopniall) July 13, 2015
And El Maliko isn't too happy about this. So he went online and posted his ~*feelings*~, directly addressing his (ex-)mate. P.S. Posting screengrabs of this in case someone decides to delete some tweets.

ADVERTISEMENT - CONTINUE READING BELOW
ADVERTISEMENT - CONTINUE READING BELOW
But a day before, Naughty Boy was already tweeting a bunch of stuff about somebody being a "snake." Who could this be?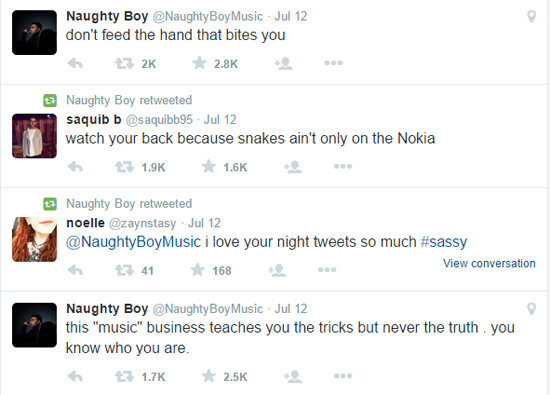 Okay, what is happening? We need to hear the rest of the story, you guys, because last time we checked, rumors said that Zaughty is a thing even before Maliko quit 1D. Is this related to the rumors that Zayn is under new management so NB lost control over what should be his solo career? (via SugarScape.com)
ADVERTISEMENT - CONTINUE READING BELOW
Better brace yourselves because things might get a little weirder today. Breakfast, anyone?
What do you think of this new update on Zayn, Candy Girls? Let us know in the comments or via Twitter @candymagdotcom.