A week after we celebrated Zayn Malik's 22nd birthday and his hair's perfection, the One Direction cutie makes the headlines again for the same reason. He recently got a haircut and it's, in his word, "sick." He showed off his sleek new 'do on Twitter which just made us more excited to see him showing it off onstage this March. Zayn had it shaved on the sides and the back, and wears the top in a ponytail (or is that a bun?).
The 22-year-old went to The London Barber on a Monday to have it shaved. Kieron Webb, its creative director, handled the delicate treasure that is Zayn's hair in his hands.
Here is Creative Director @KieronWebb cutting his client @zaynmalik. #thelondonbarber pic.twitter.com/TWIpNYGv4z

— The London Barber (@TheLondonBarber) January 17, 2015
Zayn tweeted after that it was a much-needed haircut after he grew out his locks for a year.
@KieronWebb @TheLondonBarber thanks for the sick haircut! It's been a year it was well needed 😁😝

— zaynmalik1D (@zaynmalik) January 17, 2015
And then he went on to showing it off to his followers on Twitter.
Here Ya go pic.twitter.com/T9XofRz1S9

— zaynmalik1D (@zaynmalik) January 17, 2015
good fellas @shakavelimusic @zaynmalik @emelisande 2015 just ain't ready 😎 pic.twitter.com/v0NjcUA3Q2

— Naughty Boy (@NaughtyBoyMusic) January 18, 2015
We particularly loved this artwork featuring his new 'do best. Neat!
ADVERTISEMENT - CONTINUE READING BELOW
Sick ... pic.twitter.com/dfHu6bvoBA

— zaynmalik1D (@zaynmalik) January 18, 2015
The world had mixed reactions towards his new hair, though. Some loved it and can't even cope.
you death certificate be like Cause of Death: Zayn Malik's new 2015 haircut with a selfie #ZaynYourSelfieKilledUs

— aaron (@eyesmileniall) January 18, 2015
im sorry but this isnt a clear picture of your haircut can you do this again with your shirt off thanks @zaynmalik pic.twitter.com/S5a1e6t4uJ

— floor ! (@Tomlinbucks) January 17, 2015
he looked so good with long hair but he looks so good with his new haircut too goodbye everybody i no longer exist zayn malik just killed me

— ☹ Niall ☹ (@khannapatricia) January 18, 2015
While others missed his long hair.
@zaynmalik YOU DID NOT NEED A HAIRCUT UR LONG HAIR WAS PERFECTLY FINE

— dani (@bvsichoran) January 20, 2015
Why u did this haircut ???? Why u did this to me ??? I loved ur long hair so much u just broke my heart into paces 💔😞 @zaynmalik

— ❤ (@HoulaOmar) January 17, 2015
But basically this is us after laying eyes on Zayn's new 'do.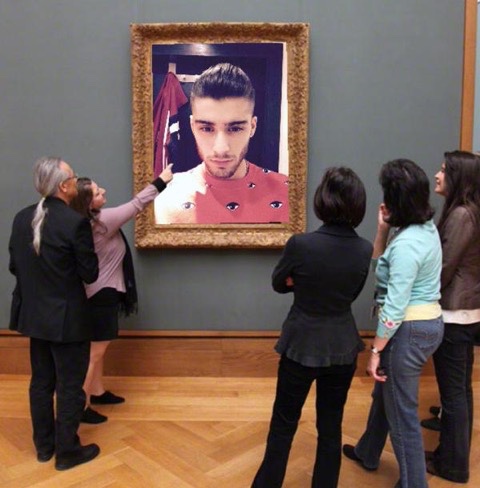 via onedirectionofficialupdate.tumblr.com
What do you think of this cutie's new look, Candy Girls? Do you think Harry Styles should get a haircut, too (hahaha!)? Let us know in the comments or tweet us @candymagdotcom to join the conversation! :)