If you were to watch only one episode of Gle's sixth and final season, make it the eighth episode, "A Wedding." What's supposed to be Santana and Brittany's glamorous barn nuptials becomes a double wedding when the universe conspires to have Kurt and Blaine get back together and decide to get married, like, five minutes later.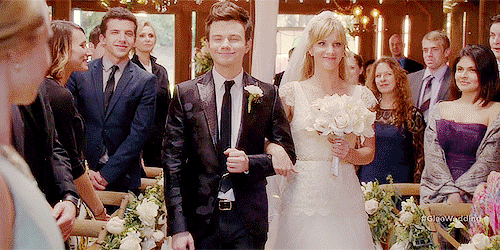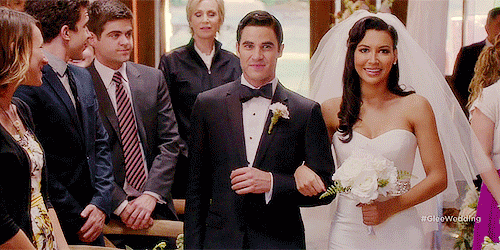 via multifandomwonderland.tumblr.com
ADVERTISEMENT - CONTINUE READING BELOW
Never mind that Kurt and Blaine have to talk about the issues that made them break up in the first place, or that their family and friends might've wanted to watch them tie the knot. Fan service is the name of the game these days on Glee, so Santana allowing Klaine to steal/share their thunder on their big day is one of the most acceptable of all the plot holes and character inconsistencies this crazy season.
Anyway, who cares when you've got two dapper boys and two gorgeous ladies walking down the aisle and vowing to love each other forever and ever? It's the stuff fanfic is made of. (Seriously, it's like the writers this season scoured the Internet for fan-made stories.)
Klaine and Brittana have come so far—just look at how adorable they are in their early days.
In other news, watching her dear friends get married has Tina wanting a happy ending of her own, so she decides to propose to Mike, her ex whom she's been texting with recently. Mike thankfully has the sense to say that they have their whole lives ahead of them and that there are plenty of fish in the sea. He turns her down oh-so sweetly, but this being Glee, the ridiculousness doesn't end there. Artie proposes that he and Tina marry each other if they're still single by the time they're 30. "I officially accept your invitation to be your backup fiancé," Tina says. I'm curious, does this ever happen in real life? And is it ever a good idea?
Anyway let's just focus on the good vibes and end with Klaine and Brittana's full vows. <3
Catch Glee on ETC.