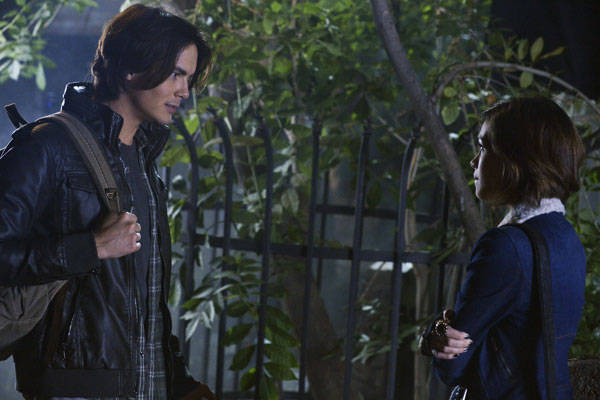 We interrupt your regular programming of movie news with a special guide to Ravenswood, the Pretty Little Liars spin-off starring Tyler Blackburn as Caleb. I was lucky enough to chat with him last Friday, and he spilled so many deets about the show that it seemed criminAl (see what I did there? Haha!) not to share them with you girls right away!
How is Ravenswood different from PLL?
It's spookier because the cursed town, which is near PLL's Rosewood, is home to ghosts and all sorts of supernatural creatures. "Pretty Little Liars is sort of a thriller. Ravenswood is much scarier," Tyler says. "I think that it's going to be in the same vein as PLL, but it's going to give people nightmares."
Speaking of, something spooky actually happened on set. "While we were shooting at an abandoned psychiatric hospital, water started dripping heavily from the ceiling. Somebody went up to the second floor to find out where it was coming from. It was a sink that was turned on—inside a locked closet."
ADVERTISEMENT - CONTINUE READING BELOW
Will "A" follow Caleb to Ravenswood?
Don't count on it because the Big Bad in Ravenswood is—wait for it—death. "Basically we're all trying to escape this entity of death. It's not a person. It's something you can't control."
Click-through to the next page for more of the interview.