All Access
Your First Love Will Always Be 'Everything, Everything'
The movie adaptation of Nicola Yoon's YA novel is the feel-good love story you need to watch right now.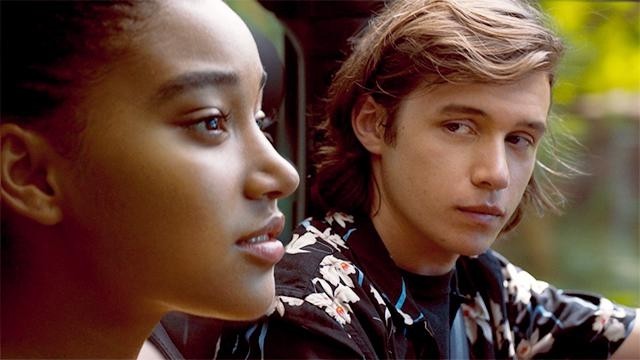 IMAGE Warner Bros. Pictures
Close your eyes and think about the very first person you fell for. For some of you, it could be the childhood friend you grew up with; for others, it could be your seatmate throughout most of high school (thank the class alphabetical order), or the batchmate you got isaw and siomai with on the first day of college. It might have been a lifetime ago, or you could be falling for him or her this very minute. It could've hit you like a lightning bolt, or it could've been a slow burn. However way you experienced it, you can't deny that it has impacted you in ways that you'll keep discovering for the rest of your life.
In the book-turned-movie Everything, Everything, Maddy was just minding her business, living her life in a germ-free bubble like she has for the past 18 years, when the boy next door pops that bubble in more ways than one. There's the undeniable fact that Olly is cute and flirty and makes her feel butterflies in her tummy that she has only read about before. A real boy, finally, with a darkness to him that only makes her want to hold him more and keep him safe in her bubble.
ADVERTISEMENT - CONTINUE READING BELOW
CONTINUE READING BELOW
Recommended Videos
It's her predicament, a lifelong sentence in a 100% sterilized environment, which keeps her from enjoying some semblance of normalcy with him (getting isaw is definitely out of the question). But young love, reckless in its nature, always finds a way. They may never be seatmates in class, but they can pass virtual notes through text and email. They can be in the same room, provided that they stay as far apart as possible, though they break that rule pretty quickly.
ADVERTISEMENT - CONTINUE READING BELOW
You could say that Maddy's condition tends to heighten every emotion, but you could also see her first brush with love as a wonderfully ordinary milestone. What's extraordinary about Maddy and Olly's situation is their covert trip to Hawaii. Every person must've dreamed of running away with a partner in crime at some point in their lives, but Maddy, with her thirst for the real world intensified by her feelings for Olly, actually makes it happen. Their Hawaii getaway is a perfect, sun-kissed, Humuhumunukunukuapua-blessed respite from the real world that even grown-ups can only dream of.
ADVERTISEMENT - CONTINUE READING BELOW
You watch Maddy and Olly fall deeper in love, and you wonder how their story will end, given all the obstacles waiting for them out in the real world. Life-threatening medical conditions aside, it's not that different from most love stories. So many things have to go right for something good to even begin, and it could all fall apart in an instant. It's easy to fall in love, but you have to decide, every day, to stay in love. That's why it's rare for people to end up with their first love—it takes a lot of determination and effort to stay committed to a person, something that you learn as you grow older. But even if you don't end up with your first love (as for Maddy and Olly, you have to draw your own conclusions from the movie), he or she will always have that special place in your heart. You will meet other people who will make you feel things in different ways and intensities, but your first love will never fade completely. Now isn't that a comforting thought, that even if everything changes, there's always a small part in your heart that will remain constant?
ADVERTISEMENT - CONTINUE READING BELOW
You will meet other people who will make you feel things in different ways and intensities, but your first love will never fade completely.
Catch Everything, Everything in cinemas.
They once received a lot of hate for their dark skin, but they rose above it and are now leading the shift in society's beauty standards.
First of all, you will be laughing so hard with each episode. Surprise!
Some important life lessons...
The frustration is real with these dramas!
They also received an award!
They come in five cool colorways!
Coincidentally, Pink Sweat$ got engaged to girlfriend JL Bunny just a day before.
What's more motivating than "studying" with seven Grammy-nominated superstars?
The university was the first school to apply for the limited face-to-face classes in the country.
From The Candy Bulletin Community