It's already been a few weeks since MCA Music flew us to South Korea to meet dance-rock band DNCE, but we're still on a high. Not only did we get to go around the country for a few days, we also got to eat breakfast (#BLESSED) and talk to them (#SUPERBLESSED)!
After our 10 minutes with Lee JinJoo, Joe Jonas, Cole Whittle, and Jack Lawless, we now get why DNCE's songs sound really happy and fun. These four awesome human beings find joy in everything—no matter how big or small that may be—and they are each other's best friends.
"We're family and we're truly best friends. We would be doing this in a garage somewhere and we won't have amazing places to play around the world if we don't simply love music and love each other. This is the only thing we want to do forever!" —Cole
Joe even remembered those moments when he realized that he's sticking with these guys and making amazing music with them. "I think it's always in the best times and the toughest times. During the best experiences and we're having a blast, that's when I think that these are my best friends and I'm having a great time. But, obviously, you have best friends that you can call on for anything and [these guys] are always going to be there. That was a realization for us, too. We work, we're traveling, and it's exhausting. There are times when personal stuff [arise] and whatever that may be, we're always there for each other."
But while they really do get along with each other so well, the band also revealed that there are still moments when they have different opinions, especially when it comes to work. Their secret on how to make it through these moments? They handle them well by keeping their minds open for suggestions and different opinions.
ADVERTISEMENT - CONTINUE READING BELOW
"I think it's important to have opinions, especially because we're working in a band. Luckily, we've really gotten along, and the cool thing about DNCE is that it's not too serious. We take music seriously, but when we put together our show, the fun part about it is that there's this wild, exciting, electric element to it, so we throw in ideas all the time. We're like, 'Why not, it makes sense for this band.'"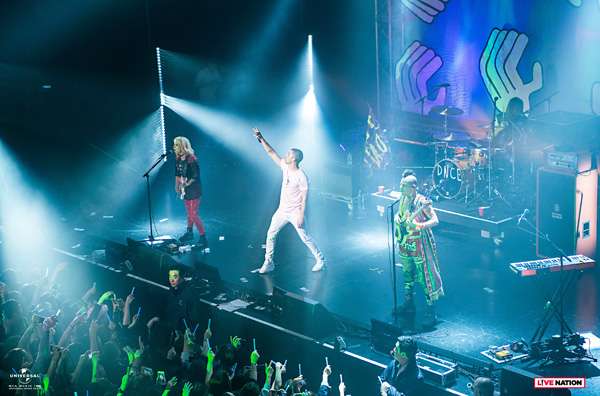 No wonder that there first show in the Korea was a total success (more on that in another article, hee hee!) and that their Korean fans love them so much. But even if their first concert in the country was a full house, they say that they were completely surprised when they got in the country and saw their fans waiting for them.
"It's always surprising when you go somewhere you've never been to, and there are fans waiting for you," Joe explained. "They have photos and they have your album; it's a dream come true. For all of us, we're glad to be here and we can't wait to perform on the show."
Speaking of surprises, we also asked them if there were any surprises they discovered about each other. Cole surprised (LOL!) us and said while giving us a knowing look, "When we got to Korea, the first thing that we did was we went to the spa. We were all naked, so there was a lot of surprises there." LOLOL!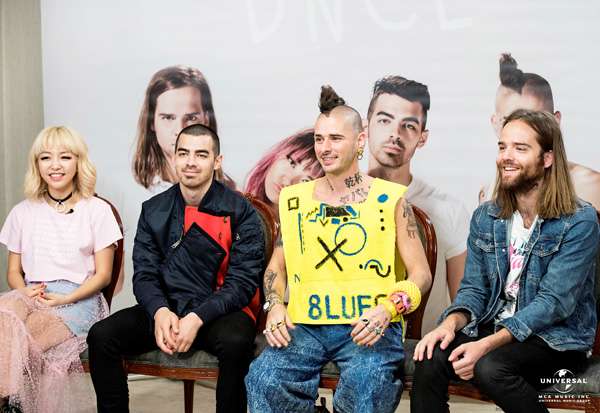 As for us, the biggest surprise we probably learned from them that morning was how much they love coffee. And we mean, really looove their cup of joe because they have this fun activity whenever they go somewhere.
"We all have a love for coffee. And in each city that we go to, we try to find the best coffee in the city we can. That's one thing we definitely share outside of music." —Joe
Jack agreed and said, "[That's] my favorite thing, the hunt for new coffee that we like."
Coffee and friends? We now want to join this band...and it seems like we're getting that wish soon. *crosses fingers* Well, kind of because Joe revealed that they are already planning their trip to Manila really, really soon. He said, "We don't have a date planned yet, but we're working on it. Hopefully, we can make it work sooner than later because we can't wait to go!"
ADVERTISEMENT - CONTINUE READING BELOW
Ugh, we can't wait for this, you guys! We're so excited to have them in the Philippines and give them an amazing time, too. BTW, they're looking forward to tasting Filipino food. *wink, wink*
Don't forget to purchase DNCE's self-titled album at Astroplus and Astrovision stores nationwide. You can also download and stream their album on Spotify, Spinnr, iTunes, and Apple Music.