The beautiful chaos that is Nadine Lustre and Yassi Pressman's cover shoot for this month's issue happened on a rainy Saturday morning in one of the beautiful suites of Discovery Primea in Ayala. Yassi and her road manager are the first people in the room, literally, because we arrive a few minutes after her. She's listening to her playlist, occasionally pausing it to watch a dance video on YouTube.
Nadine arrives an hour later—her call time set later than Yassi's—and looks for her best friend's face the moment she enters the room. Yassi shows her what she's been working on—a portrait of her best friend, which we asked her to do for us. Yassi finished it in time for Nadz to start working on her portrait of her best friend, doing it while she's propped up on the makeup chair. They then catch up for a few minutes—giggling, laughing, teasing each other, and just updating each other on what's going on in their lives.
ADVERTISEMENT - CONTINUE READING BELOW
Looking at them now, it's hard to imagine that they've only been friends since 2014, that was two years ago when their movie Diary ng Panget started production. "We weren't really close at the time. We were part of the same network, but we weren't in the same group," Nadz tells us.
"Actually, what most people don't know is that Nadz and I used to work together on commercials when we were around 10 years old," Yassi adds. "Even on the variety show, we knew each other but she had her own girl group—you guys should watch their music videos!—and I had my own dancers' group. But we really only got close while working on DNP."
Since then, the two have been spotted going out together even when they're not working on the same project, and have been sharing cute online moments together. But in the two years they've been together, the two reveal to us that they've never really gotten annoyed with each other.
ADVERTISEMENT - CONTINUE READING BELOW
Nadine explains, "It's like we're batteries. You're the positive one and I'm the negative one..."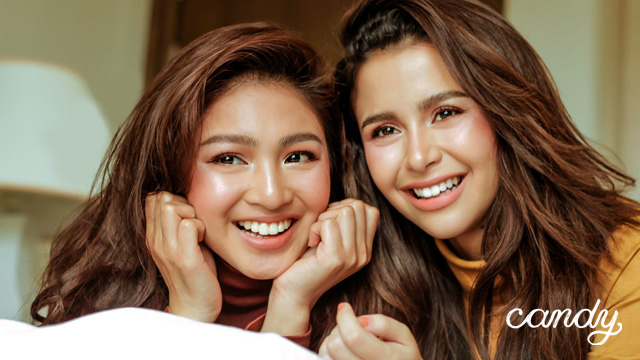 Yassi was, of course, quick to defend her best friend. "No, you're not negative... I just think that we balance each other, like coffee and milk."
Yup, they finish each other's sentences, too.
ADVERTISEMENT - CONTINUE READING BELOW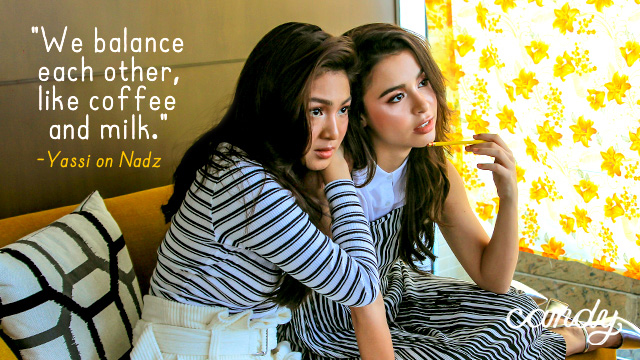 They are almost inseparable now. If not for their busy schedules, we might be seeing these two together every day. But how they balance each other isn't the best thing about these BFFs. What we love about them? They're not territorial when it comes to each other. That's how secure they are with what they have.
ADVERTISEMENT - CONTINUE READING BELOW
"You don't own your friends," Nadz explained. "It's actually nice when your friends have other friends and you get to meet them—then you all become one big group. Why would you stop your friends from having other friends besides you?"
To this, Yassi adds, "We're not like 'kami lang'. We actually invite people to join us all the time."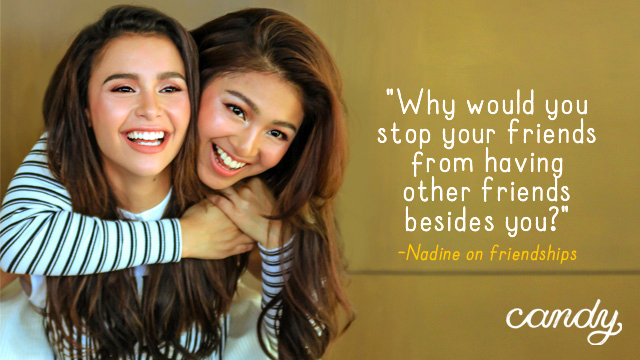 For these two, what's important is what they have. In between their hectic schedules, they still make sure that they get to catch up or have some BFF bonding time. Case in point, during Nadz's birthday last year, she went out of the country with Yassi and flew to South Korea where Yassi discovered one thing she just doesn't get about her best friend:
ADVERTISEMENT - CONTINUE READING BELOW
"When we go on trips, you don't bring enough clothes! Like the last time we went to Korea, you came straight from taping, and you were carrying to big maletas. When we landed, you asked if we could shop because you had no clothes! I wondered why because you brough so much stuff. When I opened your bags, it was all cameras and a drone—no clothes! Ako, I bring everything. Ikaw, basta nandiyan 'yung cameras mo kahit walang damit, okay lang."
There may be things that they don't get about each other but Yassi and Nadz know how to handle their differences and each other's flaws. Proof? During the shoot, Yassi knows how to make Nadz laugh and loosen up a bit, and Nadz knows how to calm Yassi down to ease her almost frantic energy.
After our first two layouts, we take a break and eat lunch with Nadz, Yassi, and the whole team for this shoot. Nadz shows us the portrait she made of her best friend, and we all oooh and ahhh over it. Yassi playfully teases us, asking, "Bakit hindi ganyan 'yung reaction n'yo sa gawa ko?!" The best friend rushes to her side and jokingly comforts her. Ugh, can they get any cuter?
ADVERTISEMENT - CONTINUE READING BELOW
Yassi and Nadine. YassDine. Not only do their names sound great put together, but they really are so much better together. That's why this shoot was a memorable moment for them because it gave them a chance to work again as a team. It is, as Yassi said on her Instagram post from that day, "one of our fave shoots."
ADVERTISEMENT - CONTINUE READING BELOW
Nadine, who told us that day that she's been meaning to work on her travel videos and to post more photos on her Instagram feed but admitted that her eyes hurt whenever she stares at the screen of her phone or her laptop for a long time, shared her post of their first cover together recently, telling everyone that it's "another one off the BFF Bucket List" for her.
ADVERTISEMENT - CONTINUE READING BELOW
We can't help but feel honored to be part of their friendship history. After all, it's not every day that you get to be with two of the country's brightest young stars without a hundred cameras flashing here and there. That day was memorable, not only for Yassi and Nadine, but for the Candy Team as well. We became witnesses to a friendship so genuine, so warm in an industry that's known to be harsh to the people who are in it and to their relationships.
Read more about Nadine Lustre and Yassi Pressman by grabbing a copy of the September issue or subscribing to the digital edition via App Store, Buqo, or Zinio.
PHOTOGRAPHY Chira dela Cruz for Candymag.com MAKEUP Jelly Eugenio HAIR Paul Nebres STYLING MJ Benitez STYLING ASSISTANT Fed Pua