All Access
Why You Should Watch #SavingSally This Holiday Break
It's the Christmas gift that keeps on giving.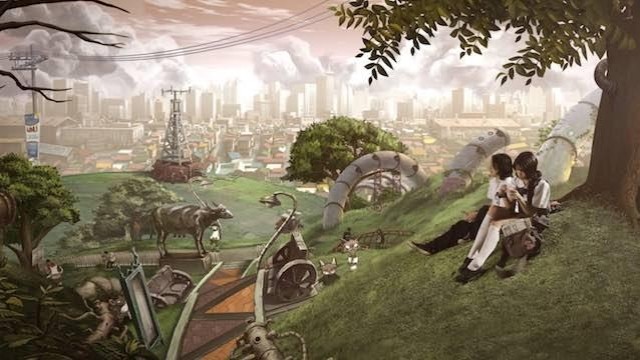 IMAGE Saving Sally
Going into the theater to watch the MMFF entry Saving Sally, you have a few expectations. "A very typical love story...with robots and monsters," it says on the film poster. A movie that combines live action and 2D animation, which is very rare in Philippine cinema. A story that is more than 10 years in the making.
Saving Sally exceeds your expectations, though, with the amount of love poured into every frame. Director Avid Liongoren creates a world that is alive and breathing, taking the familiar streets and corners of Manila and infusing it with color and depth and puns, lots of puns.
In this world, it's easy to get swept into the love/coming-of-age story of Marty (Enzo Marcos, geek personified) and Sally (Rhian Ramos, wonderfully carefree). Marty is an aspiring comic book artist who is in love with his best friend, Sally, a gadget inventor who lives with monsters a.k.a. abusive foster parents. Boy meets girl, girl saves boy from the school bully, boy falls head over heels for girl, girl falls for someone else. It's a familiar story, but with a lot more layers than the usual rom-com. These characters are fully realized, with goals of their own and room for growth.
There is also plenty of room for cheeky humor, like the way Marty sees bullies and baddies as literal monsters (and Sally's douche of a boyfriend as a certain body part). And there are so many nods to geek communities, from local comic book posters in the background, to a funny father-son scene involving famous toys from the '90s, to fan favorite moments ("I haven't cried this much since Optimus Prime died in Transformers: The Movie—the animated one, okay?").
It may have taken Saving Sally more than a decade to make it to cinemas, but how perfect is the timing? Any other year and its slot in the MMFF could've gone to more blockbuster-proven franchises. Now, it has the whole country's attention, which it rightfully deserves.
So here's to this year's brave new MMFF, and to Saving Sally, the little film that could.  
What did you think of Saving Sally? What other MMFF movies have you seen this year?
\\\\\\\\\\\\\\\\\\\\\\\\\\\\\\\\\\\\\\\\\\\\\\\\\\\\\\\\\\\\\\\\\\
Get the latest updates from candy!
subscribe to our newsletter!
////////////////////////////////////////////////////////////////
Skip a makeup step with these beauty goodies!
Take pretty notes and study effectively with these tips!
Wait for a love like this. A love that is good to you, for you.
Are you up for this challenge?
Can't wait to see the actual gowns!
The up-and-coming musicians and childhood friends talk about their music, creative process, and why it's important to be woke.
Because when it comes to a great lip game, there's really no need to splurge!
A different language sheds new light on everyday terms.