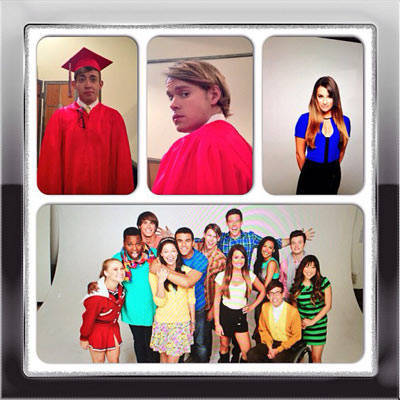 Glee season five behind-the-scenes Instagram by Cory's girlfriend, Lea Michele
When news broke out that Glee star Cory Monteith died the past weekend, most people were shocked. It must be another hoax. There's no way he's dead. How can he be dead—he just tweeted about Sharknado!
Then came the official reports and press releases, and there was nothing left to do but mourn him. I saw lots of keysmashing and some "Weh, feeling close ka teh?" I heard about a few people bawling like a baby, as if they actually knew him, and you know what? There's absolutely no shame in that.
You may have loved or hated or tolerated Glee (depending on which season), but the point is, most of our generation took this show into our homes, into our hearts, and spent four or so years with it. We watched Finn grow from the bully who belted out "Can't Fight This Feeling Anymore" in the shower, to the junior mentor who helped New Directions win Regionals. We saw his awkward dance moves and easy smiles every week for the better part of the past few years. A lot of us also followed Cory's social media accounts and spent hours watching interviews and blooper reels.
He feels like a friend to most fans because he's made his way into our hearts and browsing history. Even the casual viewer has a soft spot for this gentle giant. So we mourn him like a friend, and we never forget.
On loop this week: "Let Your Heart Hold Fast" by Fort Atlantic
ADVERTISEMENT - CONTINUE READING BELOW