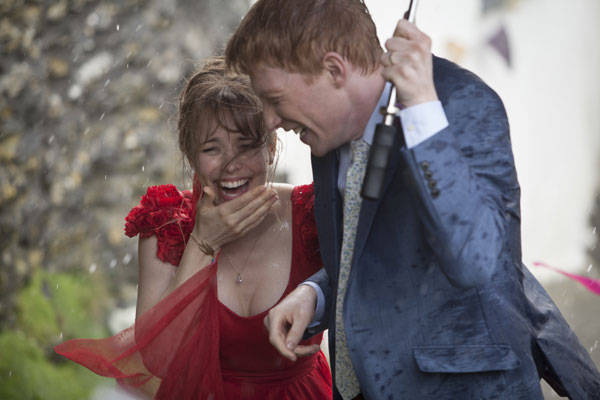 I know what you're thinking. Rachel McAdams and a time traveler? Is this a sequel to The Time Traveler's Wife? I promise you that About Time is much better, warmer, and funnier. Awkward, NGSB (No Girlfriend Since Birth) Tim finds out that the men in his family can time travel, but only back into their own time stream, so no killing Hitler and stuff. Because this is a movie by Richard Curtis—the man behind Love Actually and Notting Hill—of course Tim uses his superpower to find love, which leads him to Mary.
As Tim and Mary, Domhnall Gleeson (Bill Weasley, you guys!) and Rachel McAdams are awfully adorable together. I firmly believe that Rachel McAdams can do no wrong, but I was pleasantly surprised by Domhnall Gleeson, who's got the bumbling, charming act down pat.
Of course there's the try and try until you succeed sequence that's a staple of time travel movies, but it usually moves on before the schtick gets tiring. The movie does take liberties with the rules of time travel, but you see, it's not a sci-fi flick. It's not even a love story—as my friend Blanche says, it's a "life story."
ADVERTISEMENT - CONTINUE READING BELOW
It's a life story that's perfect for pessimists (like me), who'd rather be pleasantly wrong than get their hopes up for nothing. There's this spoilery part near the end where Tim reveals how he lives with his extraordinary secret, and it wasn't particularly groundbreaking but it did more for me than any inspirational pin or song could. I hope it does the trick for you guys, too.
Let's end with Ellie Goulding's cover of "How Long Will I Love You" that she did for the throwback OST, which also includes "Push the Button" by Sugababes and "All the Things She Said" by t.A.T.u. Hahahahaha, IKR? It'll make sense when you watch the movie.
Catch About Time in cinemas.