All Access
What We Know So Far About Riverdale Season 2
October, please come soon!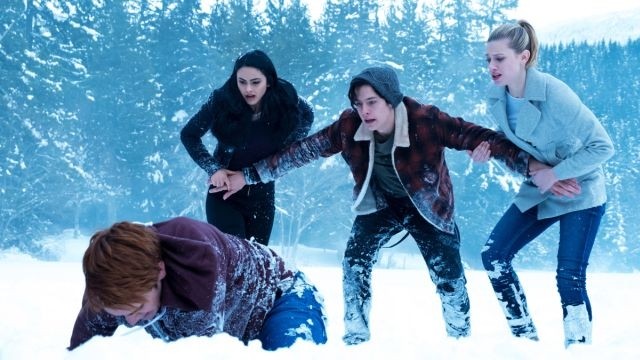 IMAGE The CW
We know October 11 feels so far away, but we here at the Candy HQ are already sooo excited to see the next season of Riverdale. But what we love about this time of waiting is when we get spoiler alerts from the show's execs. Huhu, makes the waiting worth it and a little bit more bearable. 
So if you're missing Archie, Jughead, and the rest of the Riverdale crew, here are some things we should all look forward to in the second season.
The second season will pick up where the first season left off.
ADVERTISEMENT - CONTINUE READING BELOW
Yup, it will pick up from that heartbreaking moment Fred was shot and its effect on our dear Archiekins. In the second season, we will be given a view of our main man's journey to the darker side (more on that on the next item!) and on finding out who shot his dad and taking revenge. 
In addition, Riverdale executive producer Roberto Aguirre-Sacasa (RAS) has also revealed the first three episodes' titles and they do sound darker. Season 2's pilot episode is called A Kiss Before Dying, which is then followed by Nighthawks and then The Watcher in the Woods. (via Seventeen.com)
Archie's going to go darker.
Speaking with RAS, The Hollywood Reporter got a huge clue from him that Fred getting shot will have a big effect on Archie. "It's like the moment when Bruce Wayne sees his parents gunned down in Crime Alley or when Peter Parker learns that that his Uncle Ben was murdered by a burglar," he explained. "It absolutely changes Archie and sends him on his season-long journey, which—without giving too much away—starts in a really dark place: revenge."
ADVERTISEMENT - CONTINUE READING BELOW
But don't worry because he'll go to the light again because as RAS said, he is the show's hero. "That journey is for sure the spine of season two, and the question of who shot Fred and why is absolutely at the forefront of the beginning of our season," he added.
Jughead will also go darker.
After putting on the Southside Serpents jacket, RAS reveals that Jughead will most probably join them and Southside High—where he fits in without effort, unlike when he goes to Riverdale High. Plus, he also finds the family he yearns for in the Serpents.
This creates tension between him and Betty (aww, he assures us that they're still together in the second season tho!) and everything and everyone, and Jughead is somehow forced to live a double life. 
A "civil war" will happen.
As hinted in the first season's finale, a "civil war" is brewing between the North and the South. And because Jughead has just moved to Southside High, he has to make a choice as he's now stuck between the two communities.
ADVERTISEMENT - CONTINUE READING BELOW
Veronica's father is coming.
And siiigh, Hiram (V's dad) doesn't approve of her dating Archie (who's still unclear about his feelings for Veronica) just like in the comics. As for Hiram, RAS also said that like all characters we won't have a grasp of whether he's a bad guy, a good guy, or someone in the middle once his character's introduced.
There will be new faces. Of course.
There will be Charles Helton playing the role of Reggie Mantle, as Ross Butler is going to be busy with the second season of 13 Reasons Why...
ADVERTISEMENT - CONTINUE READING BELOW
And Mark Consuelos playing Hiram Lodge, who's joining Veronica and Hermione's lives.
The show will continue touching on some supernatural elements.
ICYMI, there's this theory going around that Jughead is taken in the Southside by Sabrina Spellman's (as in Sabrina the Teenage Witch!) aunts, Zelda and Hilda, as his new foster family. There's some legit reason for this, of course. In the comic books, Sabrina, who lives in Greendale (a town near Riverdale), actually helps Jughead bring back Hot Dog to life which later on triggers a zombie apocalypse. Meaning, their lives are intertwined!
ADVERTISEMENT - CONTINUE READING BELOW
Although no name has been mentioned yet for Jughead's new foster family, fans are all wanting to have the execs introduce Sabrina's character in the series already. RAS, however, said that they had to make a choice to not introduce her character in the first season because "it's such a big idea to introduce the supernatural into a natural world." (via Cosmopolitan.com)
But will she come out in the second season? There's no word yet. But those visions of zombies and werewolves will continue for sure. "Or that might just be to make it more like Twin Peaks and the way they dealt with the supernatural," RAS said.
Are you excited for Riverdale's second season? Let's talk in the comments or via Twitter @candymagdotcom. We always love hearing from you. :)
It's part of a dashboard that helps you monitor all the confirmed cases in the country.
With a load of cute behind-the-scenes footage, too!
Choco butternut cravings are now solved.
It was part of a class requirement!
Sadly, there's no law against catfishing in the Philippines.
Think of astrology as a language that helps you feel and be seen.
Franki and Diana are this month's Eye Candy.
It's like seeing Seo Dan and Seung-joon all over again!
The internet seems to love his lighthearted humor during these troubling times.
Many of our favorite K-drama actors right now actually started out as idols!
Thailand rethinks its elephant strategy.