The long wait is *finally* over! ICYMI, the Philippine live-action adaptation of the iconic Japanese series Voltes V *just* premiered its first episode, and everyone's talking about how it surpassed their expectations!
Voltes V: Legacy stars Gen Z celebs Ysabel Ortega (Jamie Robinson), Miguel Tanfelix (Steve Armstrong), Raphael Landicho (Little Jon Armstrong), Matt Lozano (Big Bert Armstrong), and Radson Flores (Mark Gordon) who all gave justice to the '70s anime's Voltes team.
"The hype is real. I am shocked. Based on the pilot, ang ganda ng Voltes V Legacy. Iba talaga ang work ng mga tao na may respeto sa material.  The pace, build-up, composition, the effects, and the details were beyond belief," says one netizen. "It just had a lot of heart and I could tell it was done with the labor of love. I also grew up watching Voltes V reruns so this gave me an exhilarated feeling."
ADVERTISEMENT - CONTINUE READING BELOW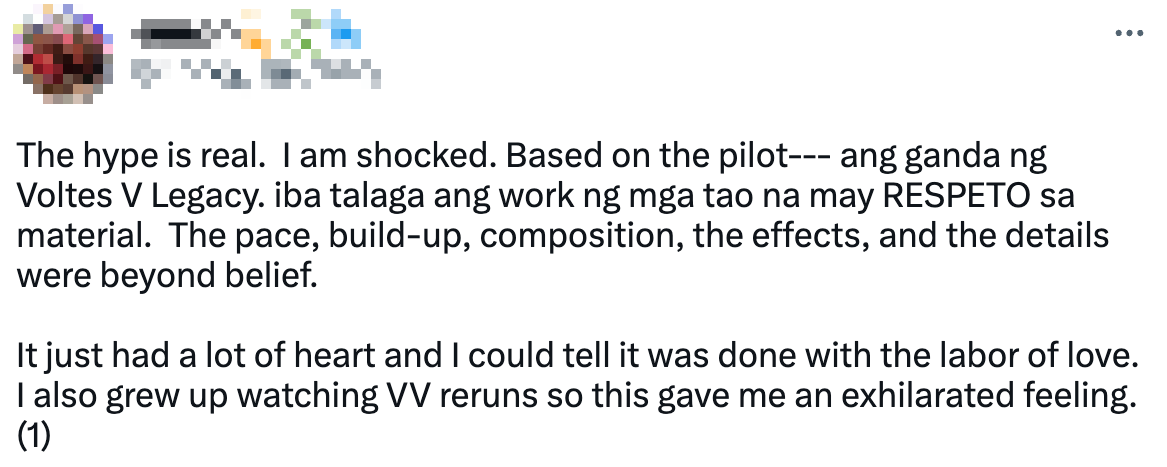 Curious about Voltes V: Legacy? Here's everything you need to know about the live-action series!
Everything You Need to Know About Voltes V: Legacy
1. The storyline is more relatable to Filipinos.
The Philippine adaptation is as action-packed as the anime, but that's not the only reason why you'll definitely *love* this sci-fi series. ICYDK, Voltes V: Legacy has a familial storyline that highlights the Armstrong brothers' close relationship with their mom Mary Ann Armstrong, played by Carla Abellana.
According to the series' director Mark Reyes, the show will also feature a ~love story~ between Jamie and Steve, as Filipinos are known to be *hopeless romantics.* However, he assures that it won't be a distraction from the main storyline.
"It's not a distraction at all to the main storyline of Voltes V, [rather] it's one of the flavors that's gonna be enjoyed by the teenagers," he says. So exciting!
2. Voltes V: Legacy was 10 years in the making.
Creating a live-action adaptation of an iconic show wasn't a piece of cake. In fact, it took almost 10 years for the show to even hit our TV screens!
"I think our foot in the door was the pitch tape that I did in 2014. When they saw the level of CGI back then, they were very impressed," Mark talks about getting Toei Company's support, a.k.a. the OG creator of Voltes V.
ADVERTISEMENT - CONTINUE READING BELOW
"But off the bat, when they saw the teaser trailers, they were already on board. They sent this congratulatory memo of support."
3. It's one of GMA's most expensive projects.
Finally finishing the *much-awaited* project came with a hefty price tag, too! Aside from spending an exorbitant amount for the CGI, each of the main cast's flight suits costs P350,000. Wow!
"I don't know how much the franchise is, I know it's expensive. You saw the set and the costumes, that's very expensive and the CGI, I can tell you, it's very, very expensive," says Mark.
4. Julie Anne San Jose sang the theme song in Japanese.
Julie Anne San Jose proved her superstar status once again as she sang the anime's theme song "Voltes V No Uta" in its original Japanese lyrics. Here's the full video, in case you're curious:
5. It boasts superb visual effects!
Voltes V: Legacy may have only released one episode, but netizens already can't help but applaud the show's remarkable visual effects!
ADVERTISEMENT - CONTINUE READING BELOW
"Episode 1 of Voltes V Legacy was amazing. 10/10. Exceeded my (already high) expectations. So good. So cinematic (direction, music, shot composition)," says one Twitter user. "Acting was not perfect but pretty good. Miguel Tanfelix and Martin del Rosario are the standouts."


Catch Voltes V: Legacy every weeknight on GMA.
ADVERTISEMENT - CONTINUE READING BELOW