All Access
What the World Looks Like After Watching The Fault in Our Stars
Spoiler alert: We're not okay.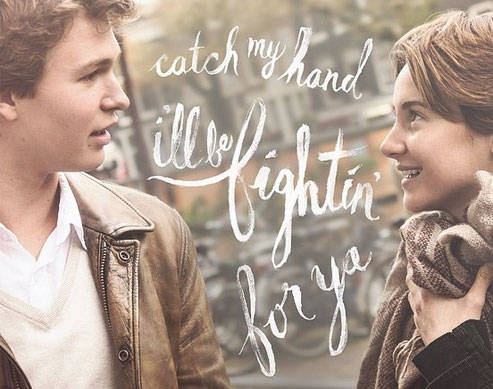 PHOTOS Instagram (@faultinourstarsmovie, @johngreenwritesbooks)/Entertainment Weekly, GIFs Tumblr
The world is not a wish-granting factory, but on Monday night, it was. Some of the Candy Girls and I were one of the lucky few who got to watch The Fault in Our Stars' #LittleInfinities screening almost a month earlier than its June 5 premiere. It was everything we wanted and more. We were crying and laughing and squealing and blowing our noses and passing around tissue. After religiously following TFIOS news and swooning over GIFs the past few months, we couldn't believe that we'd finally seen it. "What is this life?!" Hazel Grace would say.
We're so in love with the movie that we've been looking at the world through TFIOS-tinted glasses, seeing symbols and metaphors everywhere. So in the spirit of Van Houten's favorite Magritte, here's the treachery of images—TFIOS-style.
This is not a glass of champagne. This is a glass of stars bottled up for a certain Mr. and Mrs. Augustus Waters.

This is not a leather jacket. This is boyfriend material.

This is not a pair of glasses. This is the end of always and the start of a new adventure.

This is not a street. This is .88 to .89 of a little infinity.

This is not an oxygen tank. This is a lifeline and a prison on wheels.

This is not a blue dress. This is a mother's love, trust, and approval.

Photo courtesy of Entertainment Weekly/James Bridges

This is not a death suit. This is a reflection of the dapper dreamboat wearing it.

This is not a bouquet of tulips. This is a surprise and a promise.

This is not a pile of books. This is a pile of feels.

This is not a cigarette. This is—you know it!—a metaphor.


via mtv.tumblr.com
The Fault in Our Stars opens on June 5.
How much should we rely on them to capture our personalities?
Guys, it wouldn't hurt to add a twist to your go-to look!
Shop with an advocacy in mind!
Is IF advisable for a college student's busy lifestyle?
"Planado na, booked na ang trips."
Share your routines, too!
The next Miss Universe Philippines is said to receive the biggest cash prize in the history of Philippine pageantry.
While there is still a long way to go, it's become so much easier to find like-minded people who share the same cause.
It's a game for those who love to play around and break the rules.
Truth is, you don't need to spend a lot to achieve the feed of your dreams or build your portfolio.
Now's your chance to give back.