All Access
What Teen Life Was Like in the 2000s as Explained By Taylor Swift's MySpace Activity
Lovelovelove -T-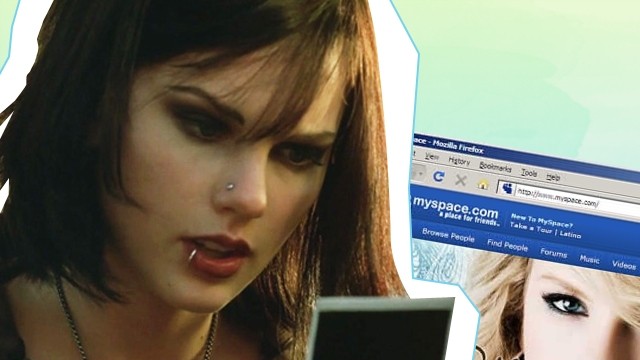 COVER ART Trixie Ison PHOTOS CBS, MySpace
We found photos of our March 2016 cover girl Taylor Swift's MySpace.com (a popular social networking, ICYDK, huhu) activity from the 2000s, and we're dying because we can honestly relate to some of them. So we thought we'd compile them for you below and give you an idea—in case you were still babies back in that decade—of what a teen's online life was like back then.
We literally stalked people, because cyberstalking wasn't as easy back then as it is now. Not everyone was on social media yet at that time and internet connection wasn't that good either.

This was how we knew we weren't spending as much time with our friends as we used to, because we talked with them in the comments or via posts on their pages. 

We used signatures on our posts and comments. "lovelovelove -T-"

Being on someone's top friends list is a big deal, which is why we chose our profile photos carefully. Imagine the horror of finding yourself on your crush's top friends list and you're using a very unflattering image of you for profile photo!

We embedded slideshows of our photos on our profile pages, which made it difficult to take down "fugly" (according to Tay-Tay) photos of us on other peeps' slideshows.

It was so cool to put a photo of yourself on your blog's header. Branding, everybody.

These photo filters were DA BOMB.

Also, lengthy descriptions of ourselves on the About Me section. We listed down our favorites, likes, dislikes, and all the important info about ourselves. Because we real. LOL!

Jesse McCartney's music was our fave, just so you know.

Blingies, glitter graphics, and animated images of our favorite things were embedded on our pages. Now that we look back on that trend, it just makes us dizzy seeing all the animation.
Did we forget anything? Share your '00s experiences in the comments. We always love hearing from you. :)
\\\\\\\\\\\\\\\\\\\\\\\\\\\\\\\\\\\\\\\\\\\\\\\\\\\\\\\\\\\\\\\\\\
Get the latest updates from candy!
subscribe to our newsletter!
////////////////////////////////////////////////////////////////
You don't even have to leave the house!
From digital art to photography to mixed media, Filipino artists show that creativity is never lost in our people.
Skip a makeup step with these beauty goodies!
Take pretty notes and study effectively with these tips!
Wait for a love like this. A love that is good to you, for you.
Are you up for this challenge?
Can't wait to see the actual gowns!
The up-and-coming musicians and childhood friends talk about their music, creative process, and why it's important to be woke.